Critical Linking: August 25th, 2014
College is a bubble. Whichever one you choose to study at, chances are your entire life becomes based around the same people, lecture halls and bars. For me, reading was the best way to get out of that bubble and remember there was a wider world out there that I was just about to enter and should probably know a little bit about.
I also just had a lot of spare time to read 'those books' that everyone should probably read at some point. So my list is a mixture of good classics, contemporary reads, and a little bit of self-help for a time when you really need it:
Not a bad list of books to read at any old time, in college or not.
____________________
In an interesting post, writer Claude Nougat estimated the total number of books on Amazon – about 3.4 million at last count (a number that could include apps as well) and then figured out how many books were added in a day. Nougat noticed that the number rose by 12 books in an hour, which suggests that one new book is added every five minutes. And, most likely, it's probably an indie book.
Let's let that sink in.
This is why I want gatekeepers.
____________________
Need a reading recommendation? Try Brooklyn Public Library's free service, Bklyn BookMatch. Complete the form below and our librarians will create a customized reading list of five titles for you. You can expect a response within approximately one week.
Somebody do this and report back, won't you?
____________________
I think that people will assume a book starring an African-American or an Asian-American character is going to be a niche market book, and that just isn't the case for most books. Kids love a good story, and that's what hooks them. They identify with the character's internal adventures and struggles and dilemmas. … They don't identify primarily with the race of the person on the cover of the book.
____________________
Did you know that Book Riot made a book? Two actually. Start Here is a guide to reading authors you've never tried, but always wanted to. Each chapter provides a short reading sequence to introduce to a variety of author, from Dickens to China Mieville. And each is just 3 bucks for an ebook. Not bad eh?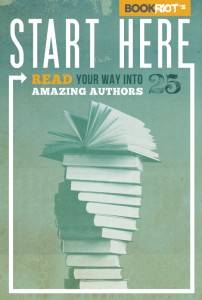 Want a calendar of upcoming book releases? An exclusive podcast and newsletter? Access to amazing giveaways?
Subscribe to Book Riot Insiders
!