Inbox/Outbox: August 15, 2014
After a couple weeks of travel–some of it bookish (LeakyCon!) and some of it too busy for reading (meetings and vacation in Vancouver)–I'm back, and I've sorted through most of my book mail. Let's do highlights!
Inbox (Books Acquired)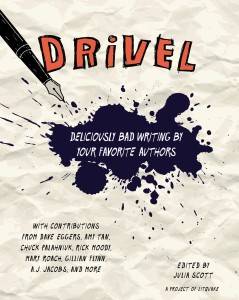 Drivel: Deliciously Bad Writing by Your Favorite Authors edited by Julia Scott (Perigee Trade, September 2) — Whether you're in it for the entertainment value or the encouragement of knowing that even the best writers once sucked, you're bound to find something to love in this collection of mostly terrible early work from some of today's big names. This book is based on the "Regreturature" stage show, and it looks like a lot of fun.
How to Be a Heroine: Or, What I've Learned From Reading Too Much by Samantha Ellis (Vintage, February 3, 2015) — It's a book about books! It's a woman's memoir told through the lens of her reading life! It's about important female characters throughout literary history! All the exclamation points!
Outbox (Books Finished)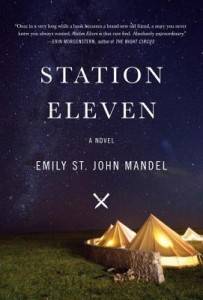 Station Eleven by Emily St. John Mandel (Knopf, September 9) — The mother of all super flus wipes out civilization, killing all but a very small percentage of people. The few who are left form villages, towns, whole societies that exist within old gas stations and abandoned airports. Some go crazy. Some go mad with power. Some become self-appointed prophets. Some insist that survival alone is not enough, and so they form the Traveling Symphony, going from town to town performing Shakespeare and classical music. Through a rotating cast of characters who are all connected to a famous actor who died onstage during a production of King Lear the night the flu first hit, Mandel explores the end of the world and what comes after.
This is a scary, smart, fascinating thought experiment, and Mandel touches on all the ways–big and small–in which life would change, all of the daily conveniences we take for granted and the annoyances we tolerate because they seem necessary. There's a conversation between two characters about ridiculous business jargon and how one is haunted by the absurdity of his last conversation with a coworker that is so spot-on, I can't shake it. Mandel has always been good, and with Station Eleven, she levels up to great in a major way. This is one of the best dystopian stories I've ever read. Highly recommended.
Whiskey Tango Foxtrot by David Shafer — I love a techno-spy story, and I love an internet-behind-the-internet story, and HOO BOY do I love a plot-driven thriller when I'm traveling, so when it got a shout-out as the book of summer, I picked it up for a long flight. The concept here is A+, but I found the opening to be too slow (at the 125-page mark, I was still wondering when things were going to start happening) and the resolution (or lack thereof) unsatisfying. The characters are fun to spend time with, the middle of the book is strong, and the voice is snappy and clever, but ultimately I'd give this one a pass.
In the Queue (What I'm Reading Next)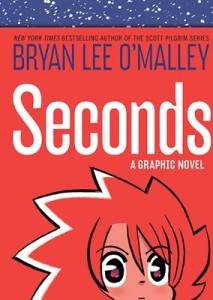 Seconds by Bryan Lee O'Malley — This standalone graphic novel from the creator of Scott Pilgrim is about a young restaurateur who is visited by a magical apparition (a ghost? Let's go with that.) and then gets to go back and take a second crack at love and some major life decisions. It's full-color and looks very appealing, and judging by the rave reviews I'm seeing everywhere, I'm in for a treat.
Into comics and graphic novels? You've heard about Panels, the new site we're launching in the fall, right?!
That does it for me. What have you been reading lately?
____________________
Expand your literary horizons with New Books!, a weekly newsletter spotlighting 3-5 exciting new releases, hand-picked by our very own Liberty Hardy. Sign up now! 
Explore your reading habits and bond with fellow book lovers with
Lit Chat from Book Riot!
Start the conversation.