Critical Linking: July 12, 2014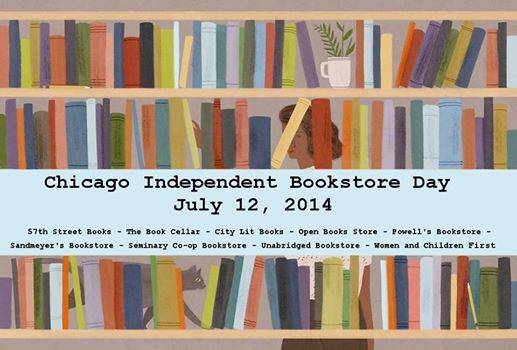 Nine Chicago independent bookstores are teaming up to create the first Chicago Independent Bookstore Day on July 12, 2014. To encourage Chicago readers to visit their own neighborhood store as well as the other unique stores in different neighborhoods—from Hyde Park to Logan Square to Andersonville—indie stores are offering special deals, free books, and refreshments. Customers will also receive a handful of puzzle pieces from each participating store that will fit together to create an exclusively designed frameable print by Lilli Carré.
If you're in Chicago, today is Chicago Independent Bookstore Day. Here's who is participating.
____________________
Those who read both e-books and printed books prefer reading in the different formats under different circumstances. One of the reasons many book lovers read in both printed and e-book formats is that they feel each format has its own virtues. In a head-to-head competition, people prefer e-books to printed books when they want speedy access and portability, but print wins out when people are reading to children and sharing books with others. When asked about reading books in bed, the verdict is split: 45% prefer reading e-books in bed, while 43% prefer print.
This fact doesn't surprise me in the least, but some of the other facts about the public and their engagement their libraries (and reading) made me pause and think.
____________________
I would like to say in my defense that I don't really get the appeal of YOLO. I live many times over. Hypothetical, subterranean lives that run beneath the relative tedium of my own and have the power to occasionally penetrate or even derail it. I find it hard to name the one book that was so damn delightful it changed my life. The truth is, they have all changed my life, every single one of them—even the ones I hated. Books are my version of "experiences." I'm made of them.
This entire piece by Zadie Smith on what to read this summer and being a book addict is fantastic.
____________________
The process of revising the law to allow little free libraries would weeks and months, so the city decided instead to pass a measure holding off enforcement while they consider changes this fall.  Spencer can put his little free library back up on Tuesday morning.
Dunn said that while national and global reaction had landed squarely on Spencer's side, the reaction in Leawood was more mixed.
Spencer Collins gets to keep his Little Free Library in Leawood, Kansas. The best part is the moment in the video where Spencer says he wants to have his library because he "loves to read." Rock on, kid. You're going places.
Sign up for "This Week in Books" and stay up to date with the most interesting news in the world of books and reading!
Treat yourself to any Book Mail box
, filled with awesome bookish and bookish goodies, and
get a tote free!