Inbox/Outbox: July 11, 2014
Welcome back, cats! It's been two weeks since last we rocked out with our literary socks out, and I did a whole hell of a lot of reading. So let's do this! Tell me about your highlights in the comments, won't ya?
Inbox (Books Acquired)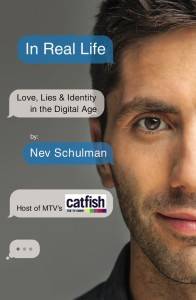 In Real Life: Love, Lies, and Identity in the Digital Age by Nev Schulman (Grand Central, September 2)–Yeah, this is a book by a guy who hosts a reality show on MTV, and no I am not going to call it a guilty pleasure. I don't believe in those. There's something about Catfish I find so compelling–the internet allows us to connect with people in ways that have never been possible before, and people choose to obscure their identities in fascinating, cruel, and flat-out crazy ways–and I am going to read the crap out of this book. And then I'll continue being glad I'm in my 30s and that the internet wasn't a thing when I was a young person making bad young person decisions.
Broken Monsters by Lauren Beukes (Mulholland Books, September 16)–When everyone you know tells you that you have to read a super-creepy SLEEP WITH ALL THE LIGHTS ON book, you do it post haste. I'm about a quarter of the way into this one, and yeppppp it's weird and wonderful.
Outbox (Books Finished)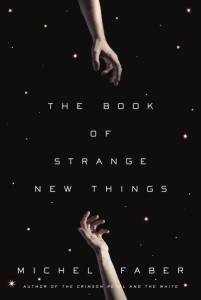 The Book of Strange New Things by Michel Faber (Hogarth, October 28)–Oh, THIS BOOK, y'all. It's about a minister who goes into space to preach the gospel to the residents of a planet that is light years away from Earth and his beloved wife. While he's away, things on Earth go to hell in a handbasket–tsunamis, volcano eruptions, economic crashes, you name it. Peter and Bea are literally worlds apart, and their faith and their relationship are tested in myriad ways.
This is a story about pursuing big, exciting, terrifying opportunities, with all their attendant costs and risks. It's about balancing your commitment to another person with your commitment to a higher power. It's about the mystery of belief and the wonder of the universe. And it's a gorgeous, surprising, moving book. Quite possibly my favorite of 2014. Put this one on your calendar.
In the Queue (What I'm Reading Next)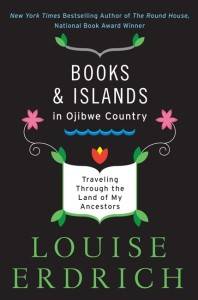 Books and Islands in Ojibwe County by Louise Erdrich–Of the many varieties of books about books, the ones I find irresistible are the ones in which the author presents her life through the lens of important books and reading experiences. This memoir-in-books by the renowned novelist has been humming at low frequency on my radar for a while, and it got cycled right up to the top when my dear friend (and fellow Rioter) Jenn started blogging it and declared it possibly her favorite book recently. Here's a taste, so you can know why I'm so fired up to start it:
"It is the question that has defined my life, the question that has saved my life, and the question that most recently has resulted in the questionable enterprise of starting a bookstore. The question is: Books. Why?"
We're giving away five copies of Leslie Jamison's new essay collection
Make it Scream, Make it Burn
.
Click here to enter
, or click the image below!