Riot Round-Up: The Best Books We Read in June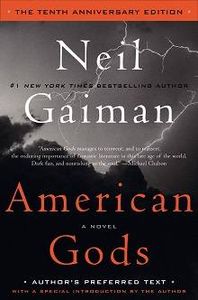 American Gods by Neil Gaiman 
I've been putting this one off for a while. Sure, it's probably the most widely acclaimed novel that my favorite living author has written. It's also the one that people seem to be the most divided on. They love it or hate it. Even his wife supposedly said that he was trying too hard. What if this was the work that made me fall out of love with him? It was a risk that I was not prepared to take. But it kept staring at me from the bookcase. My boyfriend, who isn't a big reader, kept telling me that it was his favorite book ever. Friends couldn't believe that they'd read a book that I hadn't, so I took the plunge. It is SO good. It's classic Gaiman, and it was more than worth the wait. –Cassandra Neace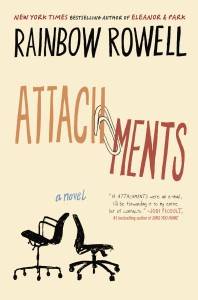 Attachments by Rainbow Rowell
Since Ruin and Rising has already been claimed, I'm going with one of the other excellent books I've read this month. Attachments has a truly odd premise: an IT security worker whose job it is to monitor emails sent on company accounts falls in love with one of the women whose email he reads. Creepy, right? Except that this book is written by Rainbow Rowell, which means that she takes this unusual scenario and turns into something clever, well-written, and delightful. Positively heart-warming, even, with grammar jokes; strong, intelligent female characters; some D&D, and even some romance. –Becky Cole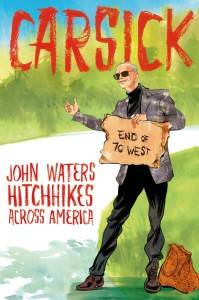 Carsick by John Waters 
Cult film director John Waters promises his agent to hitchhike across America, and imagines the best- and worst- case scenarios before revealing what actually happens on the real trip. In one fantasy scenario he's abducted by aliens who have sex with him and give him a magical singing asshole. In another he's captured by infamous murderess Gertrude Baniszewski who tattoos "I am an asshole" on his chest. I'll let you guess which is from the best-case scenario and which is from the worst! This memoir was somehow equal parts filth and charm, and I adored listening to John Waters read this to me on audio during lazy summer afternoons this June. –Rachel Smalter Hall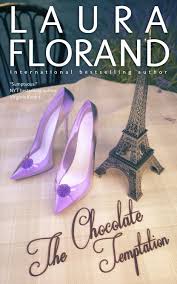 The Chocolate Temptation by Laura Florand
Another month, another Laura Florand novel. Unlike The Chocolate Touch (my favorite read for April), which was a twist on the Beauty and the Beast fairy tale, The Chocolate Temptation is a Cinderella story with kitchen intern Sarah Lin as its heroine and Patrick Chevalier, second to one of the best pastry chefs in Paris, as Prince Charming. The book is far from perfect—there's way too much internal monologue going on at the beginning, and the ending drags on unnecessarily—but once again I stayed up all night reading it, and was totally sucked into the story. Some people have complained that Patrick is a bit stalkerish, and that's valid—but I liked that Florand looked at the "dark side" of his charm and personality, and addressed the power imbalance between him and Sarah. I also really liked that Sarah was half-Korean and that Florand really thought about how her family's history and culture influenced her choices and attitude. Not to mention: Paris! Awesome food! Romance! What's not to love? If you're not reading Laura Florand yet, you should. –Tasha Brandstatter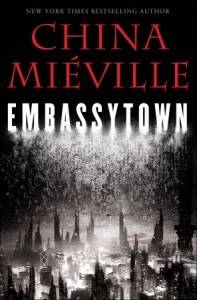 Embassytown by China Mieville
(I was going to start out by saying that words cannot describe the fantastic wonderful-ness of Embassytown, but then I realized that that would be a TERRIBLE pun, so….) Anyway, I read this novel, having never read anything by Mieville before, as part of my month of science fiction. It's told from the perspective of a cosmopolitan and brilliant human who was born and raised on an alien planet. The Ariekei have allowed humans to live in certain areas on their world, and in turn, the humans have developed a way to communicate with their Hosts (who speak with two different mouths simultaneously). Much of the action of the novel centers on the fact that the Ariekei cannot lie and their words are their reality, not just descriptions of it. When the humans inadvertently spark a revolution in Ariekei society, the latter must shift their conception of reality in order to survive and stop killing themselves and their human neighbors. I cannot adequately describe the tantalizing suspense, the rich and beautiful articulation of how language shapes and is shaped by reality, and the brilliant conception of a completely alien race, that makes this novel so outstanding. I plan on reading much more Mieville in the coming months, and I'm eager to see how else he can stretch my brain. –Rachel Cordasco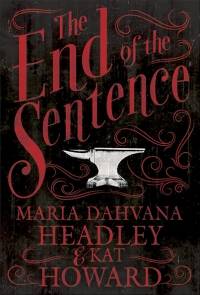 The End of the Sentence by Kat Howard and Maria Dahvana Headley (September 30, Subterranean Press)
Malcom Mays flees to rural Oregon after a tragic accident that shatters his life, buying a farmhouse in the middle of nowhere and doing his best to leave his past behind. But the house's former owner, a mysterious and suspiciously prescient entity named Dusha Chuchonnyhoof, has other ideas for Malcom: claiming he's been unjustly imprisoned–for 117 years–Chuchonnyhoof demands Malcom's assistance with a near-impossible task. As the end of Chuchonnyhoof's sentence approaches, Malcom must decide whether he's helping to free an innocent–or the Devil himself. A deliciously creepy and atmospheric mashup of old myths and new twists, Headley and Howard's lush, sinister novella is a guaranteed treat for fans of the fantastic. –Sarah McCarry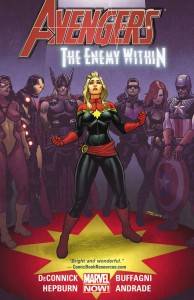 The Enemy Within by Kelly Sue DeConnick
As a relative newcomer to comics (I've been reading them for four or five years now) I follow the suggestions of friends who have LOTS OF FEELS about certain comics pretty consistently.  And there wasn't a single friend who had anything bad to say about MARVEL NOW's new Captain Marvel.  As a person familiar with Carol Danvers through pop culture references, I was very intrigued by the concept of Ms. Marvel taking over the role of the Marvel Universe's other renowned Captain.  The first trade left me intrigued, but not knocked out of the box–so much so that I waited a really long time to read Down, the second trade.  But when I did finally get around to it, I was floored.  The story was gripping, the art was fantastic. Carol herself (and her buddy Monica Rambeau) inspired a hero worship I hadn't experienced before.  I finished it right before going to an event, and made sure my route went past a bookstore once I realized the third installment was readily available.  Whatever improvement Down had made on In Pursuit of Flight, The Enemy Within made in ever increasing fashion.  It took me a second to get over the alternating art styles (one of which threw me off at first), but the story itself, filled with witty jabs and clever supporting characters, heartache and sacrifice, left me affected and misty. Some might say Down has the better story, but The Enemy Within is a perfect representation of what the modern superhero story can encapsulate. –Jessica Pryde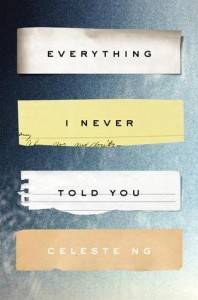 Everything I Never Told You by Celeste Ng
When a family's favorite daughter dies mysteriously in 1970s Ohio, (in the first sentence, no spoilers here) we enter the private inner lives of all the other members, complete with their secrets and unspoken- even to themselves- desires. The father, a son of Chinese immigrants who married his white wife to fit in. The mother who gave up her dreams of medical school to be a mother. The siblings who never measure up to the now-dead sister. What starts as a mystery turns into a complex examination of what it means to be a family and what lengths we go to to remain strangers to the people we love the most (but don't worry, you do find out what happened to the girl). –Amanda Nelson 
The Girl with All the Gifts by M.R. Carey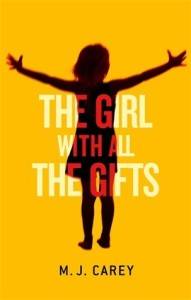 M.R. Carey takes the dystopian genre (one that has become a bit tired, to be honest) and manages to make it fresh and new in this unique novel. Melanie is just a girl, but she lives in a cell. Every time she's taken out of her cell, there's one man pointing a gun at her while another ties her to a chair. The only good thing in her life is her teacher, Miss Justineau, who treats Melanie like a real person. The question of what exactly Melanie might be is what will draw readers into this novel, but they'll stay for the amazing character development. Melanie is believable as both an innocent child and as the truly horrible thing she actually is. It takes the genre to an entire different level, especially as it leads up to an explosive ending that makes readers realize just how much Melanie really understands about her nature and the world she's living in. It manages to be both smart and an absolutely breathless, keep you up late into the night read. –Swapna Krishna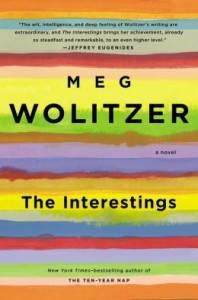 The Interestings by Meg Wolitzer
Summer is the perfect time to go back to camp: In The Interestings, five teenagers form a tight-knit group at a camp for artsy kids in the 1970s. There's Ethan, the genius cartoonist; Jonah, the reluctant musician; Ash and Goodman, the beautiful, rich siblings; and Jules, the funny, awkward girl on scholarship who just feels lucky to be included. Wolitzer follows the self-named "Interestings" (yeah, can you tell they're self-involved?) with poignancy and good humor over the next four decades, covering marriages and coming-out stories, successes and setbacks, bonds and jealousies. Through it all, we're reminded that teenage narcissism isn't anything new—but it can be a fascinating thing to unpack. These 500+ pages fly. –Margret Aldrich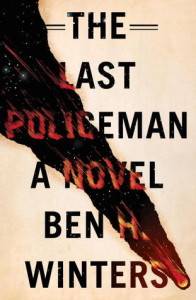 The Last Policeman by Ben Winters
I am super-late to the Last Policeman party, but thank goodness I finally arrived! I actually want to tout all three books in the series because WOW. I sat down and read the trilogy last weekend, not just because I read fast, but because I couldn't stop! They're. So. Good. The premise is this: It's 100% certain an asteroid is headed to Earth, where it will collide with the planet and everyone will die. And there's nothing anyone can do about it. So while waiting for the day of impact, some people go crazy, some commit crimes, some people chase their bucket list, and some people, such as Hank Palace, go about their daily lives so as not to go crazy. Hank is a police detective, and he is determined to solve a case, because he's dedicated, loyal, and what else is he going to do? So as people stop showing up for work, and loot stores, and stock up on ammo and canned goods for their bunkers, Hank hunts for clues and follows up on leads. I love this series an unreasonable amount – it's hella smart and interesting. (The Last Policeman and Countdown City are available now; the third, World of Trouble, will be out July 15.) –Liberty Hardy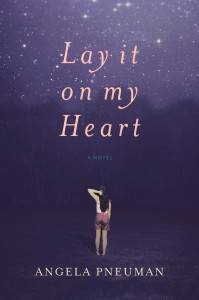 Lay It on My Heart by Angela Pneuman
I can't pay any work of fiction a higher compliment than to say that it reminds me of Flannery O' Connor's work. That's exactly what Angela Pneuman's first novel did. Set in a small Central Kentucky town (modeled after my hometown, awesomely enough) where churches outnumber stoplights by about fifteen-to-one, Lay It on My Heart shows us a family in flux and a young girl named Charmaine wrestling with the fallout of her prophet father's return from the Holy Land and his sudden mental health crisis. Charmaine is beset by obstacles from every side: her nascent puberty, poverty, an overbearing mother, the leering eyes of a handicapped high school boy, and a town where no secret stays secret for long. All the while, Charmaine prays that God would inhabit her, that she would know the meaning of prayer without ceasing and closeness to the Lord. But as the foundations of her life – her father, her history, and her religion – begin to crumble around her, she is left more untethered than ever. This is a gritty, powerful book. –Josh Corman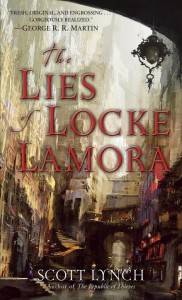 The Lies of Locke Lamora by Scott Lynch
Looking back, I realize I've had a really, really good reading month. The book that I keep recommending to everybody I know, though, is a back-list read of The Lies of Locke Lamora. It's a book about a heist (and oh goodness, I love heists), with a funny and endearing group of Gentlemen Bastards at its heart. The Bastards are a group of thieves out to rob the wealthy through disguise and deceit, but they get tangled up in larger messes fairly quickly, and so do we. Locke Lamora is a fun story set in a fantasy setting (a definite summer read), but my favorite part was the world building Lynch employs here. We've got gardens of glass roses that drink blood, games of sport that feature jumping sharks, and pages of descriptions of food in this other world. If you want a damn fun read, get it. Then, read the next in the series. Rinse and repeat. (Or something…)  –Nikki Steele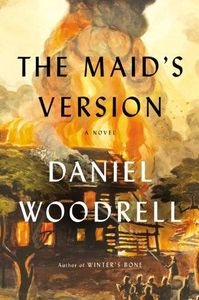 The Maid's Version by Daniel Woodrell
I started this a while back, I think it was in December. I always have high expectations for Woodrell's books but this is the first time the first lines didn't grab me right away (Woodrell is a genius as first lines). I put the book down and didn't pick it up again until the start of this month. It differs from Woodrell's other books in that it relies less on plot and more on characters and writing. I would almost go so far as to say that this is a "writer's novel". It centers around an unsolved explosion in a dance hall in 1929 that kills forty-two people. We are introduced to the people who were at the dance and to possible perpetrators, as told by Alma DeGeer Dunahew to her grandson, years later. As always, Woodrell's writing is the star of the show, but if you haven't read any of his books before or you like your books to have a conventional, linear narrative, I'd start somewhere else. Otherwise, great reading. –Johann Thorsson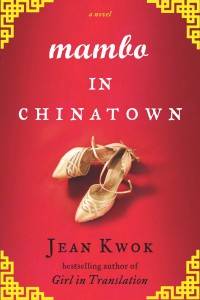 Mambo in Chinatown by Jean Kwok
22-year-old Charlie's been working as a dishwasher in the same restaurant in Chinatown where her father works, but it's far from what she wants to be doing with her life. When a friend tells her about a job opening at a dance studio as a receptionist, Charlie's thrilled about the idea, even though she knows she'll be terrible at the job and that she'll have to tell a lot of lies about what she's doing. Her deceased mother was a dancer, and her father wouldn't be okay with Charlie being part of that world, even if it wasn't dancing itself. As she suspected, she's terrible at the job, but she's offered the opportunity to teach a beginning dance class, despite having no experience. From there, Charlie's love for dance emerges.
Kwok's sophomore novel is about an American born Chinese girl who has to balance the desires to pursue new opportunities in her life with the cultural beliefs and traditions of both her father and the small Chinatown community. Kwok does an exceptional job of rendering this lesser-visited part of America in a way that's reverent toward both sides of the story. We want to see Charlie succeed in dance, but we also see why it's so important for her to listen to her father and why it's so important for her to keep some of those traditions and customs as part of her life now. There's great honor in both, and it's about how Charlie chooses to balance both of those worlds. The sister relationship between Charlie and Lisa, who is much younger than her, was my favorite part of the story though — the love they have for one another and the pain and grief they endure together is vivid. –Kelly Jensen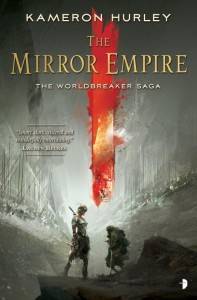 The Mirror Empire by Kameron Hurley (August 26, Angry Robot)
If this new epic fantasy from Kameron Hurley, of God's War fame, doesn't blow up the fantasy and science fiction world, I'm going to be utterly shocked. As the satellite Oma rises, two alternate realities align and go to war, with one side absolutely unprepared for the violence that bleeds through the other side. A gripping tale of war, family, society, and responsibility, The Mirror Empire is a rich epic fantasy set in a beautiful, diverse landscape with characters who are so fallible and human, it's a triumph to watch them grow and learn from their mistakes over the course of the novel. Hurley uses her diverse world to explore strict matriarchal empires, societies with more than five genders, cultures that encourage multiple husbands and wives in a marriage, and more. Not only does Hurley take the time to explore these different social and cultural systems, her world is also replete with new and fascinating fantasy elements: walking, carnivorous semi-sentient trees and plants, magic powered by the many different satellites that pass by the planet, alternate reality theorems and giant bears instead of horses! Kameron Hurley has outdone herself on this book, and I'm waiting on bouncing heels and a wide-eyed stare for the next one in the series. The Mirror Empire is absolutely worth your time.  –Martin Cahill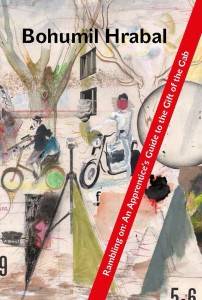 Rambling On by Bohumil Hrabal
Based on his capsule bio, Hrabal is one of those writers you think you should read more than you want to. Born a hundred years ago in what was then the Austro-Hungarian Empire and later became Czechoslovakia, work suppressed and censored by the Communist government, noted for his long and corkscrewing sentences–sounds like a snooze. But he's great fun, in fact, comic and crude and character-rich, and this collection of linked stories might just be the best proof of that in print. Rambling On is set in the (literally) Bohemian forest village of Kersko, a place notable for drunkenness, lust, venality, and especially the garrulousness of its inhabitants. Their self-serving lies pile up into mountains of manure, and the plots veer from the unbelievable into the surreal and the sublimely ridiculous. Credit to translator David Short for channeling the flow of Hrabal's language without stanching it, and to the publisher's design team, too. This edition is stunning, printed on thick paper that's a pleasure to touch and practically spilling over with art. Even if you don't ever read the words you'll love it. –James Crossley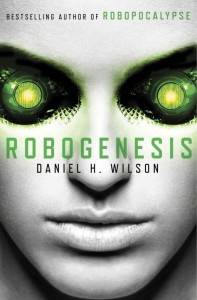 Robogenesis by Daniel H. Wilson
One of my favorite things about pre-ordering books I'm excited about, is when I entirely forget about that pre-order. And then one day I'm checking my mail and BAM! My plans for the evening have arrived. Such was the case with Robogenesis by Daniel H. Wilson, the sequel to the bestselling smash Robopocalypse.
I'll admit, when I first saw the cover of Robogenesis at BEA earlier this year, I was skeptical. Robopocalypse was one of my favorite books the year it came out. How was a sequel even possible? Well, Wilson manages to pull it off, with a plot that changes everything you thought you knew about the first book. I can't explain too much of the plot without ruining both books for you, but let's just say the uprising begins again, and you get to spend Robogenesis with a number of your favorite characters from the first title.
It also let Wilson show off his mind for robotics (note: Wilson worked with robots before he became an author), in far bigger ways than the first book. In fact, bits of the novel reminded me of his other recent novel, Amped, a book about humans with robotic modifications.
To wrap up, it's a thrilling read that you won't be able to put down. I finished reading it in two nights. If it had showed up on a Saturday, I probably would have spent the entire day with the book. Well done, Wilson. –Eric Smith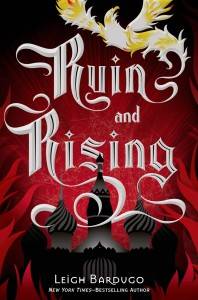 Ruin and Rising by Leigh Bardugo
Ruin and Rising is the third book Leigh Bardugo's fantasy trilogy that started with Shadow and Bone and Siege and Storm. The books are set in a world inspired by Imperial Russia, where Grisha, basically wizards, manipulate the smallest parts of matter to create storms, throw fire, and crush enemies hearts. The main character of the series, Alina Starkov, begins as a junior cartographer in Ravka's First Army. During an attack, Alina discovers she has the power to summon light, a power that has incredible implications for her world. Throughout the series, Alina struggles with understanding her power, herself, and her duty to Ravka. I've adored this series from the first volume, and Ruin and Rising didn't disappoint. It wound up all of the unanswered questions, presented a compelling and thoughtful look at what happens when love conflicts with duty, and was just a ton of fun to read. –Kim Ukura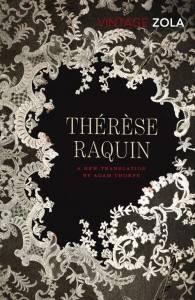 Thérèse Raquin by Émile Zola
When I heard that the movie version of the French novel, retitled In Secret, was coming out, I decided it was time to [finally] read the book. ThérèseRaquin is a dark tale about lust, murder, and guilt, set in a grimy shop in the Passage du Pont Neuf in Paris. It's generally considered to be a Naturalist novel, and thus has a detached, vaguely scientific quality to it. The most interesting aspect of the novel for me was how it portrayed guilt as a purely animalistic response to the consequences of a misdeed, as supposed to a spiritual or emotional desire for redemption. It's short, entertaining story and a great example of Naturalism in literature. –Kate Scott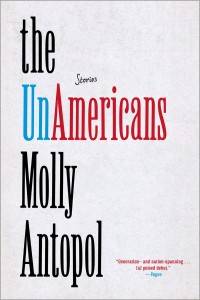 The UnAmericans by Molly Antopol
I was a bit late to the UnAmericans party, but good Lord, am I glad I decided to make an appearance. Short story collections are often hard for me to get into; I like the concept of short stories and I understand the craft behind them because I wrote many myself as an undergrad Creative Writing nerd. But I tend to like short stories as standalones, one by one author at a time, as in the Best American Short Story collections. Reading a whole bunch by one person has always been hard for me, who knows why.
But I'd heard so many good things about Antopol's stories, I had to give them a try at least. The collection is ostensibly woven together by a loose thread: all of her characters are Jewish, but it is not their Jewishness that defines them. It is their humanness. The stories move around in the global Jewish experience, but at their most essential, the stories are universal and each of them, without exception, made my heart ache with their telling. I listened to the collection on audio, and perhaps because of this format (which was wonderful), the story that sticks with me most is "My Grandmother Tells Me This Story." It is a told by a grandmother to an adult grandchild, and tells the true story of how she and the grandfather met: as fighters in the "Yiddish Underground" during WWII. The story is arresting and truthful and incredibly powerful and just one of a complete collection that knocked me on my butt and forced me to reexamine what it means to be American and, in my case, just a little bit Jewish. –Rachel Manwill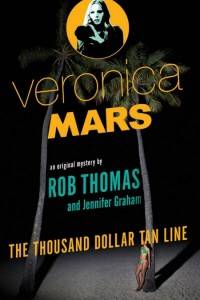 Veronica Mars and The Thousand-Dollar Tan Line by Rob Thomas and Jennifer Graham
Man, this was fun. Being as I went into this book already a marshmallow, I'm not exactly sure how non-marshmallow folks would judge it, but if you like fun and mysteries and sassy women taking on the corruption of shallow California towns, you will love it! I was actually surprised at how perfect an addition this was to the Veronica Mars franchise, how smoothly it flowed from the TV show and the movie, how much it all just made sense. I could HEAR Veronica in these pages, along with every single one of the rest of the characters. The dialogue was spot-on; the wit was as sharp as the mystery was dark; the plot was fast-paced and so very Neptune-ish. Of course, I never really doubted it, as I trust Rob Thomas pretty steadfastly, but gosh, I can't wait until the next one. I know the whole Kickstarter success story last year drove many to a not-very-surprising cynicism or plain annoyance with Thomas and the series, but whatever, haters. Take all my money, V-Mars franchise. –Jill Guccini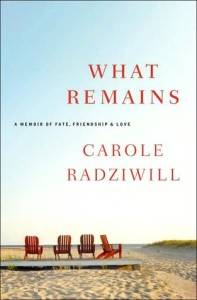 What Remains: A Memoir of Fate, Friendship, and Love by Carole Radziwill
Get addicted to Real Housewives of New York (check), get wrapped up in Radziwill's style/coolness (check), watch the fight of the season over a ghost writer – even though you don't really think this woman used a ghost-writer (check), and then remember that someone once recommended this book to you saying, "read it, read it, read it…" (check). So I read it. Besides the fact that it kept sending me down Internet rabbit holes because of my wicked curiosity, I read this book in just a few sittings. I'm not going to lie – I didn't need the childhood background (not really sure how it fed the story), but the rest of it… man… wow… shit. What makes this heartbreaking memoir interesting to those of you who don't really know/care about Carole Radziwill? She was best friends with John F. Kennedy, Jr. and his wife, Carolyn Bessette Kennedy (in fact, she was technically their cousin since she was married to HIS cousin, Anthony Radziwill). This is about her losing not only her husband (from cancer) but her two (just mentioned) best friends in a very public plane accident in the span of three weeks. Read it. Have tissues handy at the end. –Wallace Yovetich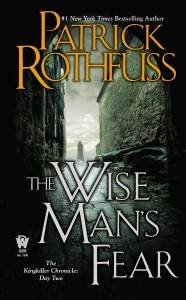 The Wise Man's Fear by Patrick Rothfuss
The Wise Man's Fear is the second book in The Kingkiller Chronicles trilogy. II read The Name of the Wind earlier this year and absolutely adored the world that Patrick Rothfuss created, but I decided to take my time picking up the sequel, The Wise Man's Fear because I knew that the third book in this trilogy doesn't even have a release date yet. But I could feel myself wanting to jump back into this world because it is just so appealing. In this one, you get more stories about Kvote at University, but you also get a lot of time seeing him outside of University and facing new characters and adversities as he continues his search for information about about the Amyr and the Chandrian. Even if fantasy isn't your genre of choice, I still recommend giving this series a try. Rothfuss' writing is top notch, there are so many passages that I underlined and, like in so many great fantasy books, there are so many ideas presented in this fantasy world that apply to the world we live in. –Rincey Abraham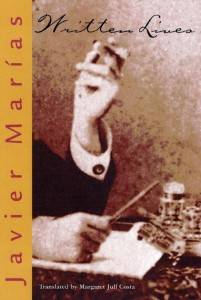 Written Lives by Javier Marias
In this short collection of mini-biographies, Marias says (while discussing enfant terrible Rimbaud) that "posterity always has the advantage of enjoying the work of writers without having the bother of putting up with the writers themselves."  These character sketches show that the writers' lives are anything but a bother.  Breathing much-needed life back into some of literature's most revered figures, Marias (a much-revered literary figure in his own right) shows that authors are often just as (if not more) interesting than the characters for which they are known… and that just because a writer's work is widely respected doesn't necessarily mean that the writer was respectable. –Minh Le
Sign up for The Stack. Get awesome comics content delivered straight to your inbox.