Buy, Borrow, Bypass: Bring Out Your Dead!
I've always had a bit of a dark streak in my reading life. I love a good true crime story and often pick up memoirs with a bit of illness or tragedy. Recently, I've been on a kick for books about life in the business of death. I'm curious how our funeral industry operates and, even more, curious about how we can better prepare for the decisions that come at the end of our lives. With that in mind, here are three memoirs by women with some unique experiences living with death.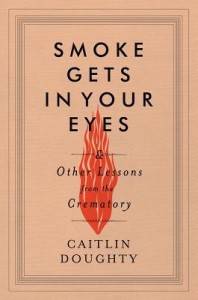 Smoke Gets In Your Eyes (And Other Lessons from the Crematory) by Caitlin Doughty (September 14 from W.W. Norton)
In her early 20s, Caitlin Doughty, a medieval history major fascinated by death, took a job at a family owned mortuary in California. Although she had no experience operating a crematory, Doughty's odd enthusiasm for the work (and for learning about how the deal with death) makes for a really great memoir. Doughty peppers the book with historical facts about death and early '90s pop culture references (Pogs! Puppy Surprise!) that maintain a sense of dark, irreverent humor throughout the story. But behind the humor (and lets be real, entirely disgusting descriptions about what can happen when a body is burned up), Doughty makes a strong case for changing our relationship with the dead. The funeral industry, Doughty argues, has encouraged our fear of death and dying by sanitizing what happens to our bodies after we die and shifting the care of our dead from families to professionals. This book made me laugh, cringe and think. .
Verdict: Buy, if you have a strong stomach and irreverent sense of humor. Otherwise, bypass.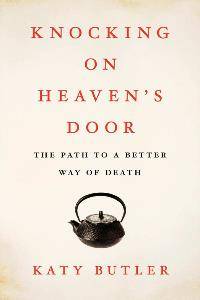 Knocking on Heaven's Door by Katy Butler
In 2010, Katy Butler wrote a wonderful, devastating piece for the New York Times Magazine called "What Broke My Father's Heart." In the essay, Butler shares the story of her father's life after a severe stroke. At one point, in order to complete a relatively simple surgery, doctors fitted her father with a pacemaker. This pacemaker kept his heart beating strongly while his mind and the rest of his body began to fail. In this memoir, Butler extends out the threads of argument in her essay, making a persuasive case that medicine's culture of over-intervention is taking away our choice to die with dignity and increasing the overall cost of treatment. The book is well-researched and approaches these issues fairly, but Butler also doesn't hide her simmering outrage and the way the medical establishment let her father down at the end of his life. It's an incredible piece of work.
Verdict: Read "What Broke My Father's Heart." If the essay moves you, buy this book. If not, borrow or bypass.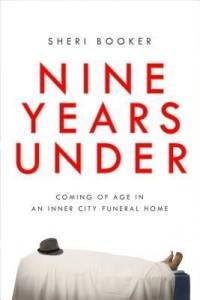 Nine Years Under: Coming of Age in an Inner-City Funeral Home by Sheri Booker
At 15, Sheri Booker talked her way into a part-time job at a funeral home West Baltimore. For nine years, Booker learned lessons from from the business' caring, temperamental owner, Al, and his charming son, Brandon. Along the way, Booker learned to steel her heart to the tragedy of caring for the dead – many of them young, black men killed as a result of gang violence in the city. Like Doughty, Booker also has a sense of dark humor about life in the business of death, but parts of this memoir fell a little flat for me. I wish that Booker had dug a little deeper into the stories of the people she worked with, especially Al, who turned his life from being a street hustler to funeral director. The memoir is good, but was just a little short of being great.
Verdict: Borrow
There many other great books on this subject I wish I could have included like We'll Be the Last Ones to Let You Down by Rachael Hanel, Stiff by Mary Roach, and The Restless Sleep by Stacy Horn. I'd love to get some more recommendations in the comments!
Samantha Irby and Robin Sloan talk about their favorite books in our newest podcast,
Recommended
. Download it for free from
Apple Podcasts
 or 
Google Play
.