Buy, Borrow, Bypass: Scandals and Weddings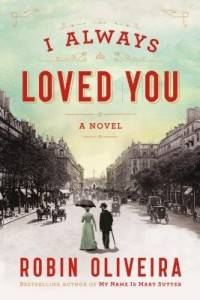 I Always Loved You by Robin Oliveira
Mary Cassatt is about to pack up her brushes and leave Paris for good, giving her dreams of becoming a successful artist a sad adieu, when she's introduced to her favoritest painter in the whole wide world, Edgar Degas. With his encouragement, she finally paints what she wants and achieves her dreams. But will their relationship ever go beyond mentorship? And how will the love triangle between Degas' bestie, Edouard Manet, and his brother and Berthe Morisot shake out? Like paint drying on a wall, these are the days of their lives.
I started this book with some trepidation. I happen to know a lot about this time period and Manet and Degas in particular, which usually means I have trouble suspending disbelief and enjoying a novel about them. That actually wasn't the case here—I Always Loved You was so divorced from the reality of these historical figures that it could (and probably should) have been about fictional characters, instead. It actually wasn't as bad as I feared it would be, but it was very soap opera-y, and I was annoyed by how Cassatt and Morisot spent alllll their time mooning and worrying and fluttering over the male painters. EYE ROLL. If I'm picking up a book about a woman, I want it to be about her and what SHE does, not the life and times of a bunch of misogynistic male artists.
Verdict: Bypass. Any non-fiction book about Cassatt would be better than this.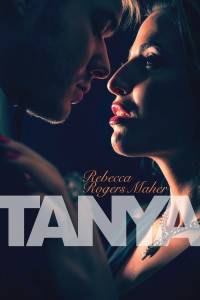 Tanya by Rebecca Rogers Maher
Jack's at a diner one night when he gets picked up by a hot woman for a no-names-exchanged one-night-stand. This doesn't happen to him a lot (or ever), so he's pretty stoked. Then he shows up at his brother's wedding and discovers the woman he slept with is Tanya, his future sister-in-law's actual sister. Will these two crazy kids get together?
If you read The Bridge (and you definitely should), then you might remember Tanya as Christa's alcoholic and officially-a-horrible-person sister, who abandoned Christa when she got cancer. Tanya is not a nice person, or a good person, but Maher still made me root for her. I really love that Maher is willing to take chances and write about heroines who aren't perfect, who are sexually aggressive, and who deal with big problems like addiction. That being said, Tanya read more like a really long and completely unnecessary epilogue than its own story, and the emotional arcs for both Jack and Tanya felt incomplete.
Verdict: Borrow (or buy—it's only $2) if you read The Bridge; otherwise, bypass.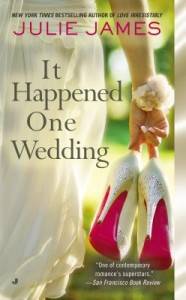 It Happened One Wedding by Julie James
Sydney's little sister is getting mawwied, and while she's super happy for her, she's also a little bummed because she had to cancel her own wedding after she found out her fiance was cheating on her. Now she's picky like whoa about the guys she dates. Enter Vaughn, Sydney's future brother-in-law's actual brother, a hot FBI agent who's also a playa playa. OR IS HE?
Another day, another romance novel about people falling in love at their siblings' wedding. Does this happen a lot in real life? I have my doubts. Anywhosie, James is at her best when her books come across more like a romantic comedies than romance novels, and It Happened One Wedding is very romcom-y. It's a fast, fun book with likable characters and clever dialog between Sydney and Vaughn. The bits about Vaughn and Sydney's jobs are kind of boring because they have absolutely zip to do with the plot, and the ending is kind of ridiculous, but overall this one of James' better novels.
Verdict: Definitely worth the buy if contemporary romances are your jam.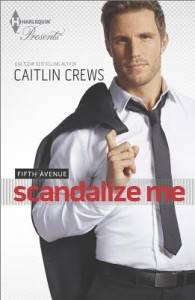 Scandalize Me by Caitlin Crews
Zoe Brook is on a mission to revamp bad boy football player Hunter Talbot Grant III's (like, really? That's his name?) tattered image. What she doesn't tell him is that she's also out for revenge! She wants to bring down Hunter and his sleazy college buddies for playing a major role in the death of her friend, and Hunter's her first target. But what if Hunter is just as interested in meting out justice as she is?
I actually really liked the premise of this novel—I'm a sucker for revenge stories, and Zoe reminded me of Olivia Pope, which was awesome. But I couldn't get past the writing. The story moved at the pace of a snail because eighty percent of the book was internal monologue. Zoe would say something, then think about her words and backstory for ten or twelve pages (minor exaggeration, might have been more like four or five), and then finally Hunter would respond and reflect on why he said that for another ten pages. Like HOLY EXPOSITION IN A HANDBASKET, WHERE WAS THE FREAKING EDITOR? The dialog might have actually been clever if I hadn't forgotten what they were discussing by the time either of them got around to saying anything. Life's too short to put up with this.
Verdict: Byyyyyyypassssssss
By signing up you agree to our Terms of Service
Enter to win
$250 to spend at Barnes and Noble!