The Week's Most Popular Posts: May 26 – 30, 2014
Let's take a look back at the week that was here at Book Riot . . . 
Not all readers have access to brick and mortar stores. Not all readers have the capability to walk to their local indie or their local Barnes & Noble or their local Books A Million or their local Chapters and buy books in person. Not all readers have the ability to get in a car, fill up their gas tanks, and spend an hour driving each way to a store. Not everyone lives in a great city, not everyone lives near a great city, and not every great city is a great city for bookstores. We aren't just talking about "flyover country" here, the big swath of land people hate having to sit through while on the airplane going from one coast to the other. There are book deserts all over the place, including major metropolitan areas.
from Your Local Brick & Mortar Bookstore Is A Privilege by Kelly Jensen
____________________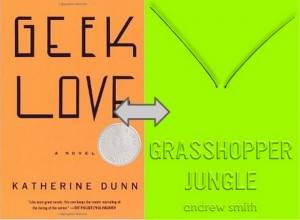 Being the lone children's specialist on a staff of 40 booksellers made me enough of a weirdo out of the gate at my current job, but I didn't help things by suggesting to every customer who just finished reading Lolita immediately read (or re-read) The Phantom Tollbooth. I stand by this and I haven't stopped recommending it, despite the weird looks; I can think of no books that are greater love letters to the English language than those two. Sometimes when I can't sleep at night, I run through my favorite books and try to find their opposite-age spiritual counterpart. It does nothing for my insomnia but makes for good cocktail party conversation in certain very small circles. 
from There's A Kid's Book For That by Cristin Stickles
____________________
I encouraged my students to leaf through copies of the books on the list before they read, to consult reviews and Goodreads pages, to read the first fifteen pages of this book and that, just to see how they landed. In other words, I treated them the way readers want to be treated in an age when they have access to everything, when something more engaging is a click or a swipe away.
The result? I'll have to wait a week or two – when they turn in their final projects based on their selected novel – to know for sure about the academic side of things, but I'm betting on their success. Because aren't we more engaged as readers when we have some autonomy? When we can try things out and settle on something that strikes us? Don't we read more deeply? Aren't we more likely to have something meaningful to say about books we feel a connection to (even if we don't like the book in question?).
from Confessions of a Once-Tyrannical English Teacher by Josh Corman
____________________
I am convinced that every book I love is going to be the one that changes my life. I burn through the pages, covering them with black ink, underlining every sentence. I cannot believe how specifically this book applies to my life or how it is rearranging my normal pattern of thought. I finish it in a hurry and convince all of my friends they have to read it right away. Then I put the book on a shelf and almost immediately forget about it.
from How Do You Hold On To What You Read? by Ashley Riordan
We have
a brand new, top-of-the line Kindle Voyage to give away
. Go
here to enter for a chance to win
, or just click the image below. Good luck!