Inbox/Outbox: May 16, 2014
A little bit of everything this week, just the way I like it. Hit me with your highlights in the comments!
Inbox (Books Acquired)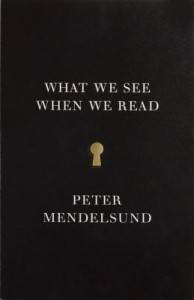 What We See When We Read by Peter Mendelsund (Vintage, August 5)–When one of the biggest names in book design writes a book about how we visualize images while reading literature, you snatch it right up. Or, at least you do if you're me and you find this to be utterly fascinating. I'm not terribly gifted with visual stuff, and when I read, I tend to hear the language in my head more than I see a movie of the story it in my imagination. This examination of how words on a page become pictures in our brains is blowing my mind a little in the best possible way. And Mendelsund doesn't just use words–the book is packed with illustrations to show us, literally, what he's talking about.
On Immunity: An Inoculation by Eula Bliss (Graywolf Press, September 30)–Graywolf Press is doing incredible work with nonfiction lately, and this book, which seeks to answer the question, "Why do we fear vaccines?" promises to keep their streak alive.
Outbox (Books Finished)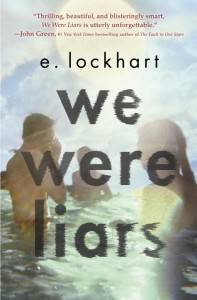 We Were Liars by E. Lockhart–Here it is, THE big YA novel of summer. So big that it feels like the marketing push for it started last summer with buzz built around the existence of a Big Plot Twist and a whole lot of secrecy. The writing is wonderful–E. Lockhart knows her way around a knock-your-socks-off sentence–and I loved the reading experience right up until The Big Plot Twist. At which point I stopped buying it, started seeing plot holes, and wondered if the campaign of secrecy is less about actual intrigue and more about encouraging readers to gulp down the story without questioning its logic. It's a mostly great read with what came across to me as an unnecessary gimmick, and now that it's out in the world, I'll be interested to see what the conversation looks like as readers take the reigns.
In the Queue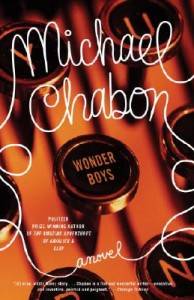 Wonder Boys by Michael Chabon–In my younger and more vulnerable years, I loved few things more than novels about novelists. I set out several years ago to read Chabon's fiction in chronological order, and, well, it's taken me a while to get to this, his second novel. But it's a novel about a novelist, and it has all the charm and neuroses one expects from such a story, and I'm enjoying it despite the fact that my readerly tastes have changed since the days when I couldn't resist this trope. Plus I get to picture Michael Douglas as main character Grady Tripp thanks to having seen the movie.
That sums it up for me, friends. What have you been reading this week?
Annotated
brings you the story of love, punctuation, and the Oxford comma. Download it for free on
Apple Podcasts
 or 
Google Play
.