Buy Borrow Bypass – Books About Work Edition
Most of my reading of late has been books on marketing and on "the new work," i.e. remote working (meaning at home without your pants on). The books are different; one is on the nature of the modern workplace and how it should change, the others are on idea creation and marketing.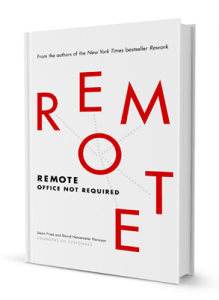 Remote: Office Not Required by Jason Fried and David Heinemeier Hansson
This is a book written by two guys from 37Signals, a startup company in Chicago. The whole book is a manifesto of sorts, intended to empower people to live the dream of working where they want, when they want. Of course, the book's premise depends on you working in a field where you can work remotely, i.e. on a computer. And believe it or not, they really do make a great point. Every excuse not to do work remotely is tackled, and most excuses a boss might have for not allowing to his or her employees work remotely is poked.
They say that by working where you want, without the everyday distractions of the office environment, you will be more productive. And I believe them. This is a great book if you've ever thought "You know, I could do this as well or better from home" or even "I could be doing this from Miami beach." this is a book for you.
Verdict: Buy.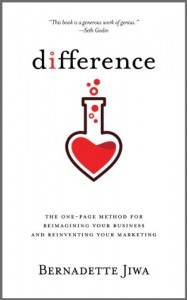 Difference: The One-Page Method for Reimagining Your Business and Reinventing Your Marketing by Bernadette Jiwa
This book is a straight-on inspiration-for-business book. The premise is that you shouldn't develop a product and then try to market it, but solve a problem for a market that is already there. In an early chapter, the author says: "you need to understand the story that people want to believe and become invested in it." She then outlines the characteristics of "Different Thinkers."
Advertising is dead. Marketing is dying. Make your brand something users can believe in. If this sounds like something you can relate to, this is a book for you.
Verdict: Borrow.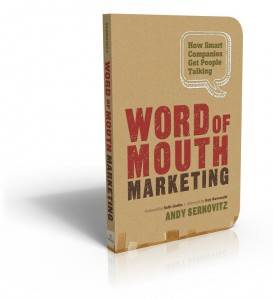 Word of Mouth Marketing by Andy Sernovitz
This is a "classic" of sorts in the marketing world. It's about how the single best marketing you can do is to be remarkable (and by "you," I mean your company/café/library, whatever). Examples include a restaurant that gives out food to the people waiting for a table and Apple's white headphone cords.
It lists ways in which this can be achieved and gives pretty good hands-on advice about quick and easy ways to get people to talk about your business. I really like the tone of the book, it feels like the author is sitting next to me at a coffee shop and we're just having a conversation. It's an easy read, and has tons of great ideas.
Verdict: Buy. It even comes in graphic novel form now!
We have 5 copies of
My Sister, the Serial Killer
by Oyinkan Braithwaite to give away to Book Riot readers!
Go here
to enter for a chance to win, or just click the image below. Good luck!