14 Favorite Novels About Family Vacations Gone Awry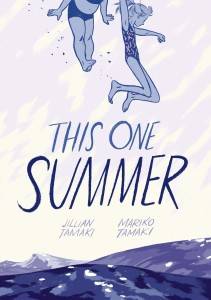 This round of the Riot Recommendation is sponsored by This One Summer by Jillian and Mariko Tamaki.
Every summer, Rose goes with her mom and dad to a lake house in Awago Beach. It's their getaway, their refuge. Rosie's friend Windy is always there, too, like the little sister she never had. But this summer is different. Rose's mom and dad won't stop fighting, and when Rose and Windy seek a distraction from the drama, they find themselves with a whole new set of problems. It's a summer of secrets and sorrow and growing up, and it's a good thing Rose and Windy have each other.
In This One Summer two stellar creators redefine the teen graphic novel. Cousins Mariko and Jillian Tamaki, the team behind Skim, have collaborated on this gorgeous, heartbreaking, and ultimately hopeful story about a girl on the cusp of her teen age—a story of renewal and revelation.
_________________________
We asked you for your favorite stories of family vacations gone awry, and here's what you had to suggest:
The Vacationers by Emma Straub
Twenty Boy Summer by Sarah Ockler
Maine by J. Courtney Sullivan
Trouble by Kate Christensen
Seating Arrangements by Maggie Shipstead
We Were Liars by E. Lockhart
Cutting Teeth by Julia Fierro
Wedding Night by Sophie Kinsella
The Last Days of California by Mary Miller
The Red House by Mark Haddon
As I Lay Dying by William Faulkner
Christmas Past by Robert Vaughan
The Grapes of Wrath by John Steinbeck
Touch and Go by Thad Nodine
Enter to win
$250 to spend at Barnes and Noble!