This Week's Most Popular Posts: April 28 – May 2, 2014
What were this week's most popular posts around these here parts? Let's take a look.
The thing about being a good ally is that sometimes you have to do the uncomfortable thing to make change, and indeed, one's privilege in a situation sometimes makes that obligatory. John Green needs to be a good ally here and use his phenomenal power, his formidable reach, and his huge moneymaking self to stand up and tell BookCon that this is not okay. 
If you're going to be called a prophet, eventually someone's going to expect you to lead us to the promised land. We don't need John Green to save YA (it was fine before he got there), but we could use his voice and power now.
from Blindingly White: BookCon, John Green, and Knowing When It's Time to Speak Up by Brenna Clarke Gray
____________________
What's problematic here isn't this shelf in particular, nor is it the shelves of any of a number of other Goodreads users who perpetuate the idea that girls who like sex in their books are sluts and therefore lack value. It's not the reviews of books that are left on Amazon or blogs or anywhere else that equate a female character's worth with her sexual appetite.
Those are instead symptoms of a much more pervasive problem of sexism and reading altogether.
from On "Slut Shelves" and Eating Our Own in Fiction by Kelly Jensen
____________________
Time passes and a king comes upon this mansion. Curious, he climbs the trees and sees Talia asleep/dead. Horny, he carries her to the bed (she had been placed on a throne) and has sex with her. HE HAD SEX WITH AN UNCONCIOUS/POSSIBLY DEAD PERSON, and then went away and forgot about her… clearly, we are not dealing with Prince Charming. Awhile later, he remembers her and goes back (maybe he was in a rapey mood again?) and finds her with two children – twins, one of whom had sucked the deadly flax splinter from her finger (which awoke her — after a full pregnancy and the birth of twins while being unconscious, mind you) because they couldn't find her nipples for breast-feeding. Because, weird fairy tale.
from Creepiest Fairy Tale of Them All: Sleeping Beauty by Wallace Yovetich
____________________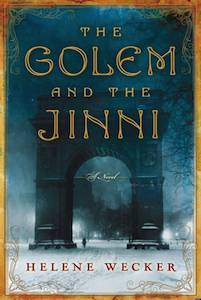 Once again I was nailed by my local librarian and not in that way, in this way, the way she has in steering me backwards, brilliantly, toward my eleven year old self and the stories that I, gawky, pudgy, overbite, braces, loved at that age, which is the Sci-Fi/Fantasy portion of everyone'slife. She pushed The Golem and The Jinni on me. And I sat up long after I put the kids to bed to steep in this wonderfully cast tall tale set in 19th century New York where waves of immigrants came in through Ellis Island and where a golem, a homunculus of Jewish mythology, meets a jinni, sprite of the desert Middle East, and they fight crime together like Peace Talk superheroes.  
from Riot Roundup: The Best Books We Read in April
By signing up you agree to our Terms of Service
We're giving away five copies of Leslie Jamison's new essay collection
Make it Scream, Make it Burn
.
Click here to enter
, or click the image below!