Critical Linking: May 1st, 2014
This year, same as in 2008 when The Harris Poll last asked this question, the number one book is The Bible, followed by Margaret Mitchell's Gone with the Wind. Moving up one spot on the list to number three is J.K. Rowling's tales of the young wizard in the Harry Potter series. Rounding out the top five favorite books are another series – J.R.R. Tolkien's The Lord of the Rings, which drops one spot to number four – and Harper Lee's coming of age classicTo Kill a Mockingbird, which moves up two spots to number five.
This overall top ten most liked books in America is interesting, but be sure you scroll down to the most popular book by different segments.
____________________
McDonald's UK has struck a deal with eReading provider Kobo to offer its Happy Meal buyers access to free digital books, as part of its plan to deliver a "fun, enriched experience" for customers.
Also, "to make money." Still, a good idea.
____________________
This year marks an efflorescence of attention, including a full-scale exhibition of Saint-Exupéry's original artwork at the Morgan Library & Museum, in New York. But we are no closer to penetrating the central riddle: What is "The Little Prince" about?
I am so relieved to learn that I am not the only one that loves The Little Prince, but damned if I could tell you what it means. (Maybe that's the point? Nah, that trick isn't going to work).
____________________
Book Riot's summer tshirt is available for a limited time. Order one now for 20 bucks. Not bad right?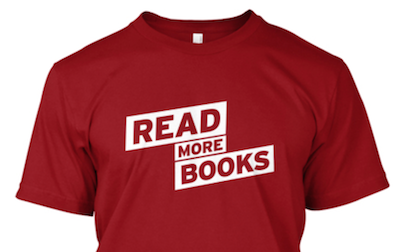 By signing up you agree to our Terms of Service
In a book lover's life, there's nothing as magical as a perfect, surprising recommendation from someone who just
gets
you. But finding those people can be tough! That's where
TBR
comes in. Go here to find out more, or just click the image below: