The Week's Mosts Popular Posts: April 14-18, 2014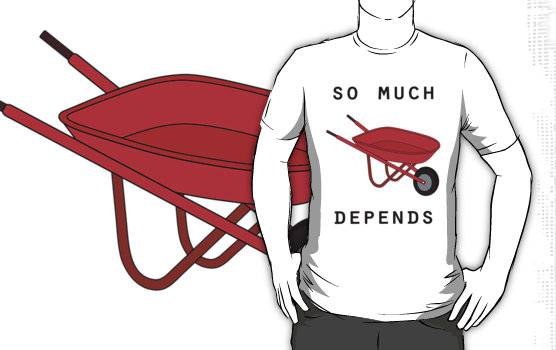 Red Wheelbarrow Tee: In honor of National Poetry Month, rock this ode to William Carlos Williams most famous lines.
From Book Fetish: Volume 108 by Rachel Manwill
____________________
Which brings me to a question I have been thinking about for a while: what do people with large social networks, followings, and devoted fan bases have to lose if they take the time to address mega-issues such as diversity and/or give some space in their day to talk about or share the messages those within their community are sharing? This isn't a matter of time. It's a matter of commitment to doing and acting. It's a commitment to listening and considering and, most important, spreading the message.
From We Need Bigger Megaphones for Diversity in Kid Lit by Kelly Jensen
____________________
Assigned books come with a burden. You have to write reports about them or stand up in front of the class and discuss what you thought the green candle symbolized. Books you select on your own have no such burden. You are completely free to read as quickly as you want, and no one is going to quiz you on the big words. Assigned books were almost always "Literature," and literature was never any fun.
But then something odd happened.
From When Assigned Reading Is Pleasure Reading by Johann Thorsson
____________________
Remember when Stephen dedicated an entire week to The Hobbit?
That was amazing, and so was this interview with James Franco where Colbert rose to levels of Tolkien geekery that I didn't even know EXISTED.
From Stephen Colbert's Best Bookish Moments by Tasha Brandstatter
By signing up you agree to our Terms of Service
We have 5 copies of 
the
Forbidden Hearts series
by Alisha Rai to give away to Book Riot readers!
Go here to enter for a chance to win
, or just click the image below. Good luck!