Inbox/Outbox: April 11, 2014
After a couple weeks deep in the House of Cards rabbit hole, I've found my reading groove again!
Inbox (Books Acquired)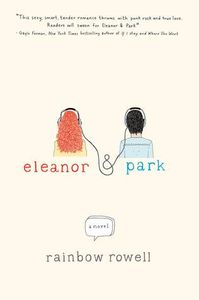 Eleanor & Park by Rainbow Rowell–Sometimes it takes me a while to come around to reading the Really Big YA Books. I don't read a ton of YA, so I kind of pick and choose my spots, and I tend to go for edgy over earnest. (A.S. King 4EVA!) The E & P movie deal announcement, which gives me hope for some lead characters that aren't conventionally hot, pushed my curiosity about this one past the tipping point. I'm just about finished with this now, and I totally see the appeal. 15-year-old me would have eaten this up with a spoon, even if 31-year-old me hasn't reached a firm verdict yet.
The Paying Guests by Sarah Waters (Riverhead, September 16)–All I know about this is that fellow Rioter Liberty loved it, and that's all I want to know. I adore Sarah Waters, and the more of this new book that can be a surprise going in, the better.
Outbox (Books Finished)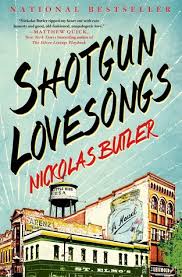 Shotgun Lovesongs by Nickolas Butler–In a small town in Wisconsin, a group of friends reunite to celebrate a wedding weekend. One of them is famous rock star now. One's a hot-shot businessman. One is a farmer. One is a washed-up rodeo cowboy in recovery from alcoholism. Life has taken them down very different paths, but they remain connected by bonds they established in childhood. In chapters that rotate between the four friends and a few other characters' voices, Butler unwinds a history of lifelong friendship. He reveals how these people became who they are–as individuals and in relation to each other–while also unfurling their futures.
This is a touching, funny, thoughtful look at the ties that bind, and at how we push those ties to their limits with the shifting dynamics and demands of love, family, success (or the lack of it), and faithfulness. It's a great read, period, but you especially shouldn't miss it if you dug Meg Wolitzer's The Interestings, which is another fantastic novel about friendship, talent, and the tension between dreams and reality.
In the Queue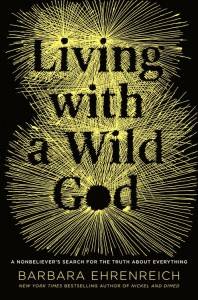 Living with a Wild God by Barbara Ehrenreich–If you're raised an atheist and are naturally more drawn to science than to the supernatural, how do you make sense of uncanny moments of wonder, altered states of consciousness, or mystical experiences? When she was 13, Barbara Ehrenreich began having experiences she couldn't explain. And, like a typical precocious teenager, she started wondering why we are here and what we are doing. The answer everyone gave her was God, and that didn't satisfy her. So she went searching. Here, Ehrenreich shares the journals from her adolescence (which are about a thousand times more articulate and erudite than mine were at that age) and cracks open her search for truth in the world and how she got comfortable with not believing in God. At the halfway mark, this is a really fascinating book from one of our best thinkers.
How's your week been? What are you planning to curl up with this weekend?
By signing up you agree to our Terms of Service
We have 10 copies of
A Gentleman in Moscow
by Amor Towles to give away to Book Riot readers!
Go here to enter for a chance to win
, or just click the image below. Good luck!