29 YA Books About Secrets, Bullying, and Blackmail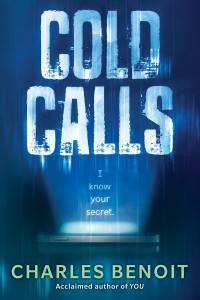 This giveaway is sponsored by Cold Calls by Charles Benoit.
Three high school students-Eric, Shelly, and Fatima-have one thing in common: "I know your secret."
Each one is blackmailed into bullying specifically targeted schoolmates by a mysterious caller who whispers from their cell phones and holds carefully guarded secrets over their heads. But how could anyone have obtained that photo, read those hidden pages, uncovered this buried past? Thrown together, the three teens join forces to find the stranger who threatens them-before time runs out and their shattering secrets are revealed . . .
_________________________
So much about being a teenager makes your heart race: crushes, kisses, secrets, and sneaking out at night. But that's not all, and anyone who has been a teen knows it. When you have the kind of secret that would change your life if it got out, well, that's terrifying. And when it falls into the wrong hands? OH BOY.
For this giveaway, we asked you to tell us about the best YA books about secrets, bullying, and blackmail out there. Here are your favorites:
Pretty Little Liars Series by Sara Shepard
Before I Fall by Lauren Oliver
If I Lie by Corrine Jackson
The Extraordinary Adventures of Alfred Kropp series by Rick Yancey
LIttle Brother by Cory Doctorow
The Chocolate War by Robert Cormier
Eleanor & Park by Rainbow Rowell
Shelter by Harlan Coben
Thirteen Reasons Why by Jay Asher
Harry Potter series by J.K. Rowling
Butter by Erin Lange
Crash and Burn by Michael Hassan
The Moment Before by Suzy Vitello
Mice by Gordon Reece
Keesha's House by Helen Frost
The Disreputable History of Frankie Landau-Banks and We Were Liars by E. Lockhart
The Last Book in the Universe by Rodman Philbrick
The Red Sheet by Mia Kerick
Speak by Laurie Halse Anderson
Wonder by R.J. Palacio
Burn for Burn by Jenny Han and Siobhan Vivian
Gossip Girl series by Cecily von Ziegesar
Fat Angie by e.E. Charlton-Trujillo
Burning Blue by Paul Griffin
Some Girls Are by Courtney Summers
Reconstructing Amelia by Kimberly McCreight
Undone by Cat Clarke
The List by Siobhan Vivian
Never miss a giveaway! Sign up to get notified with our giveaways newsletter.