Buy, Borrow, Bypass: A Pirate's Life for Me
Good morning, class. Today we are going to talk about pirate books you should or shouldn't read. Why are we going to do this? Is it a piratical sort of holiday? Is a pirate movie popular in the theaters right now? Is it the day where we talk like a pirate (I forgot what it's called)? NO. We are going to talk about pirates because they are really cool and I really want to.
Now settle down.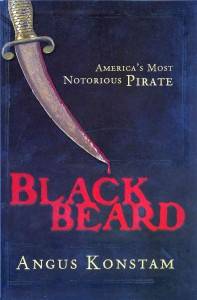 Blackbeard: America's Most Notorious Pirate by Angus Konstam
This is probably my favorite of all the various pirate books I own, a biography of the life and times of Edward "Blackbeard" Teach, possibly the most famous of all the Caribbean pirates. You know who he is without me telling you, he's as thoroughly ingrained in pop culture as anyone can be, which is fascinating given that we don't know a great deal about him. (Although I suppose we know comparatively a lot, give the famous figures of the past about which we know zilch). Blackbeard, with his ship The Queen Anne's Revenge, his massive bandolier of pistols slung across his chest, and his intelligent use of theatricality to defeat opponents, rather than brutality and violence (two things he wasn't necessarily known for, in fact). He used to stick lit cannon fuses under his hat, jutting down past his face, so that he would board ships billowing smoke, lit in a hellish red glow that accentuated his big black beard and fearsome face. Many's the sailor, and captain, who thought "I'm not getting paid enough for this" and surrendered.
Angus Konstam does an excellent job of tracing his life and examining the world of piracy in which Edward Teach so briefly lived. The book is readable and entertaining rather than dry, and it's the perfect way to introduce yourselves to the world of Caribbean pirates, if that's what you're after.
Verdict: Buy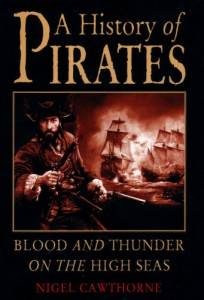 A History of Pirates: Blood and Thunder on the High Seas by Nigel Cawthorne
I don't know what it is with this book, in that any time I talk about pirates this seems to be the one book everyone has reached for. It's not actually popular, as near as I can tell, it just seems to be always closest at hand to anyone who wants to start reading about pirates. Maybe it's the first Google result for "pirates," I don't know…but the fact is, being close at hand doesn't mean that it's any good. This is a great book to read if you want to lose interest in the topic quickly and wander off to read something else.
For one thing, the editing is pretty bad. At least in my edition, perhaps it's improved since then, but I haven't yet checked. Typos abound. It doesn't end there, though. The content of the book itself is extremely scattered and disorganized, and occasionally badly written. There are good bits, but they get bogged down in a crushing swamp of tedious detail. "But detail is a good thing in a history book," I hear you saying. That's true! But this is like saying "water is good for you" and then falling face-first into a swamp. It's just dense and erratic, alternately. And the fact is, it's not like this is the only book available on pirates, so why bother? There's better elsewhere.
Verdict: Bypass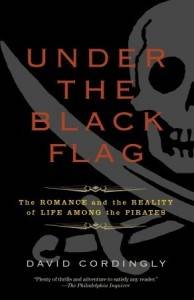 Under the Black Flag: The Romance and Reality of Life Among the Pirates by David Cordingly
I told you there was better elsewhere. Under the Black Flag is a general history of the golden age of piracy, that brief period of years which has so thoroughly enraptured us for all the hundreds of years since. Exploring the rumors and legends and romantic ideas about piracy – which existed even at the time, the Caribbean pirates being very Robin Hood-like in how they were received – and then examining the reality of piraticle life, this is a fascinating and excellent book. The danger of exploring the romantic ideas and contrasting with them with reality is that you can get very tedious and pendantic, hundreds of pages going "It wasn't that interesting. It was actually terrible" until you give up on pirates altogether.
Happily, this isn't remotely the case here. Cordingly is clearly as excited by the reality of sea-life as he is about the stories and legends that grew up around them. The book is perhaps not quite as easy a read as the Blackbeard biography I mentioned above, if for no other reason than because this is a general history and doesn't have the narrative focal point of a single individual and his life to carry the book along. Thus, this book is a bit more dry and a bit more dense, but neither of these things make it at all unenjoyable. By the end of this one, you'll have an excellent working knowledge of the Caribbean pirates, their lives, world, and practices (did you know they were a democracy aboard pirate ships? I hadn't, before this.)
Verdict: Borrow to see if it grabs you, then Buy when it probably does
Bonus Piratical Suggestion
Pssst. Hey. Down here. Keep your voice down. Listen, don't let my editors know this, but I wanna recommend something additional which isn't a book. Stop looking around so furtively, you're going to draw their attention.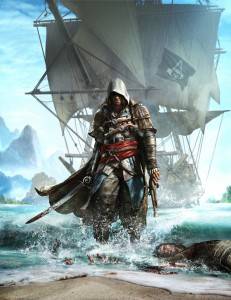 Assassin's Creed IV: Black Flag
This is a video game (and is something like the sixth game in the series, in actuality) and you don't really need to bother with any of the others. You can hop in right here, if you want. You play as Edward Kenway, and you rub shoulders with the likes of Blackbeard, Captain Kidd, Mary Read, Captain Rackham, and many others, all of whom are written with cleverness and style. The story is compelling, the graphics are gorgeous, and you get the entire open seas of the Caribbean in which you pillage, plunder, and otherwise pilfer your weasley black guts out. It is a spectacular bit of fun, trading cannon fire in the heart of a giant tropical storm, the ocean towering above you, lightning smashing about. Then the weather clears and your crew begins a sea shanty.
If nothing else, it'll give you an interesting introduction to the pirates and their time period, from which to decide what you want to read about with more focus. And maybe you can learn some sea shanties with which you delight your family and neighbors.
By signing up you agree to our Terms of Service
We have 5 copies of 
the
Forbidden Hearts series
by Alisha Rai to give away to Book Riot readers!
Go here to enter for a chance to win
, or just click the image below. Good luck!