Inbox/Outbox: March 21, 2014
Back in the saddle and it feels so good. That's how it goes, right? Let's get right into it.
Inbox (Books Acquired)
The Skeleton Crew by Deborah Halber (July, Simon & Schuster)–As promised by its subtitle, this one is all about "how amateur sleuths are solving America's coldest cases." It's about the internet and obsession and the incredible feats of crime-solving that everyday people have pulled off with a little help from Google. And it's so great! You needn't be into the cold case thing to find these people and stories utterly fascinating.
My Beloved Brontosaurus by Brian Switek–I don't know how you grow up to be cool enough for the job description "dinosaur fanatic," but man do I wanna know. Switek promises to weave his personal love for dinosaurs with paleontology and history as he explores evolution and human culture, and I just can't wait to read this.
[buyandread isbn="0374534268″ linkshare="http://store.kobobooks.com/en-US/ebook/my-beloved-brontosaurus"]
Outbox (Books Finished)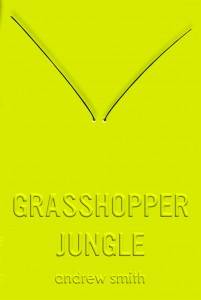 Grasshopper Jungle by Andrew Smith–Y'ALL. This is everything I want YA fiction to be. 16-year-old Austin Szerba records his personal history and what happens when he and his best friend Robby are accidentally and unwittingly responsible for unleashing an unstoppable army of giant grasshoppers and bringing about the end of humanity. Seriously. And it's about how Austin is always horny and always confused, and how he's in love with his girlfriend and maybe also in love with Robby, who is gay and is definitely in love with him. AND it's about families and history and being the kind of kid who can't wait to grow up and get away from high school. This book is smart, funny, edgy, gross, and so honest, and I'm more than a little bit bummed that it didn't exist when I was a constantly-horny-and-confused teenager.
[buyandread isbn="0525426035″ linkshare="http://store.kobobooks.com/en-US/ebook/grasshopper-jungle-1″]
Sleep Donation by Karen Russell (March 25, Atavist Books)–This novella about the insomnia epidemic that sweeps future-America and the team of people (The Slumber Corps) whose job it is to recruit people who can sleep to donate some of their sleep to insomniacs is Karen Russell at weird and wonderful best. I don't want to spoil any of the surprise, so I'll leave it there and tell you: buy this on Tuesday!
In the Queue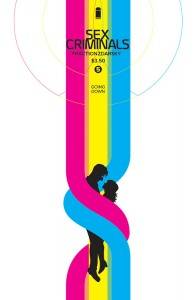 Sex Criminals #5 by Matt Fraction and Chip Zdarsky–This isn't the first time I've raved about the face-meltingly great comic about a librarian who stops time with her orgasms, meets a guy who has the same skill, and plots to rob a bank and save her library, and I'm sure it won't be the last. Clever, sex-positive, and really fucking funny. I'm so excited to read this.
The Canon by Natalie Angier–Remember the days of your childhood spent in wonder and awe at the magic of nature and science? The days before science seemed hard and just for nerds? Natalie Angier wants to bring you back to that feeling. This "whirligig tour" breaks down the big basic concepts of contemporary scientific study with the goal of bringing average American citizens up to speed. "What would a nonscientist need to know about science to qualify as scientifically seasoned?" That's the guiding question, and the answers are interesting and really fun to read. Angier writes with incredible warmth and charm, and her passion for her subject is evident on every page. At the halfway mark, I'm totally besotted.
[buyandread isbn="0547053460″ linkshare="http://store.kobobooks.com/en-US/ebook/the-canon-1″]
What have you been up to this week? What's on tap?
We have 10 copies of
A Gentleman in Moscow
by Amor Towles to give away to Book Riot readers!
Go here to enter for a chance to win
, or just click the image below. Good luck!