Buy, Borrow, Bypass: March 17, 2014
[buyandread isbn="177046140X" linkshare=""]
[buyandread isbn="1476709122″ linkshare="http://store.kobobooks.com/en-US/ebook/redefining-realness"]
[buyandread isbn="0316230812″ linkshare="http://store.kobobooks.com/en-US/ebook/we-need-new-names"]
[buyandread isbn="0316123080″ linkshare="http://store.kobobooks.com/en-US/ebook/who-could-that-be-at-this-hour-2″]
I attempted to sift through my recent reads and think of some cohesive glue between them to craft into a theme for this week's edition of Buy, Borrow, Bypass, but listen, there's none. I am glueless. Here's your graphic novel-memoir-fiction-children's book edition. I'm sorry/You're welcome.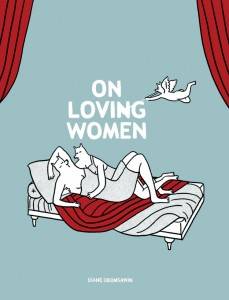 On Loving Women, Diane Obomsawin
This quirky little lesbianic graphic novel is a complete delight. It tells 12 stories of coming out, as told to Obomsawin by friends and lovers, and each vignette is short: the whole thing wraps up in just under 100 pages. And all the characters? They have little animal heads stuck on relatively uniform human bodies. Little animal heads! Ellen Forney very accurately refers to the art as "deceptively simple," as the seemingly spare art AND prose actually encompass a whole lot of experiences and thoughts and feels. The best part for me is that even when the stories traverse serious issues–confusion, ostracism, heartache–which Obomoswain handles with subtle sensitivity, the overall tone of the book is uplifting. It basically says, "Yeah, shit can get weird when you're figuring yourself out, but that moment when you brush arms with a girl you like, that moment when you hold hands? That moment, you guys!" This book is all about that moment.
Verdict: BUY, particularly if you're a queer lady or into reading about queer ladies or know a young queer lady who might need a smile.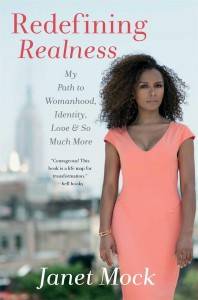 Redefining Realness: My Path to Womanhood, Identity, Love & So Much More, Janet Mock
Writer and activist Janet Mock is a goddess and an inspiration, and I had been looking forward to this memoir for a few months. After finishing it, I was impressed in a number of different ways: at the depths of pain she'd been through in her life, including sex abuse and sex work; the grace with which she loves and empathizes with those who treated her badly; and then how clearly she explains the social, economic, and personal issues that affect the trans community, specifically trans women of color. She balances this educational aspect alongside her personal narrative very well, so that you're never brought out of the story too far. And when she does talk about these more didactic issues, she expresses the anger of injustice while never being condescending. If there is one thing Mock preaches well, whether purposely or not, it is compassion. As an added bonus, a lot of this story takes place in Hawaii, and the trans community she describes there is absolutely fascinating.
Verdict: BUY. Everyone should know her name.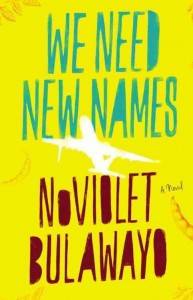 We Need New Names, NoViolet Bulawayo
I always feel like I'm a few months behind my fellow Rioters. I know this book was talked about by several of them last year, and in fact, I probably would have never heard of it otherwise. This is one of those books where you're alternately crying and laughing, which are also the books that make you think the most, and the ones that I end loving the best. Especially in the first few chapters, as we're immersed in the universal world of young friends, I was holding back guffaws on the bus. Bulawayo's humor is sly and wonderful. Then suddenly, you are blanketed in heartache, often violently, a heartache that shifts and changes as Bulawayo moves from Zimbabwe to Michigan, but that remains heartache still. Interestingly, Bulawayo never actually uses the words "Zimbabwe" or "Mugabe" in here, which I know there must be a reason for, even if I'm not smart enough to tell you exactly what that is.
Verdict: BUY. I borrowed mine from the library, but afterwards realized that I'd love to be able to revisit it, as I know there's a lot in there that I missed on the first read.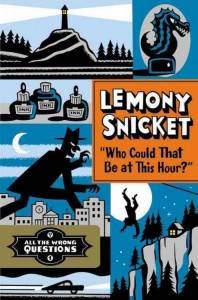 Who Could That Be At This Hour?, Lemony Snicket
Lemony Snicket is one of my favorite parts about being alive and literate, and if there is one positive thing I can say about his newest series since A Series of Unfortunate Events, it's that it's reliably very Lemony Snicket-y. The humor is dark and constant, and the adults are consistently stupid and awful, all of which is extremely satisfying and entertaining. A young Lemony Snicket is whisked off on an apprenticeship in a gloriously dreary place and encounters a lot of shady characters, who are all in pursuit of a mysterious object called the Bombinating Beast. There's lots of good stuff. Still, there was something about this one that just didn't pull me in as much as I was hoping. Maybe it was just my frame of my mind at the time. I'm still planning on reading the rest of the series, but I don't need to have my own copies of them all.
Verdict: BORROW.
_________________________
Sign up for our newsletter to have the best of Book Riot delivered straight to your inbox every week. No spam. We promise.
To keep up with Book Riot on a daily basis, follow us on Twitter, like us on Facebook, , and subscribe to the Book Riot podcast in iTunes or via RSS. So much bookish goodness–all day, every day.
By signing up you agree to our Terms of Service
In a book lover's life, there's nothing as magical as a perfect, surprising recommendation from someone who just
gets
you. But finding those people can be tough! That's where
TBR
comes in. Go here to find out more, or just click the image below: