The Week's Most Popular Posts: February 24-28, 2014
Let's take a look back at the most popular posts from the week that was….
I am about to confess my best kept reading secret to the world, and it feels so good.
My name is Emily and I am a "Pretend I've Read It"-aholic.
From Confessions of A "Pretend I've Read It"-aholic by Emily Gatlin
____________________
From the Mixed-Up Files of Mrs. Basil E. Frankweiler, by E.L. Konigsburg
Who didn't want to run away to a museum after reading this? Claudia and Jamie Kincaid hide out in the Metropolitan Museum of Art and live there for a week, getting themselves caught up in a mystery that they never saw coming. Come on. You still think about living in a museum sometimes, don't you?
From 10 Classic Children's and YA Books That Will Never Be Outdated by Jamie Herndon
____________________
2. The Glass Family Trilogy by J.D. Salinger. According to various reports, rumors, and whispers, Salinger died with quite a bit of finished work lying around. The strongest possibility is for at least one, and possibly three, novels about the Glass family, a hint of which was released as a novella called "Hapworth 16, 1924." This gives a glimmer of the scale and complexity of what he was working on: "Hapworth 16, 1924″ takes the form of a long, digressive letter by seven-year-old Simon Glass written while he was at summer camp. If I had to bet, I would guess that the Glass family saga got out of control, a sort of War and Peace for Conneticut WASPs. Who knows when and if and in what form any of this will ever see the light of day, but there is something lurking out there.
From Lost Masterworks We Want Back by Jeff O'Neal
____________________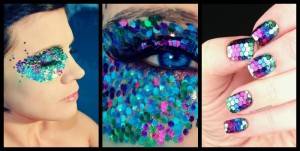 A little Rainbow Fish beauty inspiration to help out whichever high-end designer ultimately chooses to produce a collection based on my designs. 
From Literary-Inspired Fashion Collections That Should Exist by Becky Cole
_________________________
Sign up for our newsletter to have the best of Book Riot delivered straight to your inbox every week. No spam. We promise.
To keep up with Book Riot on a daily basis, follow us on Twitter, like us on Facebook, , and subscribe to the Book Riot podcast in iTunes or via RSS. So much bookish goodness–all day, every day.
By signing up you agree to our Terms of Service
In a book lover's life, there's nothing as magical as a perfect, surprising recommendation from someone who just
gets
you. But finding those people can be tough! That's where
TBR
comes in. Go here to find out more, or just click the image below: