Inbox/Outbox: February 28, 2014
[buyandread isbn="1594631573″ linkshare="http://www.goodreads.com/book/show/18641982-the-vacationers"]
[buyandread isbn="1250039819″ linkshare="http://store.kobobooks.com/en-US/ebook/shotgun-lovesongs-2″]
The cruelest month has been good to me, indeed. After a couple weeks that were high on travel and low on reading time, I've been reunited with my reading groove, and it feels so good. Here's what I've been up to. I'd love to hear about how your week in books was too!
Inbox (Books Acquired)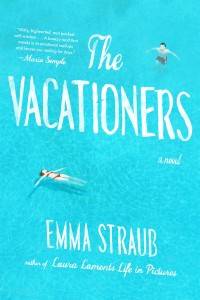 The Vacationers  by Emma Straub (May 29, Riverhead)–Oooh, this is one to look forward to! A group of extended family and friends take a 2-week trip to Mallorca to celebrate one couple's 35th anniversary and their daughter's high school graduation. I've said before that compressed narratives about family reunions are a thing I cannot resist in fiction (see also: Seating Arrangements by Maggie Shipstead, Maine by J. Courtney Sullivan, and Instructions for a Heatwave by Maggie O'Farrell), and boy, my readerly parts are a-tingling in anticipation of this one. There's high potential for drama and emotion, and I hope Straub will serve it up with her trademark incisive observations about characters' inner lives. Can. Not. Wait.
Shotgun Lovesongs by Nickolas Butler (March 11, Thomas Dunne Books)–A debut novel about a group of friends from a small Wisconsin town who scatter and then find themselves all back at home, this one also looks like it might right a bunch of my bells. Last year, The Interestings left my hungry for more great novels about lifelong friendship. Maybe this will satisfy the craving?
Outbox (Books Finished)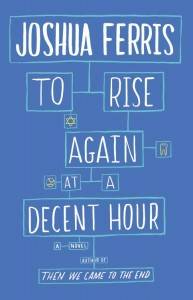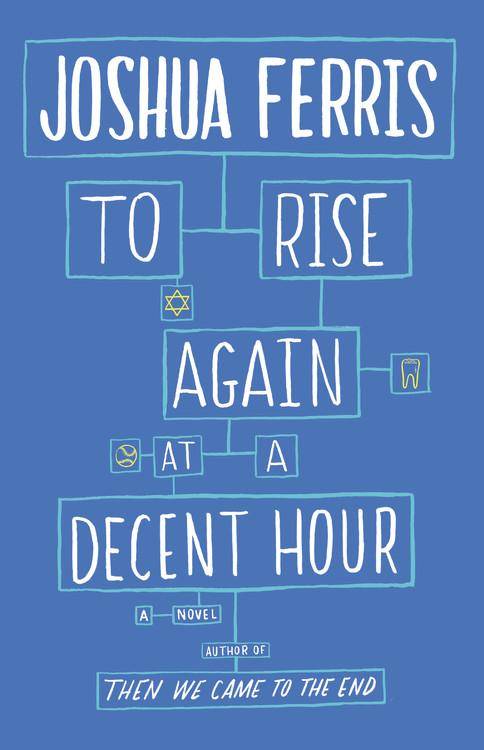 To Rise Again at a Decent Hour by Joshua Ferris (May 13, Little, Brown and Co.)–A new Josh Ferris book (we've been on a first-name basis ever since the time I saw him across a bar at Book Expo a few years ago and was too starstruck to go speak to him) constitutes something of an occasion for me, and I'm happy to report I tore through this one. Ferris' writing and the themes with which he's concerned have evolved since the days of Then We Came to the End, and I for one love where he's going. (I was in the minority of readers who dug his second novel The Unnamed.)
This is a story about a dentist who is disillusioned with the modern world but unable to disconnect from it. He's done everything he can to avoid the internet, and then he discovers that someone has created a website for his practice, set up Twitter and Facebook feeds under his name, and begun leaving strange, pseudo-religious comments on news sites using his identity. Dude should be pissed. And he is…at first. But his perspective on his identity and what's being done to him shifts as he finds himself consumed by an email exchange with the perpetrator of the crime, who claims to know him better than he knows himself.
This is a strange premise, to be sure, but it works. And–praise the lord and pass the ammunition–it's not another novel about how the internet is scary (Dave Eggers, I am looking at you). It's about how we are connected (or not) and how we yearn for connection. Bonus points to Ferris for concocting a fake religion that sounded so real I had to Google it.
In the Queue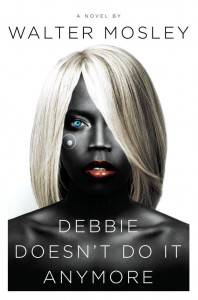 Debbie Doesn't Do It Anymore by Walter Mosley (May 13, Doubleday)–Last year, I read former porn star Jenna Jameson's novel Sugar about a former porn star (write what you know, eh?), and it wasn't exactly a great literary experience. My hopes are much higher for this, which will be my first time reading Walter Mosley.
Americanah by Chimamanda Ngozi Adichie–You ever get that thing where even though you are sure a book will be every bit as awesome as everyone says it is, you still have to wait a while for the hype to die down? That's my story with Americanah. For whatever mysterious reason, I all of a sudden feel SO READY I WANNA READ IT RIGHT NOW. Weird how that works, innit?
What about you? Read something rad this week?
_________________________
Sign up for our newsletter to have the best of Book Riot delivered straight to your inbox every week. No spam. We promise.
To keep up with Book Riot on a daily basis, follow us on Twitter, like us on Facebook, , and subscribe to the Book Riot podcast in iTunes or via RSS. So much bookish goodness–all day, every day.
We have 10 copies of
A Gentleman in Moscow
by Amor Towles to give away to Book Riot readers!
Go here to enter for a chance to win
, or just click the image below. Good luck!