Critical Linking for February 25th, 2014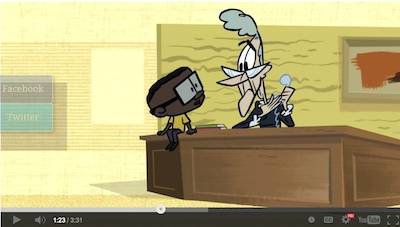 [youtube]http://www.youtube.com/watch?v=0lLf6qakrTw#t=84[/youtube]
What a great little story about a pretty unfunny thing.
____________________________
In a country where many major newspapers and journals are owned by the few, where great swaths of 51% of the population are excluded by historical practices that continue to be handed down and enacted by heads of magazines, VIDA hopes to upset traditions that leave women writers out of editors' Rolodexes and off publishers' forthcoming lists. We are no longer sitting still, divided by the false reward of token status. As unsatisfying as tokenism is, we hope our pies will cause similar discomfort for those publishers dangling that tedious carrot.
VIDA is doing important work for the literary arts. I just hope they can quit doing it before too many more years pass.
____________________________
Three light therapy lamps have been installed at the downtown library, the result of a $1,000 grant awarded to an Edmonton newcomer who wanted to make the city more awesome. Robin Mazumder, who grew up in Victoria, occasionally feels the "winter blues" and decided to do something about it by pitching his idea to the Edmonton Awesome Foundation.
The bigger story here is that there is something called the Edmonton Awesome Foundation.
____________________________
A Diagrammatical Dissertation on Opening Lines of Notable Novels
This poster diagramming sentences of famous novels rings many, many of my bells.
____________________________
Sign up for our newsletter to have the best of Book Riot delivered straight to your inbox every week. No spam. We promise.

To keep up with Book Riot on a daily basis, follow us on Twitter, like us on Facebook, , and subscribe to the Book Riot podcast in iTunes or via RSS. So much bookish goodness–all day, every day.
By signing up you agree to our Terms of Service
In a book lover's life, there's nothing as magical as a perfect, surprising recommendation from someone who just
gets
you. But finding those people can be tough! That's where
TBR
comes in. Go here to find out more, or just click the image below: