Critical Linking: February 24th, 2014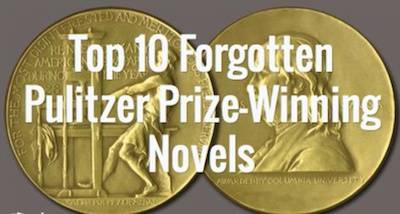 You would think winning a Pulitzer Prize for Fiction would ensure an enduring literary legacy. Not always – a number of Pulitzer-winning books are out-of-print. With this year's announcement later today, AbeBooks.com has compiled a list of forgotten winners of the Pulitzer Prize for Fiction and the Pulitzer Prize for the Novel as the award was known prior to 1948.
I was fully expecting, arrogantly as it turned out, to know most of these. Turns out, I know exactly one of them. Might make a good reading project. Check out the list here
____________________________
In 2012, total industry sales in the book business fell just under 1 percent over all, but those of downloadable audiobooks rose by more than 20 percent. That year, 13,255 titles came out as audiobooks, compared with 4,602 in 2009.
Wow, so the number of new audiobooks released each year has almost tripled over the last five years.
____________________________
Greenfield says not to look for a permanent slowdown in ebook growth in 2014 and beyond. "I don't think this is a trend that will continue indefinitely," he says. "I think as more people buy tablets, smartphones, and e-readers-and more children grow up with digital reading as a normal part of their lives-ebooks will continue to gain market share."
I tend to agree with this assessment of the slowing growth of ebooks. I don't know where (or if) the balance of digital to print will even out, but I think we've moved from the explosive growth period to the slow erosion period.
____________________________
Sign up for our newsletter to have the best of Book Riot delivered straight to your inbox every week. No spam. We promise.

To keep up with Book Riot on a daily basis, follow us on Twitter, like us on Facebook, , and subscribe to the Book Riot podcast in iTunes or via RSS. So much bookish goodness–all day, every day.
By signing up you agree to our Terms of Service
In a book lover's life, there's nothing as magical as a perfect, surprising recommendation from someone who just
gets
you. But finding those people can be tough! That's where
TBR
comes in. Go here to find out more, or just click the image below: