The Week's Most Popular Posts: February 17-21, 2014
Let's take a look back at the most popular posts from the week that was….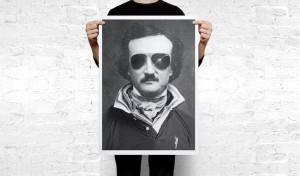 Amanda: This Edgar Allan Poe hipster sunglasses print thing just tickles my fancy. He just looks so SASSY.
From Book Fetish: Volume C by Rachel Manwill
____________________________
4. Your parents don't love your new boyfriend, BUT DOESN'T MATTER BECAUSE YOU WILL DIE BEFORE YOU LET HIM GO.
From Signs You've Been Reading Too Much YA from Preeti Chhibber
____________________
I am constantly sassing about Amazon. I'm very uncomfortable with the fact that they've built a business upon convincing the general public that they are "overpaying" at a bookstore, that a hardcover is supposed to be fifteen dollars, that those extra ten to twelve dollars were just being funneled into the Scrooge McDuck money pits of agents, copy editors, publicists, jacket designers, as opposed to… oh, that's right, a bunch of people who work hard and charge for a product what it's actually worth. I'm a huge supporter of independent bookstores, and I really don't like the strain Amazon's gaming the system has had on my beloved indies.
From The Amazon Warehouse Problem by Kit Steinkellner
____________________
Double Down: Game Change 2012 by John Heilemann and Mark Halperin. In the deliciously distrusting way House of Cards shows us how the sausage of governance is made, so too do Heilermann and Halperin show the down and dirty politicking of a real election: in this case, the Obama-Romney contest of 2012. This title is compulsively readable, occasionally very funny, and often shocking in ways both good and bad.
From Five Books To Read When You're Done Binge-Watching House Of Cards by Dr. B
_________________________
Sign up for our newsletter to have the best of Book Riot delivered straight to your inbox every week. No spam. We promise.
To keep up with Book Riot on a daily basis, follow us on Twitter, like us on Facebook, , and subscribe to the Book Riot podcast in iTunes or via RSS. So much bookish goodness–all day, every day.
By signing up you agree to our Terms of Service
Follow Book Riot on Instagram
for books. Obviously.