Buy, Borrow, Bypass: Graphic Memoirs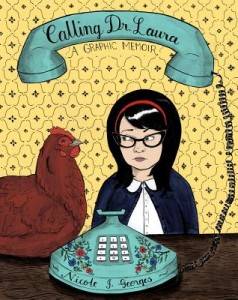 Calling Dr. Laura by Nicole J. Georges – When Nicole has her palm read by a psychic, the woman tells her mostly the usual "you will marry a rich man" (probably not, since Nicole is a lesbian) type of predictions, one thing stands out. The psychic claims that Nicole's father is alive, not dead as she has always been lead to believe. Nicole has always suspected something was off about the stories her mother told of her father's tragic early death from cancer, but she never investigates it until she can't get what the psychic said out of her head. Eventually, she has to confront her mother about the lies she's been told and also reveal her sexuality to her mother. Ultimately, it's a memoir about choosing to stay in a relationship or choosing to leave, whether it's a family member, a lover, or a friend. Georges's art is beautiful and detailed. I loved the way her memories were drawn in a simpler, more cartoonish style and the way that contrasted with her drawings of the present day. Her lettering is gorgeous to top it off. This is a graphic memoir that packs an emotional punch, partnered with stunning artwork.
Verdict: Buy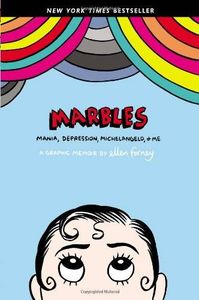 Marbles: Mania, Depression, Michelangelo & Me by Ellen Forney – Marbles chronicles Ellen Forney's experience with bipolar disorder from her diagnosis on, from her confusion at the diagnosis to her desperation to find a combination of medications that work. She also discusses what it means to be a "crazy artist" and whether seeking treatment is turning her back on her work. Forney goes into a lot of research of artists who were also bipolar or suffered from depression and I think it is amazing to see that thought process from the first moment she believes she has joined a "club" of sorts of artists who suffer from mental disorders. Ultimately, though, Forney's strength in Marbles is explaining bipolar disorder and the effects it has on mind, body, and soul. This memoir is brutal and honest, but also accessible. I came away from it with a new understanding of what it is like to live with bipolar disorder and how frustrating it can be to find medications that work. Forney's illustration style is rarely contained by traditional blocks but covers the entire page in lettering or a single image.
Verdict: Buy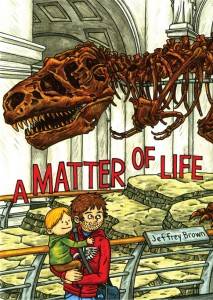 A Matter of Life by Jeffrey Brown – I have read Blankets four times now and, while I can accept objectively that it has some issues, it's the book that got me into reading graphic novels and comics in the first place, so when there is a quote floating around (from NPR no less!) that compares you to Blankets, I take notice. Unfortunately, A Matter of Life fell flat compared to most graphic memoirs I've read, even though I appreciated what Brown (author of Darth Vader and Son and Vader's Little Princess) was trying to accomplish and I always love his art. Brown doesn't believe in God or raise his son in the faith he grew up in, a source of pain for his pastor father and religious family friends. The narrative of the memoir felt incomplete and it's a crowded topic and there was nothing that really set A Matter of Life apart from the other memoirs that grapple with the same topic.
Verdict: Bypass
_________________________
Sign up for our newsletter to have the best of Book Riot delivered straight to your inbox every week. No spam. We promise.
To keep up with Book Riot on a daily basis, follow us on Twitter, like us on Facebook, , and subscribe to the Book Riot podcast in iTunes or via RSS. So much bookish goodness–all day, every day.
By signing up you agree to our Terms of Service
We have 5 copies of 
the
Forbidden Hearts series
by Alisha Rai to give away to Book Riot readers!
Go here to enter for a chance to win
, or just click the image below. Good luck!