Inbox/Outbox: January 17, 2014
Another good week! I'd love to hear about yours in the comments.
Inbox (Books Acquired)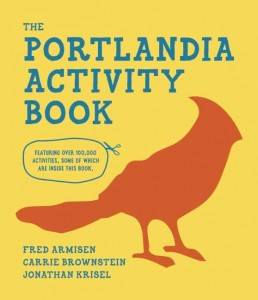 The Portlandia Activity Book by Fred Armisen, Carrie Brownstein, and Jonathan Krisel (McSweeney's, February 27)–The only way this book could be better is if I had bought it at Women and Women First. There's "How to Crowdfund Your Baby" and a checklist for determining if you are in a cult (with items like "Do you laugh on your own terms?"), and it is so, so awesome. It was accompanied in the mail by the equally awesome volume of collected McSweeney's essays, The Best of McSweeney's Internet Tendency, and I'm excited to spend time with both of them very soon.
The Word Exchange by Alena Graedon (Doubleday, April 8)–It's a dystopian-ish futuristic story about language (how it evolves, how we might be ruining it, etc.) and love, and the main character and her dad work as editors of a big dictionary in dystopian-ish future New York. There's technology (and the fear of it), twenty-something angst a-plenty, and a promising new literary writer. Gonna be interested in the response to this one.
How to Tell Toledo from the Night Sky by Lydia Netzer (St. Martin's Press, July 1)–I adored Lydia Netzer's 2012 debut Shine Shine Shine so much that I don't need to know anything about this novel to know that I'm excited about it. Regardless, I do know that there are robots. And space. And robots. Sold.
Outbox (Books Finished)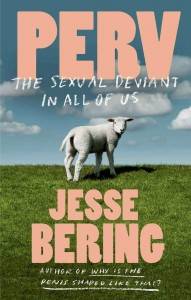 Perv: The Sexual Deviant in All of Us by Jesse Bering–A book about the history and science of studying sexuality is a thing I cannot resist, so it's no surprise that this book rang a bunch of my bells at once. Bering explores how we approach classifying sexual preferences and practices as deviant and encourages a reframing that focuses not on what's "normal," "natural," or culturally sanctioned but on the question of harm. (As in: if the preference or practice doesn't cause harm to the individuals involved in it, step off. Nebulous claims about harm to society, the American family, etc. will not be acknowledged.)
The book is packed with the kind of "Hey, didja know" facts that will make you tons of fun at dinner parties, along with some that are guaranteed to challenge your ideas and make you realize you might not be quite as open-minded as you thought. As an added bonus, Bering shares personal anecdotes and funny commentary about some of the more ridiculous things the history of studying sexuality contains, and his narration of the audiobook is tops.
Flowers in the Attic by V.C. Andrews–So, the Lifetime TV movie of this premiers tomorrow, and I thought it would be fun to re-read the book for the first time since I sneak-read it when I was 12. Almost twenty years ago. Alas, it was not nearly as titillating as I remembered (must have been mostly the thrill of reading something I knew I shouldn't have been reading) and WAY more disturbing, and, well, kind of a bummer. If you have fond memories of your first too-young experience with this one, I'd say it's better to leave them that way.
In the Queue
Silence Once Begun by Jesse Ball (Pantheon, January 28)–A meta-crime novel with a protagonist named Jesse Ball. This promises to be weird wonderful. I read Ball's novel The Curfew over the holidays and really enjoyed it. Looking forward to seeing what he's up to now.
The Best American Essays 2013, edited by Cheryl Strayed–I like essays. I love Cheryl Strayed. And since I've read all the things Cheryl Strayed has written (Tiny Beautiful Things being on the short list of books I think should be required reading for all humans), I'm moving on to reading writing that Cheryl Strayed recommends. The Best American anthologies are usually a great way to discover new writers and new pieces by writers you already know. So far, so good.
All right, readers. Hit me. What have you been reading this week?
_________________________
Sign up for our newsletter to have the best of Book Riot delivered straight to your inbox every week. No spam. We promise.
To keep up with Book Riot on a daily basis, follow us on Twitter, like us on Facebook, , and subscribe to the Book Riot podcast in iTunes or via RSS. So much bookish goodness–all day, every day.
We have 5 copies of 
the
Forbidden Hearts series
by Alisha Rai to give away to Book Riot readers!
Go here to enter for a chance to win
, or just click the image below. Good luck!