Buy, Borrow, Bypass: Choose Your Own Adventure Edition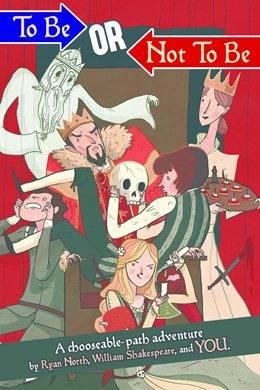 To Be or Not To Be by Ryan North
OK. Confession time. I hate Hamlet. I hate it so much. Flames–you get the idea. BUT, as a Choose Your Own Adventure, Hamlet is pretty freaking awesome. Ryan North's wonderfully silly Kickstarter book let's you "play" as Hamlet, Ophelia, and Old King Hamlet. I've read To Be or Not To Be a half-dozen times already, and it always makes me laugh. I think Ophelia is probably the best character to play as because she spends a good majority of the time kicking-ass and doing SCIENCE. There are also dozens of ways to die in the story (and we all know that dying is the best part of a Choose Your Own Adventure) each illustrated by some the internet's best comics talent. This book is infinitely fun and funny.
Also, there are pirates.
Verdict: Get thee to an internet and BUY THIS BOOK!
You Are a Cat in the Zombie Apocalypse! by Sherwin Tjia
The story of this Pick-A-Plot book is pretty simple: you are a cat in the zombie apocalypse. Yes, it's gimmicky and relies on nostalgia. But it's also awesome and ridiculous. Most importantly for me, it reads like a Choose Your Own Adventure book. Tjia really gets the tone and even the phraseology of the old books. The other thing that makes this book more than just a gimmick is how committed Tjia is to the story. Yes, it's completely ridiculous, but the author takes it seriously and as a result there are some really tense moments a good amount of suspense. It's really well done for what it is. Even if it is just a story about a cat in the zombie apocalypse.
Verdict: This is the Snakes on a Plane of books, you'll know immediately from the title if this is a buy, borrow, or bypass for you.
S. by JJ Abrams and Doug Dorst
While you can't control the narrative of S like you do with a Choose Your Own Adventure book, you are definitely in control of how you work your way through this story of people reading a story. When I slipped this book out of the fancy slip-cover, I had no idea what to do with it. I still don't. Sometimes I read the book-book, other times I read the margin notes, mostly I try to stop the assorted thingies from falling out of the book or trying to figure out where they come from once they do. There's a ticket stub in my apartment and I have no clue if it's from this book or not. So in it's execution, S ends up being more distracting than anything. I pick it up and absorb it for about a half hour before I have to put it back down. But I do always go back to it.
Verdict: Borrow it first to see if you're up for the adventure.
_________________________
Sign up for our newsletter to have the best of Book Riot delivered straight to your inbox every week. No spam. We promise.
To keep up with Book Riot on a daily basis, follow us on Twitter, like us on Facebook, , and subscribe to the Book Riot podcast in iTunes or via RSS. So much bookish goodness–all day, every day.
Enter to win
$250 to spend at Barnes and Noble!