45 YA Titles for your October – December Radar
In January, I previewed 60 YA titles for the first half of the year, and I followed it up with 66 titles publishing between July and September. In between those two previews, I highlighted 30 diverse YA titles out this year as well.
Since it's now Mid-October, it's about time to sink into the books coming out this month through the remainder of the year. I'm not including any titles previously mentioned, and there is something here for every type of reader. This isn't a comprehensive list of every YA title publishing, and I have not included books in a series that don't begin a new series.
And since December really isn't that far away — and 2015 is just around the corner — I'm going to preview 10 YA titles that need to be on your radar out in the first part of 2015, as well. These are the big titles you'll want to know about well in advance.
Grab your pen and paper, your trusty spreadsheet, or open up whatever online reading site you use to put down titles of books you want to read. Let's get started:
October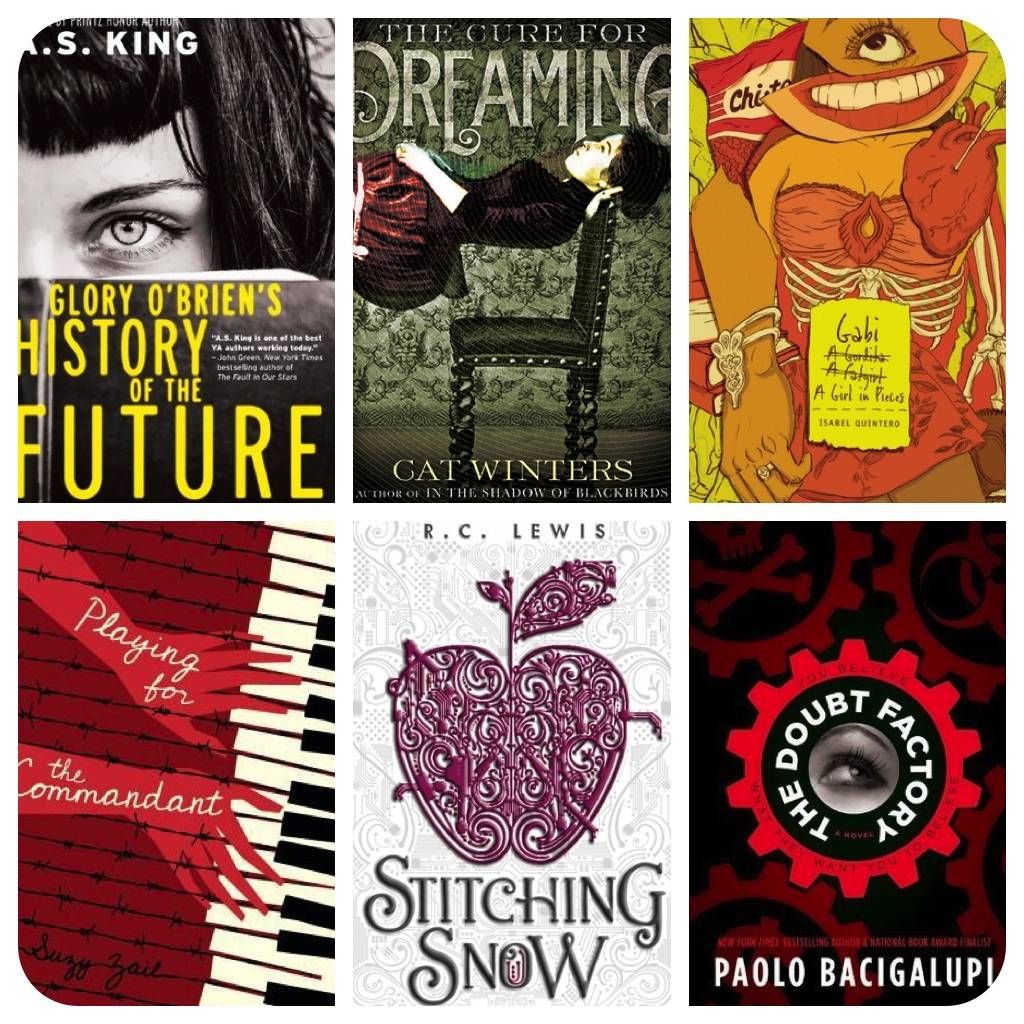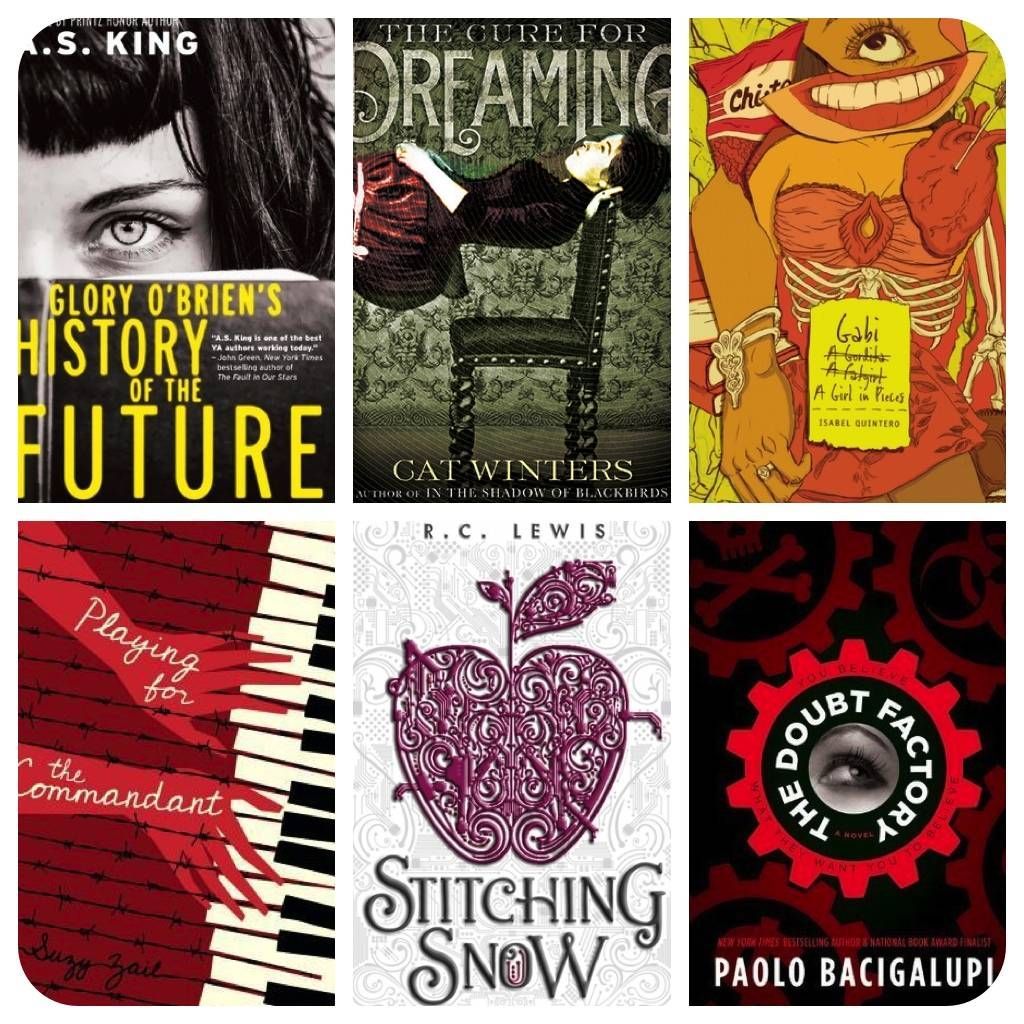 1. Glory O'Brien's History of the Future by A. S. King (Little Brown Books for Young Readers): Would you try to change the world if you thought it had no future? Graduating from high school is a time of limitless possibilities — but not for Glory, who has no plan for what's next. Her mother committed suicide when Glory was only four years old, and she's never stopped wondering if she will eventually go the same way… until a transformative night when she begins to experience an astonishing new power to see a person's infinite past and future. From ancient ancestors to many generations forward, Glory is bombarded with visions—and what she sees ahead of her is terrifying.
A tyrannical new leader raises an army. Women's rights disappear. A violent second civil war breaks out. And young girls vanish daily, sold off or interned in camps. Glory makes it her mission to record everything she sees, hoping her notes will somehow make a difference. She may not see a future for herself, but she'll do everything in her power to make sure this one doesn't come to pass.
In this masterpiece about freedom, feminism, and destiny, Printz Honor author A.S. King tells the epic story of a girl coping with devastating loss at long last—a girl who has no idea that the future needs her, and that the present needs her even more.
2. The Cure For Dreaming by Cat Winters (Abrams): Olivia Mead is a headstrong, independent girl—a suffragist—in an age that prefers its girls to be docile. It's 1900 in Oregon, and Olivia's father, concerned that she's headed for trouble, convinces a stage mesmerist to try to hypnotize the rebellion out of her. But the hypnotist, an intriguing young man named Henri Reverie, gives her a terrible gift instead: she's able to see people's true natures, manifesting as visions of darkness and goodness, while also unable to speak her true thoughts out loud. These supernatural challenges only make Olivia more determined to speak her mind, and so she's drawn into a dangerous relationship with the hypnotist and his mysterious motives, all while secretly fighting for the rights of women. Winters breathes new life into history once again with an atmospheric, vividly real story, including archival photos and art from the period throughout.
3. Gabi, A Girl in Pieces by Isabel Quintero (Cinco Puntos): Gabi Hernandez chronicles her last year in high school in her diary: Cindy's pregnancy, Sebastian's coming out, the cute boys, her father's meth habit, and the food she craves. And best of all, the poetry that helps forge her identity.
4. Playing For Commandant by Suzy Zail (Candlewick): A young Jewish pianist at Auschwitz, desperate to save her family, is chosen to play at the camp commandant's house. How could she know she would fall in love with the wrong boy?
These are Hanna's father's parting words to her and her sister when their family is separated at the gates of the Auschwitz-Birkenau concentration camp. Her father's words — and a black C-sharp piano key hidden away in the folds of her dress — are all that she has left to remind her of life before. Before, Hanna was going to be a famous concert pianist. She was going to wear her yellow dress to a dance. And she was going to dance with a boy. But then the Nazis came. Now it is up to Hanna to do all she can to keep her mother and sister alive, even if that means playing piano for the commandant and his guests. Staying alive isn't supposed to include falling in love with the commandant's son. But Karl Jager is beautiful, and his aloofness belies a secret. And war makes you do dangerous things.
5. Stitching Snow by R. C. Lewis (Disney-Hyperion): Princess Snow is missing.
Her home planet is filled with violence and corruption at the hands of King Matthias and his wife as they attempt to punish her captors. The king will stop at nothing to get his beloved daughter back—but that's assuming she wants to return at all.
Essie has grown used to being cold. Temperatures on the planet Thanda are always sub-zero, and she fills her days with coding and repairs for the seven loyal drones that run the local mines.
When a mysterious young man named Dane crash-lands near her home, Essie agrees to help the pilot repair his ship. But soon she realizes that Dane's arrival was far from accidental, and she's pulled into the heart of a war she's risked everything to avoid. With the galaxy's future—and her own—in jeopardy, Essie must choose who to trust in a fiery fight for survival.
6. The Doubt Factory by Paolo Bacigalupi (Little Brown Books for Young Readers): A YA thriller about a teenage girl who discovers that her father is at the helm of an organization providing dangerous false messaging to society about global warming and other issues.
7. Death Coming Up The Hill by Chris Crow (HMH Books for Young Readers): It's 1968, and war is not foreign to seventeen-year-old Ashe. His dogmatic, racist father married his passionate peace-activist mother when she became pregnant with him, and ever since, the couple, like the situation in Vietnam, has been engaged in a "senseless war that could have been prevented."
When his high school history teacher dares to teach the political realities of the war, Ashe grows to better understand the situation in Vietnam, his family, and the wider world around him. But when a new crisis hits his parents' marriage, Ashe finds himself trapped, with no options before him but to enter the fray.
8. Exquisite Captive by Heather Demetrios (Balzar + Bray): Nalia is a jinni of tremendous ancient power, the only survivor of a coup that killed nearly everyone she loved. Stuffed into a bottle and sold by a slave trader, she's now in hiding on the dark caravan, the lucrative jinni slave trade between Arjinna and Earth, where jinn are forced to grant wishes and obey their human masters' every command. She'd give almost anything to be free of the golden shackles that bind her to Malek, her handsome, cruel master, and his lavish Hollywood lifestyle.
Enter Raif, the enigmatic leader of Arjinna's revolution and Nalia's sworn enemy. He promises to free Nalia from her master so that she can return to her ravaged homeland and free her imprisoned brother—all for an unbearably high price. Nalia's not sure she can trust him, but Raif's her only hope of escape. With her enemies on the hunt, Earth has become more perilous than ever for Nalia. There's just one catch: for Raif's unbinding magic to work, Nalia must gain possession of her bottle…and convince the dangerously persuasive Malek that she truly loves him. Battling a dark past and harboring a terrible secret, Nalia soon realizes her freedom may come at a price too terrible to pay: but how far is she willing to go for it?
Inspired by Arabian Nights.
9. Snow Like Ashes by Sara Raasch (Balzar + Bray): Sixteen years ago the Kingdom of Winter was conquered and its citizens enslaved, leaving them without magic or a monarch. Now, the Winterians' only hope for freedom is the eight survivors who managed to escape, and who have been waiting for the opportunity to steal back Winter's magic and rebuild the kingdom ever since.
Orphaned as an infant during Winter's defeat, Meira has lived her whole life as a refugee, raised by the Winterians' general, Sir. Training to be a warrior—and desperately in love with her best friend, and future king, Mather — she would do anything to help her kingdom rise to power again.
So when scouts discover the location of the ancient locket that can restore Winter's magic, Meira decides to go after it herself. Finally, she's scaling towers, fighting enemy soldiers, and serving her kingdom just as she's always dreamed she would. But the mission doesn't go as planned, and Meira soon finds herself thrust into a world of evil magic and dangerous politics – and ultimately comes to realize that her destiny is not, never has been, her own.
10. Even In Paradise by Chelsey Philpot (HarperCollins): When Julia Buchanan enrolls at St. Anne's at the beginning of junior year, Charlotte Ryder already knows all about the former senator's daughter. Most people do… or think they do.
Charlotte certainly never expects she'll be Julia's friend. But almost immediately, she is drawn into the larger than-life-new girl's world—a world of midnight rendezvous, dazzling parties, palatial vacation homes, and fizzy champagne cocktails. And then Charlotte meets, and begins falling for, Julia's handsome older brother, Sebastian.
But behind her self-assured smiles and toasts to the future, Charlotte soon realizes that Julia is still suffering from a tragedy. A tragedy that the Buchanan family has kept hidden … until now.
11. Beware The Wild by Natalie C. Parker (HarperTeen): It's an oppressively hot and sticky morning in June when Sterling and her brother, Phin, have an argument that compels him to run into the town swamp — the one that strikes fear in all the residents of Sticks, Louisiana. Phin doesn't return. Instead, a girl named Lenora May climbs out, and now Sterling is the only person in Sticks who remembers her brother ever existed.
Sterling needs to figure out what the swamp's done with her beloved brother and how Lenora May is connected to his disappearance — and loner boy Heath Durham might be the only one who can help her.
12. Stray by Elissa Sussman (Greenwillow): Princess Aislynn has long dreamed about attending her Introduction Ball, about dancing with the handsome suitors her adviser has chosen for her, about meeting her true love and starting her happily ever after.
When the night of the ball finally arrives and Nerine Academy is awash with roses and royalty, Aislynn wants nothing more than to dance the night away, dutifully following the Path that has been laid out for her. She does not intend to stray.
But try as she might, Aislynn has never quite managed to control the magic that burns within her-magic brought on by wicked, terrible desires that threaten the Path she has vowed to take.
After all, it is wrong to want what you do not need. Isn't it? A cross between The Handmaid's Tale and Wicked, with a dash of Grimm and Disney thrown in and the first in a series.
13. Chasing Power by Sarah Beth Durst (Bloomsbury): Sixteen-year-old Kayla plans to spend her summer hanging out on the beach in Santa Barbara and stealing whatever she wants, whenever she wants it. Born with the ability to move things with her mind — things like credit cards, diamond rings, and buttons on cash registers — she has become a master shoplifter. She steals to build up a safety net, enough money for her and her mom to be able to flee if her dad finds them again. Well, that, and the thrill of using her secret talents.
But her summer plans change when she's caught stealing by a boy named Daniel — a boy who needs her help and is willing to blackmail her to get it. Daniel has a talent of his own. He can teleport, appearing anywhere in the world in an instant, but he lies as easily as he travels. Together, they embark on a quest to find and steal an ancient incantation, written on three indestructible stones and hidden millennia ago, all to rescue Daniel's kidnapped mother. But Kayla has no idea that this rescue mission will lead back to her own family — and to betrayals that she may not be able to forgive… or survive.
14. The Fire Artist by Daisy Whitney (Bloomsbury): Aria is an elemental artist—she creates fire from her hands. But her power is not natural. She steals it from lightning. It's dangerous and illegal in her world. When she's recruited to perform, she seizes the chance to get away from her family. But her power is fading too fast to keep stealing from the sky. She has no choice but to turn to a Granter—a modern day genie. She gets one wish at an extremely high price. Aria's willing to take a chance, but then she falls in love with the Granter . . . and he wants his freedom. Aria must decide what she's willing to bargain and how much her own heart, body, and soul are worth.
15. The Accidental Highwayman by Ben Tripp (Tor Teen): In eighteenth-century England, young Christopher "Kit" Bristol is the unwitting servant of notorious highwayman Whistling Jack. One dark night, Kit finds his master bleeding from a mortal wound, dons the man's riding cloak to seek help, and changes the course of his life forever. Mistaken for Whistling Jack and on the run from redcoats, Kit is catapulted into a world of magic and wonders he thought the stuff of fairy tales.
Bound by magical law, Kit takes up his master's quest to rescue a rebellious fairy princess from an arranged marriage to King George III of England. But his task is not an easy one, for Kit must contend with the feisty Princess Morgana, gobling attacks, and a magical map that portends his destiny: as a hanged man upon the gallows.
16. The Good Sister by Jamie Kain (St. Martins Griffin): The Kinsey sisters live in an unconventional world. Their parents are former flower-children who still don't believe in rules. Their small, Northern California town is filled with free spirits and damaged souls seeking refuge from the real world. Without the anchor of authority, the three girls are adrift and have only each other to rely on.
Rachel is wild. Asha is lost. Sarah, the good sister, is the glue that holds them together. But the forces of a mysterious fate have taken Sarah's life in a sudden and puzzling accident, sending her already fractured family into a tailspin of grief and confusion. Asha has questions. Rachel has secrets. And Sarah, waking up in the afterlife, must piece together how she got there.
17. My True Love Gave To Me edited by Stephanie Perkins (St. Martins Griffin): If you love holiday stories, holiday movies, made-for-TV-holiday specials, holiday episodes of your favorite sitcoms and, especially, if you love holiday anthologies, you're going to fall in love with MY TRUE LOVE GAVE TO ME: TWELVE HOLIDAY STORIES by twelve bestselling young adult writers, edited by Stephanie Perkins.
18. The Terminals by Royce Buckingham (Thomas Dunne): When 19 year-old Cam Cody is diagnosed with a terminal illness, he expects to spend the rest of his shortened life in an adjustable bed. Then one night, a mysterious man offers Cam one chance to join a covert unit of young "terminals." They are like him, only they spend the last year of their lives executing exciting and dangerous missions to make the world a better place.
With nothing to lose, Cam is in.
A helicopter flies Cam to a secret tropical location, where he's tossed out with a parachute and an instruction manual. After a rough landing, he meets his nine teammates. The other terminals don't seem sick; Zara is beautiful, Donnie is an amazing athlete, and Calliope sings like a bird. He soon learns that they're enhanced with an experimental super steroid TS-8, which suppresses their illnesses' symptoms and heightens their physical and mental abilities. It's also fatal if taken for more than a year.
Cam joins this extreme spy team, and they begin pulling dangerous operations in multiple countries. As his teammates fall around him, he starts to receive cryptic messages from a haggard survivor of last year's class hiding in the forest. She reveals that the program isn't what it seems, leading Cam to question whether any of them are really sick at all.
19. Loop by Karen Akins (St. Martins Griffin): At a school where Quantum Paradox 101 is a required course and history field trips are literal, sixteen year-old time traveler Bree Bennis excels…at screwing up.
After Bree botches a solo midterm to the 21st century by accidentally taking a boy hostage (a teensy snafu), she stands to lose her scholarship. But when Bree sneaks back to talk the kid into keeping his yap shut, she doesn't go back far enough. The boy, Finn, now three years older and hot as a solar flare, is convinced he's in love with Bree, or rather, a future version of her that doesn't think he's a complete pain in the arse. To make matters worse, she inadvertently transports him back to the 23rd century with her.
Once home, Bree discovers that a recent rash of accidents at her school are anything but accidental. Someone is attacking time travelers. As Bree and her temporal tagalong uncover seemingly unconnected clues—a broken bracelet, a missing data file, the art heist of the millennium—that lead to the person responsible, she alone has the knowledge to piece the puzzle together. Knowledge only one other person has. Her future self.
But when those closest to her become the next victims, Bree realizes the attacker is willing to do anything to stop her. In the past, present, or future.
20. The Young Elites by Marie Lu (Putnam): Adelina Amouteru is a survivor of the blood fever. A decade ago, the deadly illness swept through her nation. Most of the infected perished, while many of the children who survived were left with strange markings. Adelina's black hair turned silver, her lashes went pale, and now she has only a jagged scar where her left eye once was. Her cruel father believes she is a malfetto, an abomination, ruining their family's good name and standing in the way of their fortune. But some of the fever's survivors are rumored to possess more than just scars—they are believed to have mysterious and powerful gifts, and though their identities remain secret, they have come to be called the Young Elites.
Teren Santoro works for the king. As Leader of the Inquisition Axis, it is his job to seek out the Young Elites, to destroy them before they destroy the nation. He believes the Young Elites to be dangerous and vengeful, but it's Teren who may possess the darkest secret of all.
Enzo Valenciano is a member of the Dagger Society. This secret sect of Young Elites seeks out others like them before the Inquisition Axis can. But when the Daggers find Adelina, they discover someone with powers like they've never seen.
Adelina wants to believe Enzo is on her side, and that Teren is the true enemy. But the lives of these three will collide in unexpected ways, as each fights a very different and personal battle. But of one thing they are all certain: Adelina has abilities that shouldn't belong in this world. A vengeful blackness in her heart. And a desire to destroy all who dare to cross her.
21. Atlantia by Ally Condie (Dutton Children's): For as long as she can remember, Rio has dreamt of the sand and sky Above—of life beyond her underwater city of Atlantia. But in a single moment, all her plans for the future are thwarted when her twin sister, Bay, makes an unexpected decision, stranding Rio Below. Alone, ripped away from the last person who knew Rio's true self—and the powerful siren voice she has long hidden—she has nothing left to lose.
Guided by a dangerous and unlikely mentor, Rio formulates a plan that leads to increasingly treacherous questions about her mother's death, her own destiny, and the complex system constructed to govern the divide between land and sea. Her life and her city depend on Rio to listen to the voices of the past and to speak long-hidden truths.
22. Althea and Oliver by Cristina Moracho (Viking Juvenile): What if you live for the moment when life goes off the rails—and then one day there's no one left to help you get it back on track?
Althea Carter and Oliver McKinley have been best friends since they were six; she's the fist-fighting instigator to his peacemaker, the artist whose vision balances his scientific bent. Now, as their junior year of high school comes to a close, Althea has begun to want something more than just best-friendship. Oliver, for his part, simply wants life to go back to normal, but when he wakes up one morning with no memory of the past three weeks, he can't deny any longer that something is seriously wrong with him. And then Althea makes the worst bad decision ever, and her relationship with Oliver is shattered. He leaves town for a clinical study in New York, resolving to repair whatever is broken in his brain, while she gets into her battered Camry and drives up the coast after him, determined to make up for what she's done.
23. Trust Me, I'm Lying by Mary Elizabeth Summer (Delacorte): Julep Dupree tells lies. A lot of them. She's a con artist, a master of disguise, and a sophomore at Chicago's swanky St. Agatha High, where her father, an old-school grifter with a weakness for the ponies, sends her to so she can learn to mingle with the upper crust. For extra spending money Julep doesn't rely on her dad—she runs petty scams for her classmates while dodging the dean of students and maintaining an A+ (okay, A-) average.
But when she comes home one day to a ransacked apartment and her father gone, Julep's carefully laid plans for an expenses-paid golden ticket to Yale start to unravel. Even with help from St. Agatha's resident Prince Charming, Tyler Richland, and her loyal hacker sidekick, Sam, Julep struggles to trace her dad's trail of clues through a maze of creepy stalkers, hit attempts, family secrets, and worse, the threat of foster care. With everything she has at stake, Julep's in way over her head . . . but that's not going to stop her from using every trick in the book to find her dad before his mark finds her. Because that would be criminal
24. Bleed Like Me by Christa Desir (Simon Pulse): Seventeen-year-old Amelia Gannon (just "Gannon" to her friends) is invisible to almost everyone in her life. To her parents, to her teachers-even her best friend, who is more interested in bumming cigarettes than bonding. Some days the only way Gannon knows she is real is by carving bloody lines into the flesh of her stomach.
Then she meets Michael Brooks, and for the first time, she feels like she is being seen to the core of her being. Obnoxious, controlling, damaged, and addictive, he inserts himself into her life until all her scars are exposed. Each moment together is a passionate, painful relief.
But as the relationship deepens, Gannon starts to feel as if she's standing at the foot of a dam about to burst. She's given up everything and everyone in her life for him, but somehow nothing is enough for Brooks-until he poses the ultimate test.
25. Damaged by Amy Reed (Simon Pulse): After Kinsey's best friend Camille dies in a car accident during which Kinsey was driving, Kinsey shuts down, deciding that numbness is far better than mourning. All she wants during the last few weeks of high school is to be left alone, but Camille's mysterious boyfriend, Hunter–who was also in the car that night–has different ideas.
Despite all of Kinsey's efforts, she can't outrun Camille, who begins haunting her dreams. Sleep deprived and on the verge of losing it, Kinsey runs away with Hunter to San Francisco. As they drive across the country, trying to escape both the ghost of Camille and their own deep fears, Kinsey questions all she once believed about her friendship with Camille. Hunter, meanwhile, falls into a spiral of alcoholism, anger, and self-loathing. Ultimately, Kinsey and Hunter must come to terms with what they've lost and accept that they can't outrun pain.
26. Of Scars and Stardust by Andrea Hannah (Flux): After her little sister mysteriously vanishes, seventeen-year-old Claire Graham has a choice to make: stay snug in her little corner of Manhattan with her dropout boyfriend, or go back to Ohio to face the hometown tragedy she's been dying to leave behind.
But the memories of that night still haunt her in the city, and as hard as she tries to forget what her psychiatrist calls her "delusions," Claire can't seem to escape the wolf's eyes or the blood-speckled snow. Delusion or reality, Claire knows she has to hold true to the most important promise she's ever made: to keep Ella safe. She must return to her sleepy hometown in order to find Ella and keep her hallucinations at bay before they strike again. But time is quickly running out, and as Ella's trail grows fainter, the wolves are becoming startlingly real.
Now Claire must deal with her attraction to Grant, the soft-spoken boy from her past that may hold the secret to solving her sister's disappearance, while following the clues that Ella left for only her to find. Through a series of cryptic diary entries, Claire must unlock the keys to Ella's past—and her own—in order to stop another tragedy in the making, while realizing that not all things that are lost are meant to be found.
27. Girl On A Wire by Gwenda Bond (Skyscape): Sixteen-year-old Jules Maroni's dream is to follow in her father's footsteps as a high-wire walker. When her family is offered a prestigious role in the new Cirque American, it seems that Jules and the Amazing Maronis will finally get the spotlight they deserve. But the presence of the Flying Garcias may derail her plans. For decades, the two rival families have avoided each other as sworn enemies.
Jules ignores the drama and focuses on the wire, skyrocketing to fame as the girl in a red tutu who dances across the wire at death-defying heights. But when she discovers a peacock feather—an infamous object of bad luck—planted on her costume, Jules nearly loses her footing. She has no choice but to seek help from the unlikeliest of people: Remy Garcia, son of the Garcia clan matriarch and the best trapeze artist in the Cirque.
As more mysterious talismans believed to possess unlucky magic appear, Jules and Remy unite to find the culprit. And if they don't figure out what's going on soon, Jules may be the first Maroni to do the unthinkable: fall.
28. Perfectly Good White Boy by Carrie Mesrobian (Carolrhoda LAB): Sean Norwhalt can read between the lines.
"You never know where we'll end up. There's so much possibility in life, you know?" Hallie said.
He knows she just dumped him. He was a perfectly good summer boyfriend, but now she's off to college, and he's still got another year to go. Her pep talk about futures and "possibilities" isn't exactly comforting. Sean's pretty sure he's seen his future and its "possibilities" and they all look disposable.
Like the crappy rental his family moved into when his dad left.
Like all the unwanted filthy old clothes he stuffs into the rag baler at his thrift store job.
Like everything good he's ever known.
The only hopeful possibilities in Sean's life are the Marine Corps, where no one expected he'd go, and Neecie Albertson, whom he never expected to care about.
"We're something else. Some other thing. I don't know what you'd call it. Maybe there's a word, though. Maybe I'll think of it tomorrow, when it won't matter," Neecie said.
29. Earth & Sky by Megan Crewe (Skyscape): Seventeen-year-old Skylar has been haunted for as long as she can remember by fleeting yet powerful sensations that something is horribly wrong. But despite the panic attacks tormenting her, nothing ever happens, and Sky's beginning to think she's crazy. Then she meets a mysterious, otherworldly boy named Win and discovers the shocking truth her premonitions have tapped into: our world no longer belongs to us. For thousands of years, Earth has been at the mercy of alien scientists who care nothing for its inhabitants and are using us as the unwitting subjects of their time-manipulating experiments. Win belongs to a rebel faction seeking to put a stop to it, and he needs Skylar's help–but with each shift in the past, the very fabric of reality is unraveling, and soon there may be no Earth left to save.
November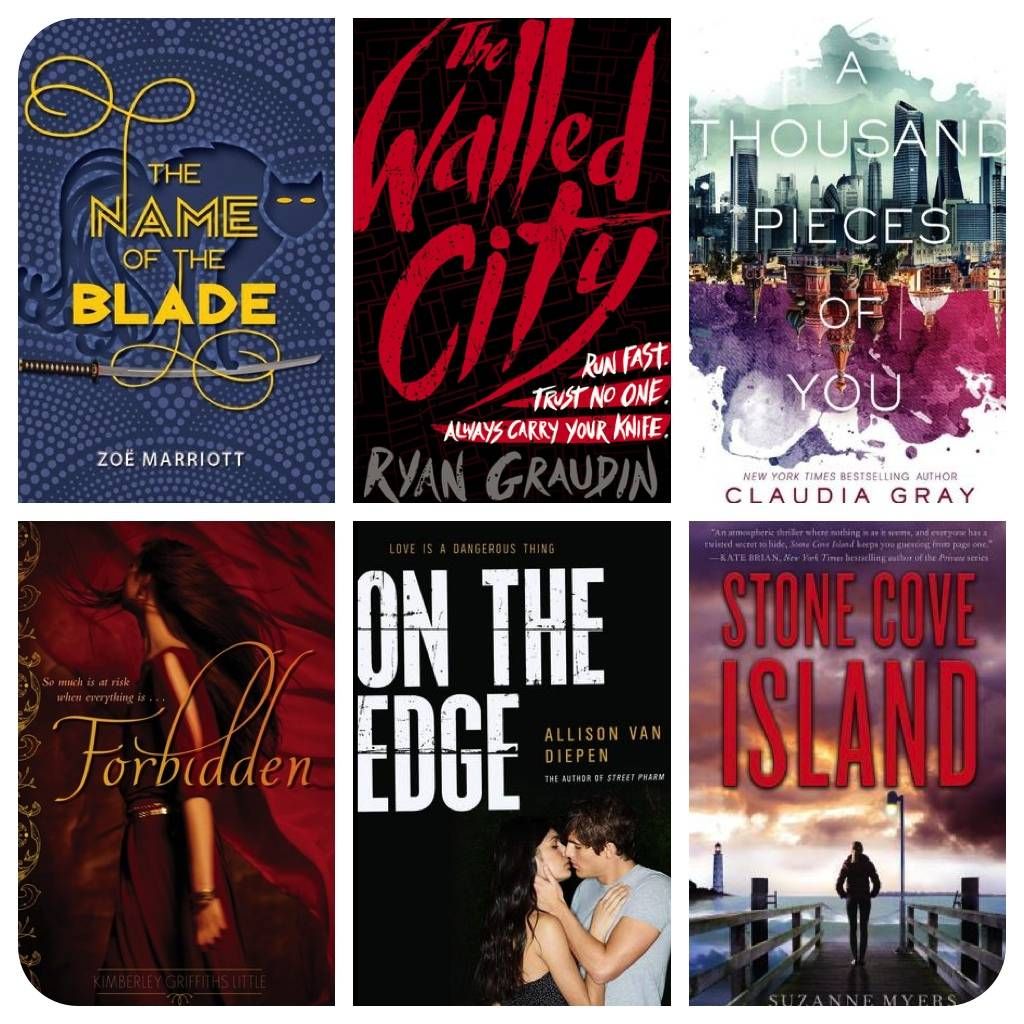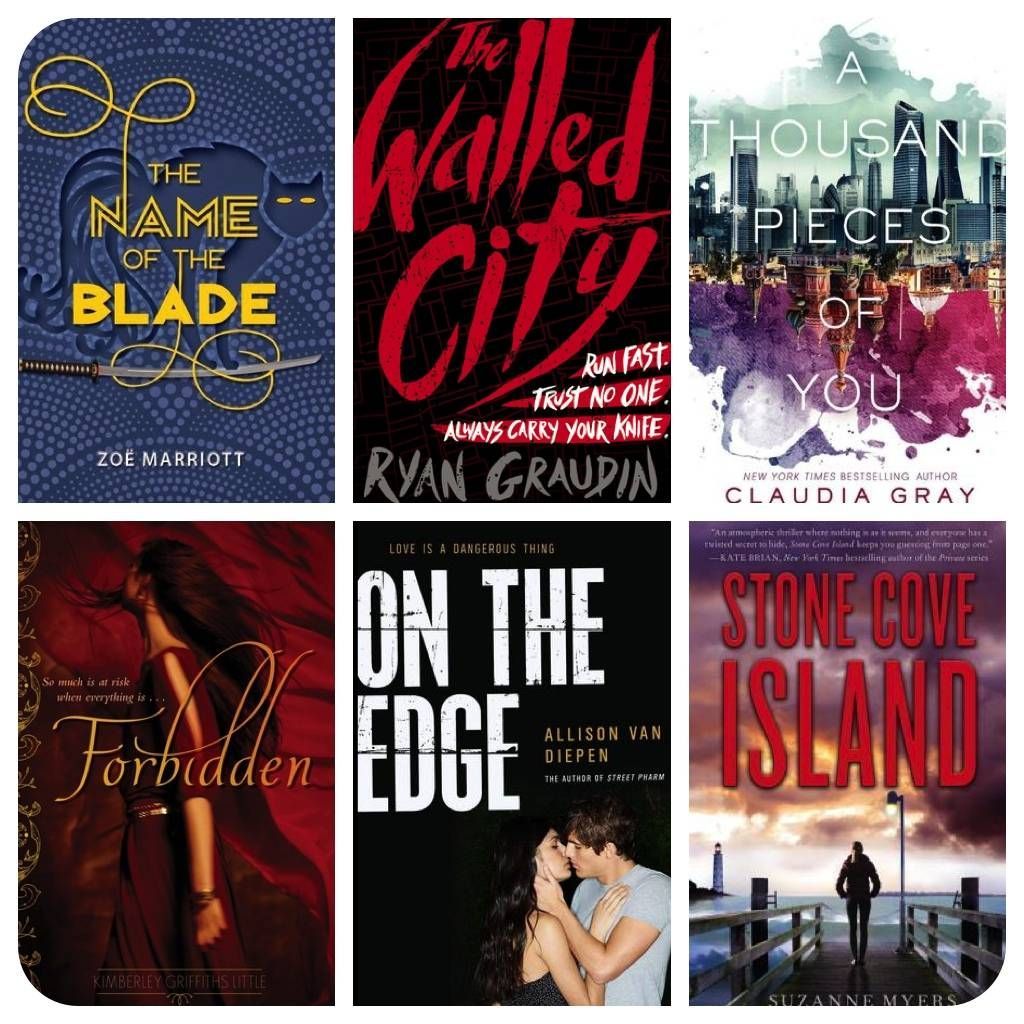 30. The Name of the Blade by Zoe Marriott (Candlewick): When fifteen year old Mio Yamato furtively sneaks the katana – an ancestral Japanese sword – out of its hiding place in her parent's attic to help liven up her Christmas party costume, she has no idea of the darkness she is about to unleash on modern day London, or the family secrets that she is going to uncover.
The paralysing paranoia that descends on her before she gets to her friend's party is her first clue. The vivid and terrifying visions that nearly get her killed are a pretty good warning too.
The giant nine-tailed cat demon that comes after the sword and tries to rip her throat out? Overkill.
Seconds away from becoming kitty-food, Mio is saved by Shinobu, a mysterious warrior boy. But it's already too late. Mio has ruptured the veil between the mortal realm and the Underworld, and now the gods and monsters of ancient Japan stalk the streets of London, searching for her and the sword.
With the help of her best friend Jack, a fox spirit named Hikaru – and the devoted protection of the betwitchingly familiar Shinobu – Mio attempts to discover the true nature of the sword and its connection to the Yamato family. Because if she doesn't learn how to control the katana's incredible powers, she's in danger of being overwhelmed by them. And if she can't keep the sword safe from the terrible creatures who want it for their own, she'll lose not only her own life… but the love of a lifetime.
31. The Walled City by Ryan Graudin (Little Brown Books for Young Readers): 730. That's how many days I've been trapped.
18. That's how many days I have left to find a way out.
DAI, trying to escape a haunting past, traffics drugs for the most ruthless kingpin in the Walled City. But in order to find the key to his freedom, he needs help from someone with the power to be invisible….
JIN hides under the radar, afraid the wild street gangs will discover her biggest secret: Jin passes as a boy to stay safe. Still, every chance she gets, she searches for her lost sister….
MEI YEE has been trapped in a brothel for the past two years, dreaming of getting out while watching the girls who try fail one by one. She's about to give up, when one day she sees an unexpected face at her window…..
In this innovative and adrenaline-fueled novel, they all come together in a desperate attempt to escape a lawless labyrinth before the clock runs out.
32. A Thousand Pieces of You by Claudia Gray (Harper Teen): Marguerite Caine's physicist parents are known for their radical scientific achievements. Their most astonishing invention: the Firebird, which allows users to jump into parallel universes, some vastly altered from our own. But when Marguerite's father is murdered, the killer—her parent's handsome and enigmatic assistant Paul—escapes into another dimension before the law can touch him.
Marguerite can't let the man who destroyed her family go free, and she races after Paul through different universes, where their lives entangle in increasingly familiar ways. With each encounter she begins to question Paul's guilt—and her own heart. Soon she discovers the truth behind her father's death is more sinister than she ever could have imagined.
33. Forbidden by Kimberley Griffiths Little (HarperCollins): In the unforgiving Mesopotamian desert where Jayden's tribe lives, betrothal celebrations abound, and tonight it is Jayden's turn to be honored. But while this union with Horeb, the son of her tribe's leader, will bring a life of riches and restore her family's position within the tribe, it will come at the price of Jayden's heart.
Then a shadowy boy from the Southern Lands appears. Handsome and mysterious, Kadesh fills Jayden's heart with a passion she never knew possible. But with Horeb's increasingly violent threats haunting Jayden's every move, she knows she must find a way to escape—or die trying.
With a forbidden romance blossoming in her heart and her family's survival on the line, Jayden must embark on a deadly journey to save the ones she loves—and find a true love for herself.
34. On The Edge by Allison van Diepen (HarperCollins): Maddie Diaz never should have taken that shortcut through the park. If she hadn't, she wouldn't have seen two members of the Reyes gang attacking a homeless man. Now, as the only witness, she knows there's a target on her back.
But when the Reyes jump her on the street, Maddie is protected by a second gang and their secretive leader, Lobo, who is determined to take down the Reyes himself. Lobo is mysterious and passionate, and Maddie begins to fall for him. But when they live this close to the edge, can their love survive?
35. Stone Cove Island by Suzanne Myers (Soho Teen): When a catastrophic hurricane devastates Stone Cove Island, a serene New England resort community, everyone pulls together to rebuild. Seventeen-year-old Eliza Elliot volunteers to clean out the island's iconic lighthouse and stumbles upon a secret in the wreckage: a handwritten, anonymous confession to a thirty-year-old crime.
Bess Linsky's unsolved murder has long haunted the island, and the letter turns the town inside out. Everyone who knew Bess is suddenly a suspect. Soon Eliza finds herself in the throes of an investigation she never wanted or asked for. As Stone Cove Island fights to recover from disaster, Eliza plunges the locals back into a nightmare they believed was long buried.
36. Creed by Lindsay Currie and Trisha Leaver (Flux): When their car breaks down, Dee, her boyfriend Luke, and his brother Mike walk through a winter storm to take refuge in a nearby town called Purity Springs. When they arrive, the emergency sirens are blaring and the small farming town seems abandoned. With no other shelter, they spend the night in an empty house.
But they soon discover that not everything in Purity Springs is as it seems. When the town's inhabitants suddenly appear the next morning, Dee, Luke, and Mike find themselves at the mercy of the charismatic leader, Elijah Hawkins, who plans to make Dee his new wife. Elijah's son, Joseph, offers to help them escape . . . but the price of his help may be more than Dee and her friends can bear.
37. Watched by C. J. Lyons (Sourcebooks Fire): When hackers can hijack any cellphone or computer webcam, no one is safe – including Jesse.
Jesse seems like a normal sixteen-year-old, but he isn't. He is a victim of King – a ruthless hacker who has been blackmailing Jesse with incriminating screen photos and videos. So far, Jesse's given in to King's demands in order to protect his family. But now King wants something that's too horrible to contemplate- and if he doesn't get it, King will kill Jesse's little sister.
Terrified and helpless, the answer to Jesse's prayers arrives in the form of a plain manila envelope. Inside there's a phone number and a note: I can help.
38. The Last Changeling by Chelsea Pitcher (Flux): Elora, the young princess of the Dark Faeries, plans to overthrow her tyrannical mother, the Dark Queen, and bring equality to faeriekind. All she has to do is convince her mother's loathed enemy, the Bright Queen, to join her cause. But the Bright Queen demands an offering first: a human boy who is a "young leader of men."
To steal a mortal, Elora must become a mortal—at least, by all appearances. And infiltrating a high school is surprisingly easy. When Elora meets Taylor, the seventeen-year-old who's plotting to overthrow a ruthless bully, she thinks she's found her offering . . . until she starts to fall in love.
December
39. Diamond Boy by Michael Williams (Little Brown Books for Young Readers): "Diamonds for everyone."
That's what fifteen-year-old Patson Moyo hears when his family arrives in the Marange diamond fields. Soon Patson is working in the mines himself, hoping find his girazi–the priceless that stone that could change his life forever. But when the government's soldiers comes to Marange, Patson's world is shattered.
Set against the backdrop of President Robert Mugabe's brutal regime in Zimbabwe, Diamond Boy is the story of young man who succumbs to greed but finds his way out through a transformative journey to South Africa in search of his missing sister, in search of freedom, and in search of himself.
40. Zodiac by Romina Russell (Razorbill): Rhoma Grace is a 16-year-old student from House Cancer with an unusual way of reading the stars. While her classmates use measurements to make accurate astrological predictions, Rho can't solve for 'x' to save her life—so instead, she looks up at the night sky and makes up stories.
When a violent blast strikes the moons of Cancer, sending its ocean planet off-kilter and killing thousands of citizens—including its beloved Guardian—Rho is more surprised than anyone when she is named the House's new leader. But, a true Cancrian who loves her home fiercely and will protect her people no matter what, Rho accepts.
Then, when more Houses fall victim to freak weather catastrophes, Rho starts seeing a pattern in the stars. She suspects Ophiuchus—the exiled 13th Guardian of Zodiac legend—has returned to exact his revenge across the Galaxy. Now Rho—along with Hysan Dax, a young envoy from House Libra, and Mathias, her guide and a member of her Royal Guard—must travel through the Zodiac to warn the other Guardians.
But who will believe anything this young novice says? Whom can Rho trust in a universe defined by differences? And how can she convince twelve worlds to unite as one Zodiac?
41. Suspicion by Alexandra Monir (Delacorte): "There's something hidden in the Maze." Seventeen-year-old Imogen has never forgotten the last words her father said to her seven years ago, before the blazing fire that consumed him, her mother, and the gardens of her family's English country manor.
Haunted by her parents' deaths, Imogen moves to New York City with her new guardians. But when a letter arrives with the news of her cousin's untimely death, revealing that Imogen is now the only heir left to run the estate, she returns to England and warily accepts her role as duchess.
All is not as it seems at Rockford, and Imogen quickly learns that dark secrets lurk behind the mansion's aristocratic exterior, hinting that the spate of deaths in her family were no accident. And at the center of the mystery is Imogen herself–and Sebastian, the childhood friend she has secretly loved for years. Just what has Imogen walked into?
42. For Real by Alison Cherry (Delacorte): Shy, cautious Claire has always been in her confident older sister's shadow. While Miranda's life is jam-packed with exciting people and whirlwind adventures, Claire gets her thrills vicariously by watching people live large on reality TV.
When Miranda discovers her boyfriend, Samir, cheating on her just before her college graduation, it's Claire who comes up with the perfect plan. They'll outshine Miranda's fame-obsessed ex while having an amazing summer by competing on Around the World, a race around the globe for a million bucks. Revenge + sisterly bonding = awesome.
But the show has a twist, and Claire is stunned to find herself in the middle of a reality-show romance that may or may not be just for the cameras. This summer could end up being the highlight of her life… or an epic fail forever captured on film. In a world where drama is currency and manipulation is standard, how can you tell what's for real?
43. Love and Other Theories by Alexis Bass (Harper Teen): If you want more, you have to give less.
That's the secret to dating in high school. By giving as little as they expect to get in return, seventeen-year-old Aubrey Housing and her three best friends have made it to the second semester of their senior year heartbreak-free. And it's all thanks to a few simple rules: don't commit, don't be needy, and don't give away your heart.
So when smoking-hot Nathan Diggs transfers to Lincoln High, it shouldn't be a big deal. At least that's what Aubrey tells herself. But Nathan's new-boy charm, his kindness, and his disarming honesty throw Aubrey off her game and put her in danger of breaking the most important rule of all: Don't fall in love.
44. Rebels by Accident by Patricia Dunn (Sourcebooks Fire): A Troubled Teen Sent to Cairo Finds Revolution is Everywhere, Including in Ourselves
When my first party ends in jail, I think things can't possibly get worse. But then my parents send me to my grandmother in Cairo, and I'm sure my life is over. My sittu is Darth Vader's evil sister, and I'm sure the only sites I'll get to see in Egypt are the rooms in her apartment.
Turns out she's not so bad. We ride camels by the pyramids and ice skate at a mall.
As Sittu says, "Sometimes a moment can change your life." But it can change the life of a country too. When a girl named Asmaa calls the people of Egypt to protest, I find myself in the middle of a revolution, running from tear gas and guns.
Oh yeah, and I meet the cutest guy I've ever seen. Fall in love for the first time. And have my first kiss.
45. Little White Lies by Katie Dale (Delacorte): The first time Lou meets tall, dark, and handsome Christian, she knows he's hiding something. Why does he clam up every time she asks about his past? Why doesn't he have any family photos and why does he dye his blond hair black?
Then suddenly his terrible secret is unveiled to the world – and it seems everything he's ever told Lou is a lie. Can what the media are saying about him really be true? Should Lou trust him? Or is she in terrible danger? But Christian isn't the only one keeping secrets. For what if their chance meeting was no accident at all …?
As lie follows lie, nothing is as it seems, and soon Lou finds herself ensnared in a web of deceit, her loyalties torn, her emotions in tatters as she faces a heart-wrenching dilemma: should she shatter the lives of those she holds dearest, or betray the guy who, against all odds, she's fallen in love with?
10 To Watch For in 2015
If you're really eager about getting your to-read list in order, then make sure you put these 10 books onto your radar for spring 2015. This is a tasty preview of what's to come from some well-known YA names and some up-and-coming authors. There is something for every type of reader.
1. The Darkest Part of the Forest by Holly Black (Little, Brown Books for Young Readers, January 13, 2015): Children can have a cruel, absolute sense of justice. Children can kill a monster and feel quite proud of themselves. A girl can look at her brother and believe they're destined to be a knight and a bard who battle evil. She can believe she's found the thing she's been made for.
Hazel lives with her brother, Ben, in the strange town of Fairfold where humans and fae exist side by side. The faeries' seemingly harmless magic attracts tourists, but Hazel knows how dangerous they can be, and she knows how to stop them. Or she did, once.
At the center of it all, there is a glass coffin in the woods. It rests right on the ground and in it sleeps a boy with horns on his head and ears as pointed as knives. Hazel and Ben were both in love with him as children. The boy has slept there for generations, never waking.
Until one day, he does…
As the world turns upside down, Hazel tries to remember her years pretending to be a knight. But swept up in new love, shifting loyalties, and the fresh sting of betrayal, will it be enough?
2. All Fall Down by Ally Carter (Scholastic, January 27, 2015): Grace Blakely is absolutely certain of three things:
1. She is not crazy.
2. Her mother was murdered.
3. Someday she is going to find the killer and make him pay.
As certain as Grace is about these facts, nobody else believes her–so there's no one she can completely trust. Not her grandfather, a powerful ambassador. Not her new friends, who all live on Embassy Row. Not Alexei, the Russian boy next door who is keeping an eye on Grace for reasons she neither likes nor understands.
Everybody wants Grace to put on a pretty dress and a pretty smile, blocking out all her unpretty thoughts. But they can't control Grace–no more than Grace can control what she knows or what she needs to do.
Her past has come back to hunt her . . . and if she doesn't stop it, Grace isn't the only one who will get hurt. Because on Embassy Row, the countries of the world all stand like dominoes, and one wrong move can make them all fall down.
3. The Bunker Diary by Kevin Brooks (Carolrhoda LAB, March 1, 2015): Room meets Lord of the Flies, The Bunker Diary is award-winning, young adult writer Kevin Brooks's pulse-pounding exploration of what happens when your worst nightmare comes true — and how will you survive?
4. The Alex Crow by Andrew Smith (Dutton, March 3, 2015): Once again blending multiple story strands that transcend time and place, Grasshopper Jungle author Andrew Smith tells the story of 15-year-old Ariel, a refugee from the Middle East who is the sole survivor of an attack on his small village. Now living with an adoptive family in Sunday, West Virginia, Ariel's story of his summer at a boys' camp for tech detox is juxtaposed against those of a schizophrenic bomber and the diaries of a failed arctic expedition from the late nineteenth century. Oh, and there's also a depressed bionic reincarnated crow.
5. Bone Gap by Laura Ruby (Balzar + Bray, March 3, 2015): Everyone knows Bone Gap is full of gaps—gaps to trip you up, gaps to slide through so you can disappear forever. So when young, beautiful Roza went missing, the people of Bone Gap weren't surprised. After all, it wasn't the first time that someone had slipped away and left Finn and Sean O'Sullivan on their own. Just a few years before, their mother had high-tailed it to Oregon for a brand new guy, a brand new life. That's just how things go, the people said. Who are you going to blame?
Finn knows that's not what happened with Roza. He knows she was kidnapped, ripped from the cornfields by a dangerous man whose face he cannot remember. But the searches turned up nothing, and no one believes him anymore. Not even Sean, who has more reason to find Roza than anyone, and every reason to blame Finn for letting her go.
As we follow the stories of Finn, Roza, and the people of Bone Gap—their melancholy pasts, their terrifying presents, their uncertain futures—acclaimed author Laura Ruby weaves a heartbreaking tale of love and loss, magic and mystery, regret and forgiveness—a story about how the face the world sees is never the sum of who we are.
6. Under a Painted Skyby Stacey Lee (Putnam, March 17, 2015): Missouri, 1849: Samantha dreams of moving back to New York to be a professional musician—not an easy thing if you're a girl, and harder still if you're Chinese. But a tragic accident dashes any hopes of fulfilling her dream, and instead, leaves her fearing for her life. With the help of a runaway slave named Annamae, Samantha flees town for the unknown frontier. But life on the Oregon Trail is unsafe for two girls, so they disguise themselves as Sammy and Andy, two boys headed for the California gold rush. Sammy and Andy forge a powerful bond as they each search for a link to their past, and struggle to avoid any unwanted attention. But when they cross paths with a band of cowboys, the light-hearted troupe turn out to be unexpected allies. With the law closing in on them and new setbacks coming each day, the girls quickly learn that there are not many places to hide on the open trail.
7. Trollhunters by Daniel Kraus and Guillermo del Toro (Disney-Hyperion, March 24, 2015): This horror novel is about monsters that move in unseen places and the resurgence of a 45-year-old mystery that threatens the seemingly sleepy city of San Bernardino, CA.
8. The Walls Around Us by Nova Ren Suma (Algonquin Young Readers, March 24, 2015): A ghostly story of suspense told in two voices—one still living and one long dead. On the outside, there's Violet, an eighteen-year-old dancer days away from the life of her dreams when something threatens to expose the shocking truth of her achievement. On the inside, within the walls of a girls' juvenile detention center, there's Amber, locked up for so long she can't imagine freedom. Tying these two worlds together is Orianna, who holds the key to unlocking all the girls' darkest mysteries.
We hear Amber's story and Violet's, and through them Orianna's, first from one angle, then from another, until gradually we begin to get the whole picture—which is not necessarily the one that either Amber or Violet wants us to see.
9. All The Rage by Courtney Summers (St. Martins Press, April 14, 2015): The sheriff's son, Kellan Turner, is not the golden boy everyone thinks he is, and Romy Grey knows that for a fact. Because no one wants to believe a girl from the wrong side of town, the truth about him has cost her everything—friends, family, and her community. Branded a liar and bullied relentlessly by a group of kids she used to hang out with, Romy's only refuge is the diner where she works outside of town. No one knows her name or her past there; she can finally be anonymous.But when a girl with ties to both Romy and Kellan goes missing after a party, and news of him assaulting another girl in a town close by gets out, Romy must decide whether she wants to fight or carry the burden of knowing more girls could get hurt if she doesn't speak up. Nobody believed her the first time—and they certainly won't now—but the cost of her silence might be more than she can bear.
With a shocking conclusion and writing that will absolutely knock you out, All the Rage examines the shame and silence inflicted upon young women after an act of sexual violence, forcing us to ask ourselves: In a culture that refuses to protect its young girls, how can they survive?
10. None of the Above by I. W. Gregorio (April 24, 2015): When Kristin Lattimer is voted homecoming queen, it seems like another piece of her ideal life has fallen into place. She's a champion hurdler with a full scholarship to college and she's madly in love with her boyfriend. In fact, she's decided that she's ready to take things to the next level with him.
But Kristin's first time isn't the perfect moment she's planned—something is very wrong. A visit to the doctor reveals the truth: Kristin is intersex, which means that though she outwardly looks like a girl, she has male chromosomes, not to mention boy "parts."
Dealing with her body is difficult enough, but when your diagnosis is leaked to the whole school, Kristin's world completely unravels. With everything she thought she knew thrown into question, can she come to terms with her new self?
____________________
Expand your literary horizons with New Books!, a weekly newsletter spotlighting 3-5 exciting new releases, hand-picked by our very own Liberty Hardy. Sign up now!