Inbox/Outbox: December 20, 2013
It's been an eclectic week–poker, nuclear war, elevators, magical rabbis, and mountain-climbing rich people–so bear with me.
Inbox (Books Acquired)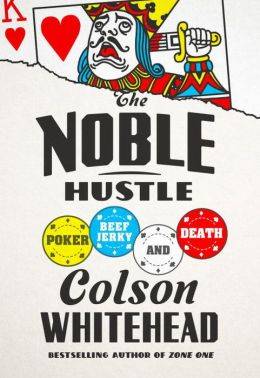 The Noble Hustle: Poker, Beef Jerky, and Death by Colson Whitehead (Doubleday, May 2014)– Colson Whitehead, author of my favorite literary zombie novel (Zone One), joins the World Series of Poker. That was enough of a pitch to get me slavering for this book, which promises to be dark and funny and absolutely enthralling. I'm anticipating something along the lines of Stefan Fatsis's Word Freak crossed with John Jeremiah Sullivan's Pulphead–a down-deep investigation of a not very leisurely leisure activity meets gorgeous, incisive, reflective prose–rendered in Whitehead's inimitable style. See? Slavering.
Competing with the Soviets: Science, Technology, and the State in Cold War America by Audra J. Wolfe– This may sound like a super-nerdy choice. Probably because it is. But as my choices for Book Riot's Best Books of 2013 list suggest, I'm a sucker for the Cold War. Part of Johns Hopkins University Press's Introductory Studies in the History of Science series, Wolfe's book is meant to offer an overview–both wide-reaching and rich–of science and technology as a battleground on which that long, strange conflict was waged. I'm sold.
Outbox (Books Finished)
The Angel of Losses by Stephanie Feldman (Ecco, July 2014)– This book was amazing. The protagonist, a grad student in literature, uncovers a story scribbled down by her grandfather, and everything starts to unravel. Jewish folklore. Family secrets. Hidden identities. Hidden notebooks. Bitter estrangements. The past–pasts–roaring up to meet the present. Also, and a bit bizarrely (but it works!), a digital humanities visualization plays a pivotal role in the story. It's beautifully constructed and just plain beautiful. Mark your calendars now, people. Mark them now.
The Intuitionist by Colson Whitehead– I picked this one up and read it out of excitement for Whitehead's upcoming The Noble Hustle (see above!). The Intuitionist is a novel about elevators. More specifically, it's about elevator inspectors. Even more specifically, it's not at all as dull as that sounds. In fact, it's an engrossingly mysterious meditation on urbanism, race, and faith in a world much like our own (just a little more fascinated by elevators). The book plunks you down in a vicious battle between two schools of elevator inspection (seriously) and then doesn't let up as you're swept through this strange world, forced to grapple with the philosophical import of elevators and the way racism and injustice affect who can rise–and how high.
In the Queue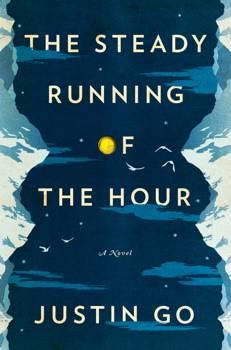 The Steady Running of the Hour by Justin Go (Simon & Schuster, April 2014)
When it's time to choose my next book, I usually follow a particular procedure: I judge a book by its cover, scan the description for a sense of the plot (but Shh! Spoilers!), and make sure there aren't any book description phrases that drive me nuts. Then, if it passes muster, I'll give the book a go. With Steady Running of the Hour, we've got a gorgeous cover, a very appealing plot–an ordinary American tries to discover whether he's heir to an estate left in trust since the 1920s by an alpinist who died on Everest–and, alas, one of those damnedable phrases ("tour de force," sigh). I think I'll forgive that latter, unfortunate error and give Go's novel a try. It does look delightful, after all, and I am nothing if not merciful.
Your turn, readers. How was your week in books? What are you planning to read over the holiday or break?
_________________________
Sign up for our newsletter to have the best of Book Riot delivered straight to your inbox every two weeks. No spam. We promise.
To keep up with Book Riot on a daily basis, follow us on Twitter, like us on Facebook, , and subscribe to the Book Riot podcast in iTunes or via RSS. So much bookish goodness–all day, every day.
We have 5 copies of 
the
Forbidden Hearts series
by Alisha Rai to give away to Book Riot readers!
Go here to enter for a chance to win
, or just click the image below. Good luck!