Buy, Borrow, Bypass: Three Poets
Kevin Young writes about the family in the American landscape. The book is dedicated to his father and grandmother, Brudda and Mudda, and they reappear as characters throughout the books nearly 200 pages. Of the three I read for today's Buy, Borrow, Bypass, it's the collection that is by far the longest and also the most uneven, but I think it was still my favorite. When I talk about Billy Collins, I will talk about how he is grounded in reality, firmly and completely. When I talk about Carl Philips, I will mention that his poems are harder to get a grasp on. They are grounded somewhere, but it's not clear where. Kevin Young's poetry is grounded in place and in time, but it is the people that really matter. Everything feels like a metaphor for a person, for a relationship. Two sections stand out to me: Young & Son's Pawn & Gun and Young & Sons' Bar-B-Q Heaven. Both are compiled entirely of odes, prayers & elegies to food. "Ode to Crawfish," "Ode to Kitchen Grease," "Prayer for Black-Eyed Peas." But the poems always end in a different place than they began, with each type of food usually becoming a way to express connections, a way to express feelings, for someone instead of something.
Take the "Ode to Catfish" – "Remember the day, po boy,/you fried up catfish/with grits for breakfast, your mother/& sisters surrounding us/& you declared it/perfect? Sweet Jesus/you were right./Fish hooks in my heart./My plate full of bones/I'm scared to swallow." This weaving in and out of metaphor is what gives Young's poetry in Dear Darkness its strength. It's what kept me coming back for seconds and thirds.
VERDICT: BUY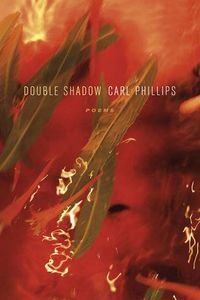 Double Shadow by Carl Phillips
I don't like poetry that keeps you guessing, that never gives you much to hold onto to ground yourself, but I imagine it's important. Like going to the gym for your brain. I was distracted while reading Double Shadow, I could never quite figure out what was important in each poem and then couldn't focus on the language. It is a philosophical poetry that asks a lot of questions and doesn't give a lot of answers. The stanzas are filled with "and then?" and "to what, or whom?" and "why not." All those questions can be tiring, it's true, but then you will be reading a poem and everything starts to come together and it is very rewarding. I am particularly enamored with poems like "Sacrifice is a Different Animal Altogether" if only for the line "How the sailor can become/the ocean he'd meant only, he thought, to sail across." And "Night," a comparatively longer poem that is filled with beautiful lines, even if I'm still not quite sure on my last reading of a dozen what it means.
VERDICT: BORROW
The Trouble with Poetry and Other Poems by Billy Collins
Oh, Billy Collins. I am fairly certain you can do no wrong. I think that Billy Collins is a non-poetry-reader's poet, in the sense that he's a really great place to start if you are not an avid poetry reader and you are looking for a way to get your feet wet. His poems are so accessible. They can be funny, they can be moving, they can be tragic and sad, but they are always, first and foremost, readable. You want to keep reading Collins's poetry, you want to see what moment he will write about next, what object he will elevate, what ordinary thing he will make extraordinary. Take the poem "The Lanyard," easily one of my favorite from this collection. If you went to summer camp, you remember making these plastic lanyards as a kid. Coming across the word lanyard in the dictionary shoots the narrator back to a moment at camp where he is making one for his mother. The poem, though, becomes a rumination on motherhood and the gifts we return to our mothers. Reading this book reminded me that I'd like to own all of Billy Collins's books and I'm glad I started with this one.
VERDICT: BUY
_________________________
Sign up for our newsletter to have the best of Book Riot delivered straight to your inbox every two weeks. No spam. We promise.
To keep up with Book Riot on a daily basis, follow us on Twitter, like us on Facebook, , and subscribe to the Book Riot podcast in iTunes or via RSS. So much bookish goodness–all day, every day.
The best all-around ereader is now even better. Better because it is waterproof. Read in the bath. On the beach. In the shower. And we have one to give away! Go
here to enter for a chance to wi
n
, or just click on the image below. Good luck!