Buy, Borrow, Bypass: Internet Sensations Edition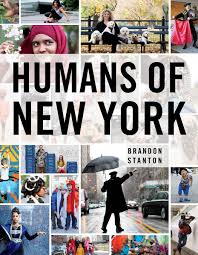 Humans of New York by Brandon Stanton
Stanton takes photographs of NYC's inhabitants, and collects snippets of their life story, or quotes, from his subjects. Some photos are of people in everyday dress, some of people in costume, and some are of people whose everyday dress IS a costume. (Some should be in a book called "Aliens of New York.") And a lot will tug your heart strings, like when he asks people the saddest moment of their lives, or to tell him a little bit about themselves. For instance, there's a photo of a Santa-looking man in a park: "My wife passed away a few years back. Her name was Barbara, I used to call her Ba. My name was Lawrence, she used to call me La. When she died, I changed my name to Bala." *Sniff*. HUMANS. It's fascinating stuff from an infinite project.
Verdict: Buy it. Read it. Put it on the shelf. Take it down in five years and look at it again – it will be interesting all over again.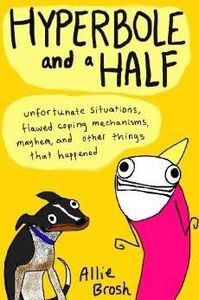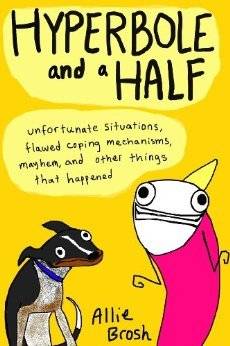 Hyperbole and a Half by Allie Brosh
I am fighting the urge to just write "Buy it!" fifty times, because I love this book so much. There are few things that make me laugh as hard as Hyperbole and a Half. Not only are Brosh's colorful stick-figurey illustrations actually genius when you take a moment to really look at them, but she is hella hilarious and smart. Even her posts dealing with her depression are conveyed in such a way that you're still smiling. My favorite things include the homicidal goose that gets into her house, the way the dogs talk ("What want?") and the cake post. Oh, the cake post – I laughed so much I snorted. This book should be on your gift-giving list for everyone.
Verdict: BUY ALL THE COPIES!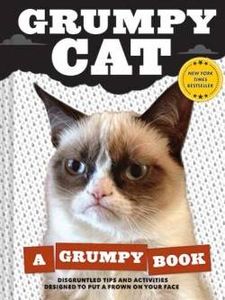 A Grumpy Book: Disgruntled Tips and Activities Designed to Put a Frown on Your Face by Grumpy Cat
Okay, Grumpy Cat is really cute. She is. I dig her pictures. I even stood in line for an hour at BEA to get a glimpse of her famous frown. But unless you're completely obsessed, there are lots of other books to spend your time (and money) on. (See above.) This is basically dozens of images arranged in collage-style for such categories as "How to Get in a Grumpy Mood" and "How to Be Grumpy," as well as activities such as the Grumpy Word Hunt and the Grumpy Crossword. The excitement of this book has the shelf life of a fruit fly.
Verdict: Bypass, and subscribe to her tumblr instead. Unless you have a youngster in your life who digs Grumpy Cat, then get it for them, because they will appreciate it. And then you can borrow it. (But don't do their crossword, that would be a total jerk move.)
_________________________
Sign up for our newsletter to have the best of Book Riot delivered straight to your inbox every two weeks. No spam. We promise.
To keep up with Book Riot on a daily basis, follow us on Twitter, like us on Facebook, , and subscribe to the Book Riot podcast in iTunes or via RSS. So much bookish goodness–all day, every day.
We have 5 copies of
The Library Book by Susan Orlean
to give away!
Go here to enter for a chance to win
, or just click the image below. Good luck!