The Week's Most Popular Posts: November 25-29, 2013
Let's take a look back at the most popular posts from the week that was….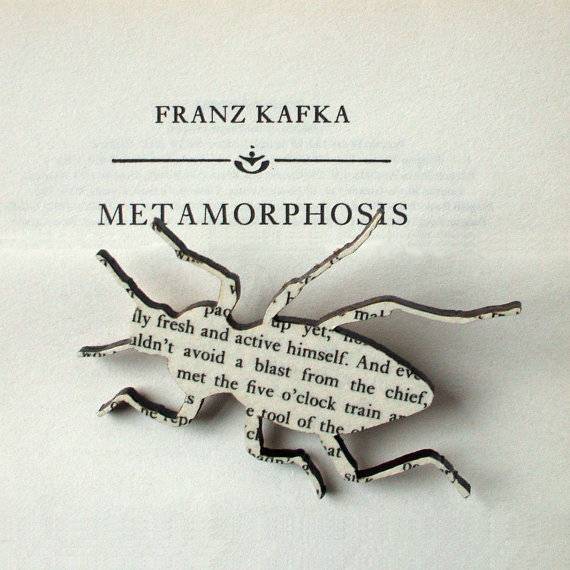 A beetle brooch made from pages of a worn-out copy of The Metamorphosis! It's so meta, I can't stand it.
From 10 Pieces of Franz Kafka Swag by Amanda Nelson
______________________
Cultivate the habit of being grateful for every good thing that comes to you, and to give thanks continuously. And because all things have contributed to your advancement, you should include all things in your gratitude.
–Ralph Waldo Emerson
From 10 Literary Quotes For Thanksgiving by Rebecca Joines Schinsky
_____________________
This ornament project is a little-bit more labor intensive and a require a slightly higher level of skill. (via Loving City Living)
From 7 Bookish Crafts To Put You in the Christmas Spirit by Cassandra Neace
____________________
Jeanette Solomon: Speak by Laurie Halse Anderson
For very personal reasons, I wish I'd read this book when it first came out in—was it really?—1999. Instead, I read it for the first time a decade later, at the age of 26. Speak stands alongside Tori Amos' "Silent All These Years" (which I did have as a '90s teen) as a testament to the power of putting our experiences into words, and of choosing when and how to do that very hard thing, then owning the choice. There have been novels since in which the protagonist self-silences, but Melinda's struggle feels the most real (without ever turning maudlin), especially the scene where she goes into her closet, stuffs fabric from her clothing into her mouth, and screams and screams. This book is extremely powerful and, indeed, empowering.
From The Books We're Thankful For by Josh Corman
_____________________
and the most popular posts at our sister site, Food Riot:
Check the sign-up board for your office Thanksgiving potluck the day before and realize no one has signed up to make the turkey.
Hope someone else has the same realization and will volunteer before you have to.
Agree to make the turkey on your way out the door for the day.
Hyperventilate when you realize that it will be impossible to find a non-frozen turkey anywhere.
Google "quick ways to defrost a turkey." 
How To Cook Your First Thanksgiving Turkey…In 101 Simple Steps 
____________________________
Sign up for our newsletter to have the best of Book Riot delivered straight to your inbox every week. No spam. We promise.

To keep up with Book Riot on a daily basis, follow us on Twitter, like us on Facebook, , and subscribe to the Book Riot podcast in iTunes or via RSS. So much bookish goodness–all day, every day.
By signing up you agree to our Terms of Service
The best all-around ereader is now even better. Better because it is waterproof. Read in the bath. On the beach. In the shower. And we have one to give away! Go
here to enter for a chance to wi
n
, or just click on the image below. Good luck!