The Week's Most Popular Posts: October 12-18, 2013
Let's take a look back at the most popular posts from the week that was….
ON A DONKEY
Here's a delightful twist on the Pack Horse Library. Since 1990, teacher-turned-mobile-librarian Luis Soriano has brought books to thousands of children in rural Colombia, all from the back of a donkey. The biblioburro, as Soriano calls it, helps poor children have access to more books and thus a chance at a better education. "That's how a community changes and the child becomes a good citizen and a useful person," Soriano told CNN. "Literature is how we connect them with the world." Soriano and his biblioburro are the subject of a children's book by Monica Brown and John Parra, proceeds from the sale of which go to support Soriano's work.
-from Finding Libraries in Unexpected Places by Derek Attig
______________________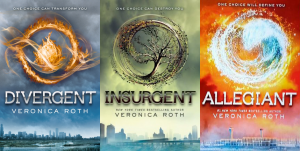 Why you like Divergent
It's a dystopia, one of the most popular science fiction subgenres. Dystopias are stories set in the near or far future, wherein there is an oppressive government and repressed society. This is key: a dystopia isn't simply about the future or about the unpleasant future. It's about the political regime that makes the future terrible. In Divergent, the government believes by testing teens and placing them into factions, they can control their future survival as a society. Moreover, the government has indoctrinated its citizens that this is a way to build a better world, and that thriving requires holding on to and caring for "the chosen few."
–Beyond the Bestsellers: So You've Read Divergent by Kelly Jensen

______________________
Fantod Tarot: If you're like me, you had absolutely no idea that Edward Gorey illustrated his own joke tarot deck with 20 cards that predict gruesome outcomes, from hair loss to shriveling:
-from Book Fetish: Volume LXXXXI (Special Edward Gorey Edition) by Rachel Smalter-Hall ______________________
As a kid, I was in Gone With the Wind to WIN Gone With the Wind. I was so excited to read this book as an adult.
And then I couldn't do it. I guess I blocked out the slave stuff in my memories of the book, or I was a really racist child and registered the injustice but wasn't sufficiently nauseated. This time around, I felt queasy every time there was slavery in a scene. Margaret Mitchell skewers sexism in this novel with her rapier wit, every observation contains subtle (and sometimes overt) criticism. Yet there is no skewering of slavery (at least not as far as I reread/remembered). It's just an accepted institution. It's just background for white romance, white tragedy, white lessons learned. I can't remember the last time I felt so queasy reading.
-from I Couldn't Finish GONE WITH THE WIND Because it Was So Racist by Kit Steinkellner
______________________
The week's most popular post over at Food Riot was…. 
Where the Wild Things Are
-from The Not-So-Humble Jack-o'-Lantern by Cate Brown
______________________
Sign up for our newsletter to have the best of Book Riot delivered straight to your inbox every week. No spam. We promise.
To keep up with Book Riot on a daily basis, follow us on Twitter, like us on Facebook, and subscribe to the Book Riot podcast in iTunes or via RSS. So much bookish goodness–all day, every day.
By signing up you agree to our Terms of Service
You could win a six-month subscription to an amazing Romance box!
Go here to enter for a chance to win
, or just click the image below: