Inbox/Outbox: September 27, 2013
Ever gone on vacation with a pile of books and managed to not finish a single one? That's exactly what I did last week, when I rolled into the beach house I'd be sharing with dear friends who were celebrating their wedding. I was ready. I had five books, my ereader, Oyster all set up on my iPhone, a stack of fresh beach towels, and an ample supply of SPF 50 (for the ginger in your life). The good times–and there were many–got me so relaxed that I couldn't read for more than a few minutes at a time, and I have to say it was pretty great. I'm back in the office and back in my groove now, and here's what's been going on.
Inbox (Books Acquired)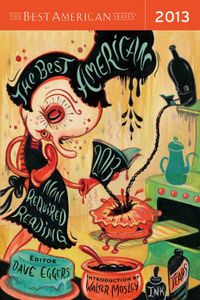 The Best American Nonrequired Reading 2013, edited by Dave Eggers (Houghton Mifflin Harcourt, October 8) — Everyone has a favorite in the Best American series, and Nonrequired Reading is mine. Comprised of pieces selected and edited by Eggers and the students in his 826 National organization, these anthologies always have a little bit of everything and a whole lot of the unexpected. This year there's poetry, essays, journalism, fiction, comics, and even the "Best American Advertisement for a Home Security System." Any and every type of writing is eligible, and Eggers' students seem to have a magical radar for the kookiest, most interesting stuff you'd never find otherwise. This edition, with an introduction by Walter Mosley, is perfect for dipping in and out, but you'll be hard pressed to resist the good old cover-to-cover-in-a-few-sittings approach. I dove in the day it appeared on my doorstep.
Fakebook by Dave Cicirelli — In late 2009, before Catfish was a thing everyone knew about, Dave Cicirelli decided to see just how far he could take a fake life on Facebook. He announced he was quitting his job to walk around the US (and maybe the world), and when his friends fell for it hook, line, and sinker, he carried on with invented updates and doctored photos for several months, pulling off high-tech hijinks with the assistance of a few friends who were in on the joke. I'm fascinated by social experiments like this and can't wait to find out more.
Outbox (Books Finished)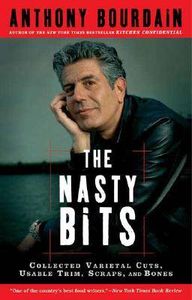 The Nasty Bits by Anthony Bourdain — Travel, to me, calls for food writing, and for my money there's no vacation companion better than Uncle Tony. This collection of essays, travel stories, interview-y type pieces, book and restaurant reviews, and random thoughts was perfect for my beach- and booze-induced short attention span. Published in 2006, when Bourdain was famous but not as famous as he is today, the book contains his thoughts on the rise of the celebrity chef, the evolution of "foodie" culture, and a few well-placed jabs at vegans (and Woody Harrelson). Bourdain's signature voice is present on every page–there's no mistaking these pieces for the work of anyone else–and though, collectively, the pieces become a tad repetitive, each is a delight on its own. If you like Anthony Bourdain and have enjoyed his other writing, you'll probably dig this. If you've never read him, start with the good stuff, man. Start with Kitchen Confidential.
In the Queue
Smarter Than You Think by Clive Thompson — Call it confirmation bias, but I couldn't be happier to finally see a book about how technology is not in fact ruining us but is actually changing our brains for the better. Does Jonathan Franzen know about this? I've just begun reading Clive Thompson's examination of how technological innovations provoke panic and fear that don't usually pan out, and I'm digging it so far. Recommended for anyone who needs an antidote to all the Grumpy Old Men Who Hate The Internet.
Your turn, readers! Tell me all about the good stuff in your reading stack this week.
_________________________
Sign up for our newsletter to have the best of Book Riot delivered straight to your inbox every two weeks. No spam. We promise.
To keep up with Book Riot on a daily basis, follow us on Twitter, like us on Facebook, , and subscribe to the Book Riot podcast in iTunes or via RSS. So much bookish goodness–all day, every day.
We have a $100 e-gift card to the country's only romance-only bookstore, The Ripped Bodice!
Go here to enter for a chance to win
, or just click the image below. Good luck!