Buy, Borrow, Bypass: Daddy Issues Edition
& Sons by David Gilbert (Random House Audio, July 23)
Oh, the things about & Sons that drove me bananas — the clunky omniscient narrator, the whole book-within-a-book thing, and it scores a big fat D- on the Bechdel test with its half-baked lady characters. In this 450-page dramedy about fathers and sons, a crotchety reclusive writer named A.N. Dyer engineers a reunion with his estranged adult children and his teenage bastard son, hoping they'll bond the bonds of brotherly love before he up and dies. (Dyer! See what he did there?) But before I knew what was happening, I found myself caring about the Dyer boys in the same way I cared whether Joey would pick Dawson or Pacey on The WB each week, and I couldn't wait to get back in the car every morning to tune into the Dyers' next Upper East Side hijinks. The pages are filled with charming-as-hell literary vignettes about rich boy problems, and if you make it halfway, you'll get to a full blown science fiction twist that should be a train wreck but somehow isn't. I actually kind of love this book a little bit because of it, and I'm not telling if the twist is zombies or not.
Verdict: BORROW. Borrow it so hard, just like you borrowed that Dawson's Creek boxed set from your friend who ponied up for it at the library book sale.
The Maid's Version by Daniel Woodrell (Little, Brown and Company, September 3)
If "Buy, Borrow, Bypass" is secretly Date, Dump, or Marry for books, then The Maid's Version is the one you take home to meet your parents. And not because The Maid's Version is especially shiny or pretty on its own, but because Daniel Woodrell is a national fucking treasure. This is Woodrell's first novel since Winter's Bone, and in it he writes about his own father's mother, a maid who married a drunk and worked in the kitchen of the richest man in West Table, Missouri. One night, an explosion burns down a dance hall and kills 42 people in an unsolved tragedy that the town still whispers about to this day. With his trademark grit and haunting prose straight from the bowels of the Missouri Ozarks, Woodrell explores the schism between the haves and the have-nots, the wounds of fathers and sons, and the story his own grandma — the maid — whispered to him about what really happened that tragic night in 1929.
Verdict: BUY, so you can put it on your bookshelf next to the rest of your Southern grit lit where it belongs.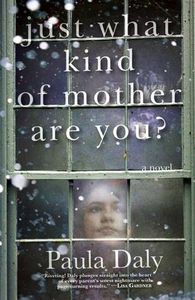 Just What Kind of Mother Are You? by Paula Daly (Grove Press, September 3)
This British thriller started as my hero, full of badass feminist promise. An overstressed mother in the English Lake District loses her best friend's 13 year old daughter during a string of local disappearances, and thus we head down the dark and twisty path of modern parenthood. Just What Kind of Mother Are You? has all the right ingredients: cheating spouses, plotting frenemies, sinister fathers, secrets roiling just beneath the surface of everyday domestic life. There's even a subplot about dog rescue. But as I tore through, I started to feel disappointed and was reminded of praise Gillian Flynn recently showered on Alafair Burke: "you know you're in good hands with her, and can relax without wondering if things are going to fall apart midway through." That thriller pixie magic didn't quite happen for me here; this is Daly's first novel, and I think she's still feeling her way through, sharpening her craft and learning all the tricks. Her language and insights are both shrewd, and I'm looking forward to how much more effortlessly she'll handle the twists in her second and third books.
Verdict: BYPASS unless you're a thriller junkie and/or a dog lover, and keep your eye out for her 2014 release, The Day Before You Came, instead.
Save Yourself by Kelly Braffet (Crown, August 6)
Once upon a time in a faraway land I denied being the "thriller-reading type" — but then I started reading the really dark and twisty stuff; the kind where everyone wriggles and squirms and NO ONE gets to be the good guy. I'm in! Kelly Braffet's wonderful new book is about as dark and twisty as it gets. Eight attractive teenagers with shitty lives scramble to fend for themselves in a miserable world where grownups turn their backs just when their protection is needed most. At the story's core are two very different, very damaged families whose kids are left to atone for their parents' sins, with new sins of their own piling on at top speed. Braffet gives us a beautifully realized cast of the downtrodden and exiled in suburban Pittsburgh: exhausted waitresses, metalhead gas station attendants, blithe drunks, bullied goths, churchy fathers, schizophrenic mothers, all in a creepy, squirmy, steamy, scary stew that simmers to its punishing but perfect conclusion. All the fancy thriller writers with literary cred are calling Kelly Braffet the hottest new thing, and I'm SO on board.
Verdict: BUY, and then hole yourself up in a cabin in the woods to read the whole shebang cover-to-cover in 24 hours.
____________________________
Sign up for our newsletter to have the best of Book Riot delivered straight to your inbox every two weeks. No spam. We promise.

To keep up with Book Riot on a daily basis, follow us on Twitter, like us on Facebook, , and subscribe to the Book Riot podcast in iTunes or via RSS. So much bookish goodness–all day, every day.
By signing up you agree to our Terms of Service
We're giving away five copies of Leslie Jamison's new essay collection
Make it Scream, Make it Burn
.
Click here to enter
, or click the image below!