Buy, Borrow, Bypass – Twentysomethings Survival Edition
Adulting: How to Become a Grownup in 468 Easy(ish) Steps by Kelly Williams Brown
This is the book that started this sort-of obsession. Another twentysomething friend of mine said that he had a book to send me, a book that he actually found useful as someone in their early twenties. This book, like all the books in this week's edition of Buy, Borrow, Bypass, started out as a blog. It delivers exactly what its title promises, with just enough humor to make it enjoyable to read. It's the kind of book where you skip the parts that aren't relevant to your life, let's say the parts of being an adult that you've already mastered, and you read the sections that will actually impart some wisdom that will be useful later on. I think I learned the most in the cars section. Brown gives advice on topics she is familiar with and seeks out advice from experts on topics she is not as well-versed in and I appreciated that. I really felt like I was getting good advice, even if only half of the chapters were things I really wanted to learn or needed to learn. As you'll soon find, though, I think that part of the fun of books like this passing them around from friend to friend. So…
Verdict: Borrow, and then pass it on to your friends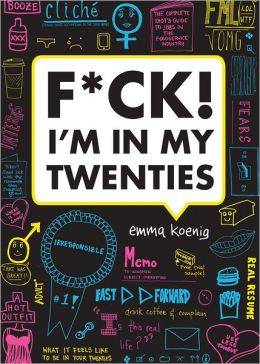 F*ck, I'm in My Twenties by Emma Koenig
This was the point into this project where I was seriously questioning my judgment. F*ck I'm in My Twenties began as a tumblr where Emma and her friends posted cartoons about being young, underemployed, and dissatisfied. I really think this one should have stayed a blog. It's something that makes sense as a blog. The cartoons only appear on your dashboard once in a while. They're funny when you remember they exist. But a whole book? It was tired and I laughed rarely. At least it was a quick read! I think I'll still follow the tumblr, though.
Verdict: Bypass. Follow the tumblr instead.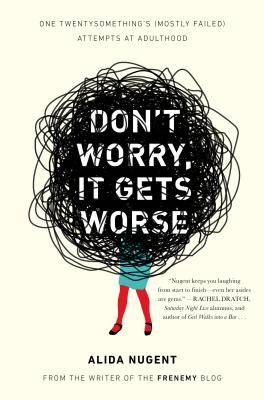 Don't Worry, It Gets Worse by Alida Nugent
By the time I read Don't Worry, It Gets Worse, I was, admittedly, a little exhausted by this idea of a book for twentysomethings. Look, I get it. We're all in this same boat of horrible economy + high expectations + liberal arts degrees that have no real-world applications. It's fun to commiserate, but three books in a row? It was overkill. But then Alida Nugent pulled on my heartstrings with her dry humor and touching moments of just being real. I never really believed Koenig and as much as Brown tried to tell me that she didn't have her shit together, clearly she did because she has a whole book of advice. Nugent was the first author in this little experiment that I related to and I understood why she was sharing her experiences. Sure, the chapters felt like blog posts that had been beefed up, but that's to be expected when you're writing a book that is, well a blog beefed up. Bonus points for getting "Lucky" by Britney Spears stuck in my head for approximately four days and for the chapter on grilled cheese sandwiches and body image.
Verdict: Borrow, reread the funny parts before you pass it on to the same friend who's reading Adulting.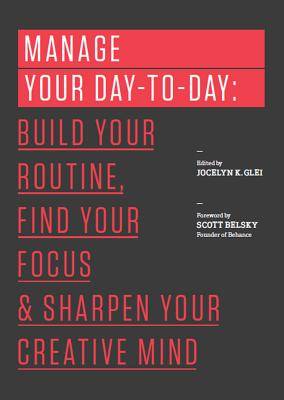 Managing Your Day-to-Day: Build Your Routine, Find Your Focus, and Sharpen Your Creative Mind edited by Jocelyn K. Glei
This book was obviously different from the other three, but after reading three books about you're basically just succeeding if you've left your apartment wearing pants, I needed something to show me how to overcome that. Managing Your Day-to-Day is filled with advice from professional creative people who are making a living doing the work they love. Managing Your Day-to-Day was developed by 99U, a website filled with "action-oriented insights that you didn't get in school, highlighting real-world best practices for making ideas happen."  With any book like this, there were essays that I found more useful than others. Some I skimmed, many I read, a few I wish I could blow up to poster-size and put them on my wall. When you leave college, you go, once again, from having things figured out to having to navigate an entirely different world. I found, pretty quickly, that that can sap your creativity (among other things as the other books clearly demonstrate). This is the book to help you get it back and to help you keep it. Is it the best book out there for jumpstarting the creativity? Probably not, but it's one I plan on holding onto and rereading when I need a kick in the pants.
Verdict: Buy
By signing up you agree to our Terms of Service
We have 10 copies of
A Gentleman in Moscow
by Amor Towles to give away to Book Riot readers!
Go here to enter for a chance to win
, or just click the image below. Good luck!