Inbox/Outbox: August 16, 2013
In Inbox/Outbox, we document the rhythm of readers' lives by sharing books we acquired, books we finished, and the next books we plan to read each week.
I'm so excited that Mom and Dad let me drive Inbox/Outbox again, because it's been another stellar week for reading and acquiring! I am not going to list all the books I read or received, because we'd be here for days, but I do keep a tumblr of everything to help sort myself out, because I am a raging bibliomaniac. Here are some of my book highlights from last week – I'd love to hear about yours in the comments!
Inbox (Books Acquired)
Tin Star by Cecil Castellucci – Castellucci is one of the hardest working writers in (book) showbiz, with umpteen titles under her belt, all of them hella-fun. Her brain must be enormous – she probably has to keep it in a satellite location. Tin Star is the story of humans and aliens trying to coexist on a space station. But who can be trusted? I really dig the tagline: "Keep the aliens close. Keep the humans closer." Excited to read it! (Out February 25, 2014.)
Rob Delaney: Mother. Wife. Sister. Human. Warrior. Falcon. Yardstick. Turban. Cabbage. by Rob Delaney – If you don't follow Rob Delaney, you've at least seen him retweeted: He's the headless, hirsute guy in the Speedo who says incredibly funny, smart things. He was voted Funniest Person on Twitter by Comedy Central, and according to the description of the book, he listens to metal while he works out and is friends with Margaret Atwood. That right there makes him cool x 500. Rob Delaney: MWSHWFYTC is a series of humorous (of course) essays based on his life, including the time he broke into an abandoned mental hospital with his mom. (Out November 5.)
The Skies Belong to Us: Love and Terror in the Golden Age of Hijacking by Brendan I. Koerner – One story among the hundreds of hijackings that took place over a five-year stretch in America starting in 1968, The Skies Belong to Us is about an Army veteran and a wild party girl who hijacked a commercial jet to protest the Vietnam War and ended up getting away with half a million dollars in ransom money. And unlike the mystery of D.B. Cooper, one of the most famous hijackings in history, we get the whole story.
Outbox (Books Finished)
Instructions for a Heatwave by Maggie O'Farrell – Told over four days of a record heatwave in London in 1976, Instructions for a Heatwave is the story of an Irish family whose patriarch goes missing, and how his wife and children must set aside their squabbles and personal problems to find him. It made me laugh, it made me sob like a baby. Loved this book – went places I wasn't expecting at all.
Fangirl by Rainbow Rowell – The author of Eleanor & Park moves from high school to college with the story of Cath and her twin sister, Wren. Cath wants to stay in her dorm room and write fanfiction about Simon Snow, the most popular series of all time, while Wren is off leadng a "normal" college existence, with parties and boys. How long can Cath keep herself from out of Wren's life? And how long can she go without getting a life of her own? There's oodles more going on in this book, as well as Simon Snow excerpts between chapters. I loved this book to pieces – it has enormous heart. It's super-sweet and charming, and the dialogue is fast and funny. (Out September 10.)
In the Queue
Hangsaman by Shirley Jackson – I could tell you what it's about, but all you really need to know is that it's a reissue of a Shirley Jackson novel and you should put all the Shirley Jackson in your brain IMMEDIATELY. She is a GENIUS. Go do it right now. I'll wait here for you.
The Hero's Guide to Saving Your Kingdom by Christopher Healy – In which the princes are not as effective as in the fairy tales and the princesses have to save themselves, but eventually they team up for a dangerous adventure. I just read the first fifty pages and it is MOST EXCELLENT. Really clever and funny. Excited to get back to it!
The Virgins by Pamela Erens – Picked this up because of John Irving's glowing review in the New York Times. It's about love and sexual awakening at boarding school. And it's published by the wonderful Tin House, and blurbed by the awesome Antonya Nelson. And it takes place in the 603! I don't think it can go wrong.
Jack-in-the-box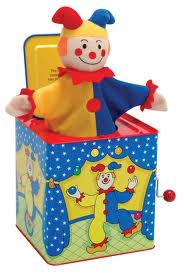 Man in the Box
[youtube]http://www.youtube.com/watch?v=TAqZb52sgpU[/youtube]
So…what's shaking your reading world these days, kittens?
By signing up you agree to our Terms of Service