The Week's Most Popular Posts: August 3-9, 2013
A look back at the most popular posts from the week that was: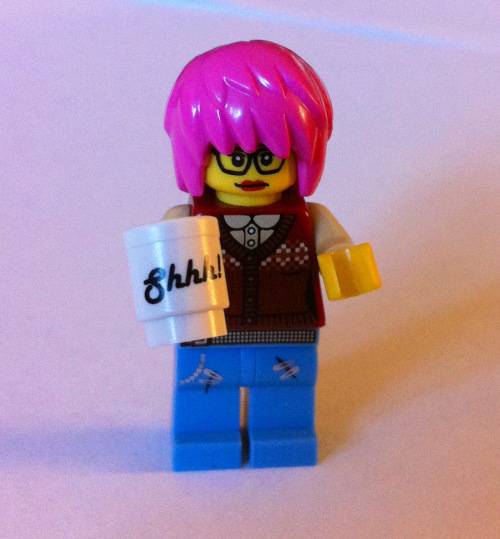 Alternalibrarian – "I love my pink hair. Wanna see my lit-themed tattoos?"
-from Lego Librarian Reinterpreted as Hipster Librarian, Warrior Librarian, and More by Rachel Smalter Hall
____________________
-from If Famous Authors Read One-Star Reviews of Their Books by Minh Le
____________________
What does it mean? Is the novel about a clock? The ideal profession for birds? I'm more than halfway through the book right now and I still don't even know. If I, wandering like a baby lamb across the prairies of the bookternet or bookstore, ran across this novel not knowing anything about it other than the title on the spine, would I want to pick it up? Answer: guess.
-from The Curious Case of THE CUCKOO'S CALLING:  Why it Wasn't a Success Before We All Knew J.K. Rowling Wrote It by Tasha Brandstatter

____________________
A teen boy masturbating doesn't equate to an adult erotic novel about BDSM. It equates to a teen boy masturbating, which most teenage boys do. Though the mother in question notes that she wants to be the person bringing up the awkward masturbation conversation with her son (fair enough) it's when she centers her argument around the ludicrous claim that Alexie's book is like Fifty Shades for kids that she reverts to a mentality that's problematic.
-from Sex in YA Fiction, "Fifty Shades for Kids" by Kelly Jensen
____________________
And the week's most popular post over at Food Riot is….
2. "I like dark chocolate so much better than milk chocolate."
Of course you do. Most foodies do. Just quit saying it like it attests to some kind of superior tastes.
I generally enjoy dark chocolate more than milk chocolate, too. Yet when I do order an inventive, open-minded pastry chef's creamy and luscious milk chocolate dessert, I'd love to do so without someone at my table saying "Ack. Milk chocolate is just too sweet for me"—like that's some sort of badge of honor.
-from Armagnac, Absinthe, Dry Wines, and Dark Chocolate – Four Annoying Food Cliches by Wini Moranville
____________________
Sign up for our newsletter to have the best of Book Riot delivered straight to your inbox every two weeks. No spam. We promise.
To keep up with Book Riot on a daily basis, follow us on Twitter, like us on Facebook, and subscribe to the Book Riot podcast in iTunes or via RSS. So much bookish goodness–all day, every day.
By signing up you agree to our Terms of Service
You could win a six-month subscription to an amazing Romance box!
Go here to enter for a chance to win
, or just click the image below: