Inbox/Outbox: July 19, 2013
In Inbox/Outbox, we document the rhythm of readers' lives by sharing books we acquired, books we finished, and the next books we plan to read each week.
I'm really excited that my ginger lifemate, Rebecca Joines Schinsky, has handed me the keys to Inbox/Outbox this week, because it was a great week for both reading and acquiring! I am not going to list all the books I got, because we'd be here for days, especially since I was at Readercon, but I do keep a tumblr of everything, because book porn. Here are some of my book highlights from last week – I'd love to hear yours in the comments!
Inbox (Books Acquired)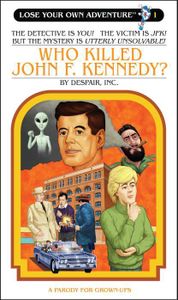 Who Killed John F. Kennedy: A Lose Your Own Adventure by Despair, Inc. I was so excited to find this waiting for me when I returned from Readercon! (I loved the frowny face of the Despair, Inc. packaging, too.) This clever parody asks "How badly will you fail in your quest for the truth?" Spoiler: The operative word in the title is "Lose." No matter how you try, you'll never figure out who killed JFK, but the possible scenarios combined with funny illustrations makes this book a winner.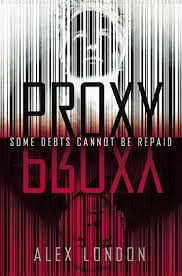 Proxy by Alex London – I 100% bought Proxy because I am friends with Alex London on Twitter, and he's a really great guy, so I am happy to support him by buying his book. (Don't ever let anyone tell you Twitter doesn't sell books. They are wrong.) Proxy is about a future in which the wealthy have a proxy, or stand-in, to accept their punishments for them. I HOPE THIS NEVER BECOMES A REAL THING. *shudder*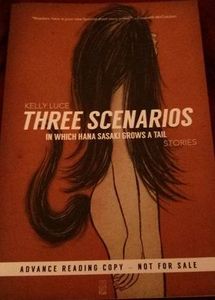 Three Scenarios in Which Hana Sasaki Grows a Tail by Kelly Luce – Getting this book in the post from A Strange Object was an absolute surprise. It appears to be so new, there isn't even an image of the cover on Google search yet, nor is it listed on the publisher's website. I feel super-special! Plus, it's blurbed by my idol, Elizabeth McCracken, which is all the incentive I need to read these stories. (Out October 1.)
Outbox (Books Finished)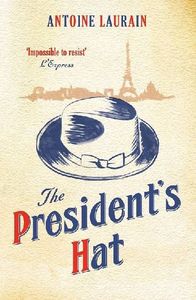 The President's Hat by Antoine Laurain – A charming novel about how Francois Mitterand's hat changes the lives of three people who each come into possession of it for a short amount of time.  (Out Sept. 3)
Five Days at Memorial by Sheri Fink – The harrowing true story of what went on in Memorial Hospital during Hurricane Katrina and the resulting fallout for both the patients and doctors. (Out Sept. 10.)
Amy Falls Down by Jincy Willett – Delightful Roman à clef in which a relatively unknown writer trips and falls and hits her head, then gives a surreal interview to the local paper, sparking national interest and celebrity. Jincy Willett is always awesome.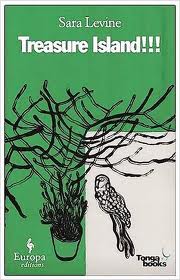 Treasure Island!!! by Sara Levine – This book is so hysterically funny. The protagonist is a horribly self-involved twenty-something who works at the Pet Library and it kinda awful to everyone around her. But it's just so damned funny, you root for her anyway. Or maybe you'll root for everyone but her. Either way, I loved it. I've never met a Europa book I didn't like.
Maggot Moon by Sally Gardner – Without ever actually saying it, Maggot Moon is an alternate history of the fifties, in which the Nazis have won WWII. Wow, are people freaking out about this book. Yes, it's for young adults, and yes, it is disturbing, but no more than kids picking each other off with bows and arrows in a competition.
In the Queue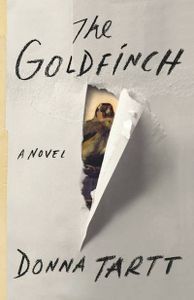 The Goldfinch by Donna Tartt – I could not be more excited about this book. I have read her wonderful first novel, The Secret History, once a year since it came out. (That's twenty-one times, for those of you playing along at home.) This, her third novel, following The Little Friend, is a 700+ page mystery involving a famous painting and the art underworld. ALL THE WRIGGLES. (Out Oct. 22.)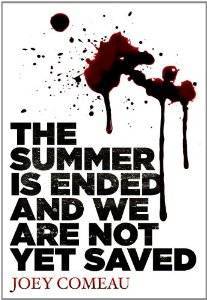 The Summer Is Ended and We Are Not Yet Saved by Joey Comeau – I love Joey Comeau to effing pieces. His webcomic, A Softer World, is GENIUS. This book is the extended version of Comeau's novella, Bible Camp Bloodbath, which was an awesome slasher film in book form. Now with 50% more story! I picked this up at Readercon – it's so awesome, it came with a complimentary barf bag. YES PLEASE.
North American Lake Monsters: Stories by Nathan Ballingrud – I am a sucker for bleak. I love Donald Ray Pollock and Harry Crewes. Luther is my favorite television show. I think Carrington is the most romantic movie ever. So when Small Beer Press editor Gavin Grant told me this was one of the bleakest books he's ever read, I immediately moved it to the top of my pile. (He and author Kiarna Boyd have also told me that the stories are quite amazing. So there's that, too.)
Lunchbox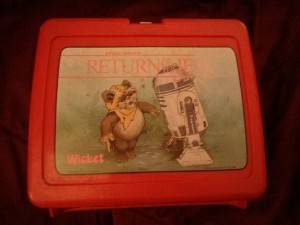 Black Box
[youtube]http://www.youtube.com/watch?v=M0quXl_od3g[/youtube]
____________________________
Sign up for our newsletter to have the best of Book Riot delivered straight to your inbox every two weeks. No spam. We promise.

To keep up with Book Riot on a daily basis, follow us on Twitter, like us on Facebook, , and subscribe to the Book Riot podcast in iTunes or via RSS. So much bookish goodness–all day, every day.
By signing up you agree to our Terms of Service