Buy, Borrow, Bypass: July 15, 2013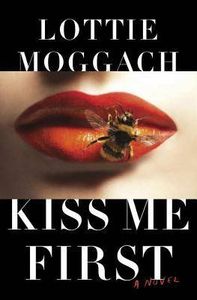 Kiss Me First by Lottie Moggach
I have been in a major thriller mood lately, which is summah time typical for me. I kicked last summer off with Gone Girl and I don't think I have fully recovered from the first big WTF?! holler my deaf neighbor heard without a doubt. Kiss Me First was too tempting because the premise was believable. Leila, a social outcast with no friends or family, is hired to impersonate wild party girl Tess online so she can quietly end her life without her friends and family having to grieve her. So basically… it's one really epic CATFISH SCAM and those fascinate me like it's my own business. The plot details are well thought out, it isn't too holey, and that is always a good marker for a thriller. It's a fun inbetweener book if you need a palate cleanser.
Verdict: Borrow. While it was very entertaining, I'm afraid my copy would be donated in a few years during a library purge. Maybe I was immune to the shock factor because I am a die hard Catfish fan, and it's hard to surprise me now.
Childhood best friends Sarah and Jennifer are completely nutty when it comes to being safe. They write a "Never List" of things they will NEVER DO NEVER EVER EVER like "no bright light" "never get it wet" "never ever feed it after midnight" and "never get in the car with a stranger." Of course, girls be cray and they got in the car with a stranger EVEN THOUGH THEY SAID THEY NEVER WOULD NEVER EVER EVER. He kept them locked in a cellar for years, tortured them (and two other girls), killed Jennifer, they escaped, and Mr. ItRubsTheLotionOnItsSkinOrElseGetsTheHoseAgain went to prison. But oh snap, y'all. They never found Jennifer's body and couldn't get Mr. Lotion for murder, so he's up for parole. Sarah takes it upon herself to find out what happened to Jennifer, but she has to overcome her fear of people and reconnect with the two other girls from the basement to solve the puzzle.
Verdict: Buy. Oh, and if you put it down and can't find it later, CHECK THE FREEZER. You probably stuck it in there because you were CREEPED THE EFF OUT.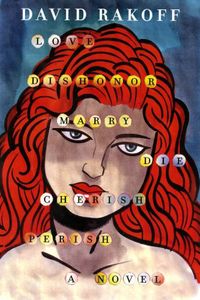 Love, Dishonor, Marry, Die, Cherish, Perish by David Rakoff
Switching gears, Love, Dishonor, Marry, Die, Cherish, Perish was completed shortly before David Rakoff's death in August of 2012. If you're not familiar with David, he was a frequent contributor to This American Life on NPR. He and David Sedaris were friends, and his essays are also TOO FUNNY! This book is short (113 pages) and is written in, wait for it… VERSE FORM! It's a big giant satirical poem that spans the 20th Century. The characters lives are linked together by acts of cruelty or generosity, and it has super fun illustrations by Seth. Chip Kidd did an incredible job with the book's design. The book is beautiful inside and out, and it is such a shame that Rakoff never got to see it. I'll admit it isn't a book for everyone, but it sure was for me.
Verdict: BUY THE PRINT VERSION. It's worth it for the magnificence of the book itself. This is one of those I don't think can possibly translate well in digital format.
____________________________
Sign up for our newsletter to have the best of Book Riot delivered straight to your inbox every two weeks. No spam. We promise.

To keep up with Book Riot on a daily basis, follow us on Twitter, like us on Facebook, , and subscribe to the Book Riot podcast in iTunes or via RSS. So much bookish goodness–all day, every day.
We have a $100 e-gift card to the country's only romance-only bookstore, The Ripped Bodice!
Go here to enter for a chance to win
, or just click the image below. Good luck!