The Week's Most Popular Posts: June 22-28, 2013
A look back at the most popular posts from the week that was…
The Bertrand Bookstore in Lisbon, Portugal has been open since 1732. That's right, 281 years.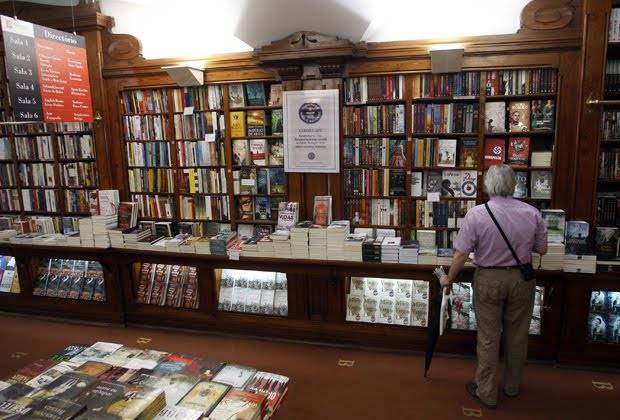 -from The Oldest Bookstore in the World: The Bertrand Bookstore in Lisbon by Jeff O'Neal
_______________________
Would you call To Kill a Mockingbird a children's book because it is about a 6-year-old and a 10-year-old? No. So don't call every book that features someone between the ages of roughly 12 to 19 a "YA" book. Megan Abbott writes about teenagers in Dare Me and The End of Everything but those books are not YA books. They are adult books.
-from Five Things You Need to Know About Young Adult Fiction by Kelly Jensen
_______________________
An "Oh-my-God-that's-me" Relatable Protagonist
In Alina Starkov, we have a reluctant orphan hero who's not aware of her magical powers until adolescence. Sounds familiar? Of course it does, because this kind of familiar is awesome sauce. Whereas Harry Potter took a few books to get moody, Alina is cantankerous right off the bat. She's cranky and tired and lonely and self-conscious and freaked out and trying her best and often making bad calls just like, oh, that's right, all of us.
-from The Grisha Trilogy is the Successor to the Harry Potter Throne by Kit Steinkellner
________________________
I'm sure that there are worse books out there, but to be truly hated on a large scale, a book has to force its way into the popular consciousness and declare itself worthy of your hatred. Whether or not these books have the staying power to inspire hatred in the years and centuries to come remains to be seen–though I'm sure E.L. James' agent would love nothing more than to see Fifty Shades of Grey sitting next to Moby Dick on this list in two hundred years.
-from The Good, the Bad, and the Unread: Taking a Closer Look at Reader Picks by Minh Le
_______________________
And the week's most popular post over at Food Riot is…
When the narrator meets the Hempstock's, a family of women who are unattached to time themselves, we get some of the best food writing of the book. What the women represent–magic, a time before innocence, the "old world"–comes out in the food. Take this for example, perhaps the best description of milk I've ever read.
"The old lady gave me a cup of creamy milk from Bessie the cow, the fresh milk before it had gone through the cooler. Nothing I had drunk had ever tasted like that before: rich and warm and perfectly happy in my mouth. I remembered the milk after I had forgotten everything else."
Perfectly happy in my mouth… *Stands and applauds Mr. Gaiman.*
-from A Foodie's Review of The Ocean at the End of the Lane by Nikki Steele
_______________________
Sign up for our newsletter to have the best of Book Riot delivered straight to your inbox every two weeks. No spam. We promise.
To keep up with Book Riot on a daily basis, follow us on Twitter, like us on Facebook, and subscribe to the Book Riot podcast in iTunes or via RSS. So much bookish goodness–all day, every day.
By signing up you agree to our Terms of Service
It's here. A
14-day free trial
for Book Riot Insiders ★★★