The Week's Most Popular Posts: June 15-21, 2013
The most popular posts from the week that was…
It's interesting that this is a mix of classics–likely books you were forced to read in school–and uber-popular/commercially successful fiction. But it sorta makes sense, right? The books that are read by the most people have more chances to be hated than the less well-known titles. The big surprise to me? That Twilight was more hated than Fifty Shades of Grey.
from The 25 Most-Hated Books (By Book Riot Readers) by Rebecca Joines-Schinsky
________________________
Lemuria is by far the best bookstore in the South because they have a huge staff full of people who know their stuff. Plus, they have ALL THE BOOKS. Seriously. The books overflow off the shelves all over the floor. Great place.
from 100 Must-Read Works of Southern Literature by Emily Gatlin
________________________
Jen has an entire Tumblr dedicated to bookish nail art called Pages and Polish. Here she's inspired by Ransom Riggs's Miss Peregrine's Home for Peculiar Children.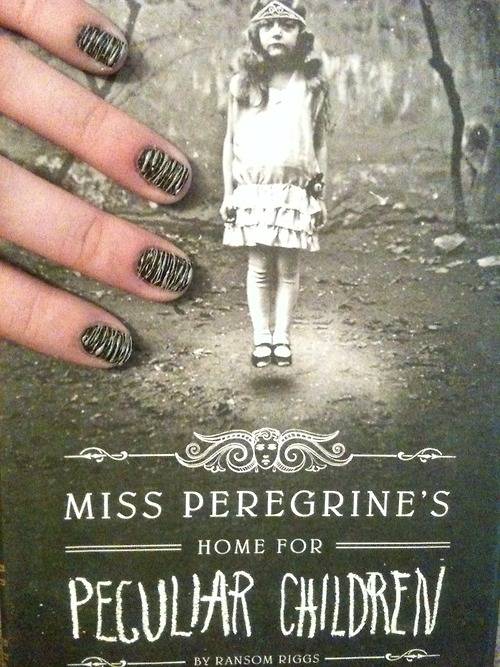 from 15 Awesome Young Adult Book-Inspired Manicures by Kelly Jensen
________________________
Guest rooms are clean, simple, and recently renovated. Most importantly, they are also very reasonable at about $75 a night, which includes dinner and breakfast. (Though who is going to spend much time in there with all of those books just waiting?)
from Cool Bookish Places: Gladstone's Library by Jeff O'Neal
________________________
And the week's most popular post from over at Food Riot… 
 I had so much bacon on the cookie sheet that they were touching each other like little bacon snuggles and they came out as a CRISPY SHEET OF BACON (!!!!) so I just broke off a hunk (!!!!) and put it on my sammich.
from Bake the Bacon by Emily Gatlin
________________________
Sign up for our newsletter to have the best of Book Riot delivered straight to your inbox every two weeks. No spam. We promise.
To keep up with Book Riot on a daily basis, follow us on Twitter, like us on Facebook, , and subscribe to the Book Riot podcast in iTunes or via RSS. So much bookish goodness–all day, every day.
By signing up you agree to our Terms of Service
We are giving away a stack of 11 of our favorite Beach Reads for Summer 2018!
Go here to enter for a chance to win
, or just click on the image below. Good luck!