The Week's Most Popular Posts: May 11-17, 2013
Rosenblum: "My niece, upon seeing the first Harry Potter movie asked why Harry and Hermione and Ron always went to the 'library' at Hogwarts to look stuff up. 'Why don't they just google it?' A reasonable question."
Besides the ridiculousness of this statement (I mean, why would secret material about the Dark Arts even BE on the web?), it makes me legitimately sad to think that a kid wouldn't understand why a library is a valuable place. Besides, J.K. Rowling loves libraries!
-from A Librarian's Response to "What's a LIbrary?" by Rita Meade
______________________
Gone with the Wind was to be called:
Sounds…. 50-Shades naughty.
-from 5 Books with Awful Original Titles by Johann Thorrson
______________________
I read it because I finally talked myself into the idea (maybe call it the "Downtown Abbey Effect") that I could be interested in this story, as British and soapy as it may be. And I'm here to tell you (even without stupid zombies), if you're a dude, and you've rejected this novel out of hand (despite its canonical status) because it's "only for women," you're wrong. It IS a good story, and despite your own pride and prejudices about this novel (did you see what I did there?), there's plenty of fun to be had.
-from Five Reasons Dudes Should Read PRIDE AND PREJUDICE by Greg Zimmerman
______________________
It may look like this staircase, in the Juniper Books warehouse, is stacked with books. But those are actually guillotined spines from leftover bestsellers glued to the risers, giving impressions of both depth and bookish abundance.
-from Awesome Bookish Staircases by Derek Attig
______________________
And the most popular post from Food Riot this week was…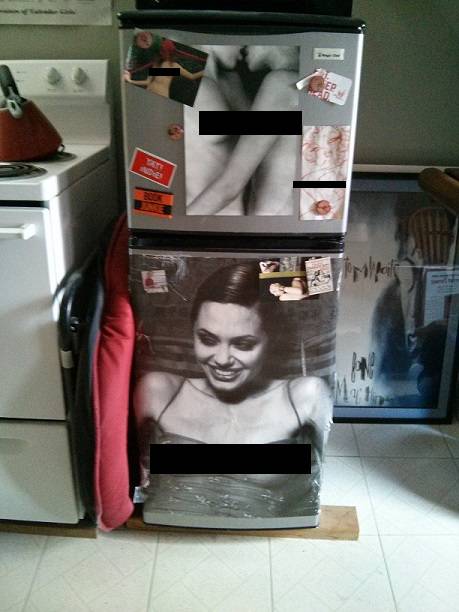 I have been told I have the sexiest fridge in the world. I cannot disagree. It's a three-quarter sized sexy silver beast.
-from What's In Your Fridge: Bringing Sexy Back by Liberty Hardy
______________________
Sign up for our newsletter to have the best of Book Riot delivered straight to your inbox every two weeks. No spam. We promise.
To keep up with Book Riot on a daily basis, follow us on Twitter, like us on Facebook, , and subscribe to the Book Riot podcast in iTunes or via RSS. So much bookish goodness–all day, every day.
By signing up you agree to our Terms of Service
We're giving away a $500 of the year's best YA so far.
Click here to enter,
or click the image below: