Buy, Borrow, Bypass: May 6, 2013
Mission to Paris by Alan Furst (Paperback release June 4th, Random House)
A Hollywood star named Frederic Stahl is traded to a Parisian studio to make a film called Après la Guerre—ironic, because it's 1938 and war is clearly coming to France whether they like it or not. Stahl is Austrian by birth and soon finds himself being courted by some extremely annoying Nazis in Paris, who piss him off so much he decides to help the American embassy spy on them. That's when the Nazis go from simply annoying to outright threatening. I really don't know what to say other than HOLLYWOOD STAR. SPIES. PARIS. There's even a sweet romantic subplot that eventually shows up. Mission to Paris is definitely a male-centric novel with very quiet, steady pacing—I wouldn't call it "thrilling" by any means—but it's hard to get picky about pacing and the Bechdel Test when Furst does such a good job of bringing pre-War Paris to life while giving his readers an absolutely believable glimpse into movie-making in the late 1930s. I also thought the atmosphere of paranoia and fear and how the Nazis created it was incredibly interesting and disturbing. Stahl is too perfect and escapes the Nazis way too easily, but I guess when you're a staaaaahr you're a star, baby.
Verdict: Buy or borrow, depending on how much you love anything to do with old movies or World War II. Or Paris. Or spies.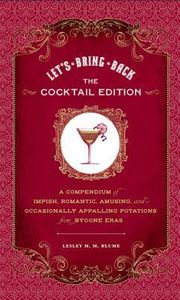 Let's Bring Back: The Cocktail Edition — A Compendium of Impish, Romantic, Amusing, and Occasionally Appalling Potations from Bygone Eras by Lesley M. M. Blume (Chronicle Books)
I took me a while to get to know this cocktail book, but it was time well spent. Blume has compiled a collection of some truly obscure drinks, many of which I'd never heard of (and that's saying a lot, trust me), accompanied by interesting stories and histories. I'm pretty sure Blume made up most of the stories about the cocktails, but by no means does that dilute the charm of Let's Bring Back: The Cocktail, which also includes fun illustrations and tongue-in-cheek suggestions for the perfect moments to serve each cocktail. I also appreciated the fact that most of the ingredients used in these cocktails are standard in a well-stocked bar: vermouth, typical spirits like whiskey and gin, the occasional liqueur like curaçao or Bénédictine. So far my two favorite drinks are the loud-speaker ("to help make yourself heard," which I definitely need) and stolen kisses ("for when you're feeling surreptitious"). A delight for anyone who likes olde-timey cocktails.
Verdict: Definitely a cocktail book you're going to want in your collection.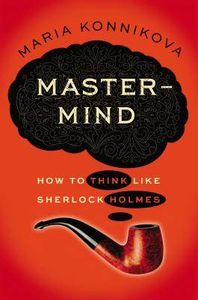 Mastermind: How to Think Like Sherlock Holmes by Maria Konnikova (Viking)
When I first started Mastermind, I was a little anxious. Yes, I love Sherlock Holmes, but do I really want to think like him? Who knows what might happen! I have enough trouble dealing with all the useless info in my brain as it is. I needn't have worried; Mastermind is completely mistitled. It should be called "This History of How Sherlock Holmes Thought." Admittedly less catchy, but eighty percent of the book basically recycles quotes from Sherlock Holmes stories, or so it seems. Not something I'd have a problem with, if the analysis drawn from them was original. Instead, it's all very familiar, from building a "mind attic" to noticing things. Yes, noticing things is always good for observation. The stories about Arthur Conan Doyle investigating real life crimes were interesting and something I'd never heard before—except he didn't really solve the crimes, just proved the person in custody was innocent. In any case, I found Mastermind to be disappointing.
Verdict: Bypass
The River of No Return by Bee Ridgway (Dutton)
Hey. Do you enjoy staying up until six o'clock in the morning reading because it's impossible to put a book down? If you do, may I humbly recommend The River of No Return. Nick is a soldier fighting in the Napoleonic Wars when he's transported in the middle of battle to the 21st century and inducted into the Guild, an organization that teaches and controls time travelers. It quickly turns out the Guild isn't telling Nick or the other time travelers the whole truth: they can go back in time as well as forward, and they need Nick to go back to the early 19th century to spy on their enemies, the Ofan. There are very few books I'd call impossible to put down, but this is one of them. The story is slow until Nick travels back to the 19th century, and then it picks up in a big way. Nick is a great character who is a cross between d'Artagnan and Byron; and his true love, Julia, is an aptly named fighter for justice. I.e. I LOVE HER. Add to that rich historical detail and wibbly-wobbly timey-wimey plot complications and I'm a total sucker for this book.
Verdict: Buy, and make sure to start it on a day you don't have to go to work.
By signing up you agree to our Terms of Service
We have 10 copies of
A Gentleman in Moscow
by Amor Towles to give away to Book Riot readers!
Go here to enter for a chance to win
, or just click the image below. Good luck!