Inbox/Outbox: May 5, 2013
Another week filled with travel (and friends, food, and shenanigans) means my reading time has been limited to in airports, on planes, and quiet moments stolen in between obligations. My page count is far from impressive, but the quality is delightfully high. Here's a look at what I've been reading. I'd love to hear about the books you bought, borrowed, read, and raved about in the comments.
Inbox (Books Acquired)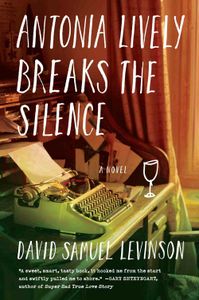 Antonia Lively Breaks the Silence by David Samuel Levinson (Algonquin, June 4)–The first thing I saw when I pulled this book out of its shipping envelope was a blurb from Kate Christensen that compares it to The Secret History and Rebecca. I've never read Kate Christensen, so I don't know if I should trust her, but just try to tell me you don't find those comparisons compelling. I mean, really! What we have here is a work of literary suspense set in academia with side stories about publishing and love affairs. That's, like, all of my kryptonites in one place, you guys. I'll be cracking this one open soon.
Refuge by Terry Tempest Williams–Terry Tempest Williams' latest book When Women Were Birds made a profound impact on me, and earlier this week, I had the great good fortune to meet her during an event at RiverRun Bookstore (organized by Book Riot's own Liberty Hardy). It was an incredibly meaningful and significant experience for me, one of the best moments in my reading life and my bookish career, and I couldn't walk away without having another of her books to read. When Women Were Birds is about what happened after Williams' mother died, and Refuge is about what led up to it, so it felt like the natural choice. I'm tempted to skip all my professional duties this weekend and hole up in my hotel room reading it over and over instead.
Outbox (Books Finished)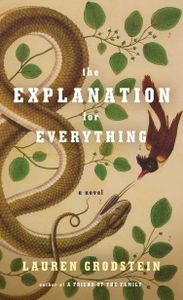 The Explanation for Everything by Lauren Grodstein (Algonquin, September 3)–Okay, this is a cheat because I haven't actually *finished* ANY books this week. Sometimes it just goes that way, you know? I'm about two-thirds of the way through this novel about a biology professor whose world gets rocked by a student with a very different set of values. Andy Waite believes evolution is the explanation for everything, so much so that he teaches a course about how it proves that God isn't real. In a moment of weakness he agrees to supervise an independent study by a young woman named Melissa, who is seeking to defend Intelligent Design using science. Andy's having a rough time of it, and Melissa's deeply held faith looks pretty nice to him, and, well, you can guess at what these characters see in how each other and how they come to question their own ideas. Grodstein's writing is fluid and well-paced, and her handling of the subject matter is never stuffy or fluffy. There's depth here, and drama aplenty, and I'm enjoying the hell out of it.
In the Queue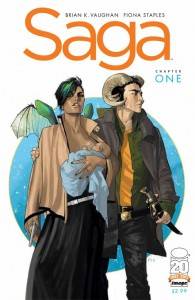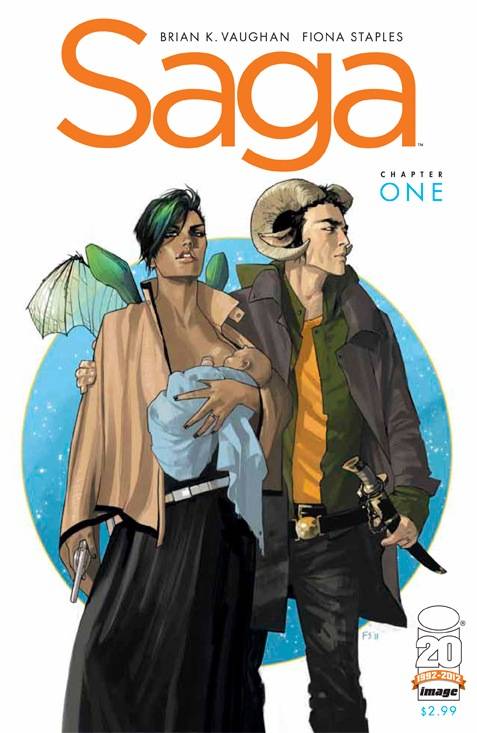 Saga, Vol 1 by Brian K. Vaughan–Look, all I know about this graphic novel is that a floppity jillion people whose book brains I trust have loved it. And if I'm being real, that's all I need to know. It's all I've known about all the other (admittedly, not very many) graphic novels I've read, and the selection method has served me well. My good friend Josh got tired of waiting for me to get around to this one and brought me his copy this week, and now I'm super-stoked to find out what it's all about. Can we start with why does that guy have horns?
The Angel by Tiffany Reisz–I ate up the first book in Reisz's Original Sinners series a few weeks ago, and I lasted a mere 3 days before I compulsively downloaded the follow-up titles. I'm just beginning my career as a reader of smut, and I can already understand how it becomes addictive. This is gonna get interesting.
That's it for me. How was your week in books? Anything you're dying to talk about?
By signing up you agree to our Terms of Service
We have 10 copies of
A Gentleman in Moscow
by Amor Towles to give away to Book Riot readers!
Go here to enter for a chance to win
, or just click the image below. Good luck!