Buy, Borrow, Bypass: April 17th, 2013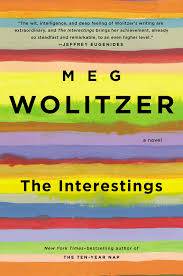 The Interestings by Meg Wolitzer
I have been on pins and needles for this book to come out for MONTHS. Prior to reading this, I was already a huge Wolitzer fan (I think The Ten Year Nap is great, I think The Wife is genius-times) and this novel made me a super-sized fan. The Interestings is the story of teenagers who meet at a summer arts camp in the 1970's and spend the next several decades maintaining their friendships with each other as some of their careers skyrocket into the stratosphere and others never manage to get a foot off the ground. Yes this is a novel about success and failure, an Amadeus-like story that explores what allows some to achieve greatness and others not. It's also a deeply thoughtful and compelling tale of lifelong friendships, that sidesteps expectations and always manages to surprise. I ate this book up with a spoon and a fork.
Verdict: For the love of God, BUY.
This might be my favorite Mary Roach book yet. Roach is a journalist who approaches scientific subjects (sex, space, death to name a few) with an explorer's spirit of adventure and a stand-up comedian's knack for the punchline. In Gulp, Roach explores the alimentary canal, going over what happens when we eat, digest, and… what happens after we eat and digest. Different chapters take us to different times, places, laboratories, forming a patchwork quilt of stories and lessons. It's sometimes gross. It's always fun.
Verdict: BUY (unless you ABSOLUTELY cannot deal with bathroom stuff, then BYPASS)
Canoeing With The Cree by Eric Severeid
This book is my favorite new discovery. Published in 1935, the book is a non-fiction account of Eric Sevareid and his best friend Walter C. Port canoeing 2,250 miles from Minneapolis to Hudson Bay the summer after their senior year of high school. The boys have absolutely no canoeing experience and all the odds are against them and no one believes they can canoe their way to Canada and they prove everyone wrong and canoe their way to Canada like a pair of Original G's. This book feels like if The Odyssey was written by a boy scout. It's so great. It makes you believe in the power of the human spirit and the importance of the American dream and all that mushy-gushy stuff.
Verdict: BUY. Seriously, no matter who you are. This will go on the bookshelf that sits inside your heart.
_________________________
Sign up for our newsletter to have the best of Book Riot delivered straight to your inbox every two weeks. No spam. We promise.
To keep up with Book Riot on a daily basis, follow us on Twitter or like us on Facebook. So much bookish goodness–all day, every day.
By signing up you agree to our Terms of Service
Follow Book Riot on Instagram
for books. Obviously.