Buy, Borrow, Bypass: March 27th, 2013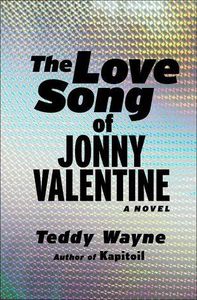 The Love Song of Jonny Valentine by Teddy Wayne
Jonny Valentine is a thinly disguised fictional version of Justin Bieber, and The Love Song of Jonny Valentine is his first-person account of his second national tour (chapters are divided into concert stops). Over the course of the novel we become intimately acquainted with Jonny and his entourage: manager mom, vocal/dance coach, bodyguard, and tutor, with guest appearances by his Selena-Gomez-inspired fake girlfriend, Justin Timberlake-like personal idol, hawk-like record execs, and emails from his estranged father. Jonny is one of my favorite first-person narrators in forever and a day. He's a fascinating combination of heartbreakingly innocent and unnervingly worldly-wise. The world of a child popstar is powerfully mesmerizing and deeply upsetting and through Jonny we experience the adrenaline highs of global fame and observe the dark underbelly of the American dream. This novel feels what would have happened if J.D. Salinger had written an issue of US Weekly. I'm hot for this novel the way fourteen-year-old girls have fever for the real Bieber.
Verdict: Buy this so hard.
How to Get Filthy Rich in Rising Asia by Mohsin Hamid
This novel is written in the second person and… no, wait, come back here, it works… seriously, get back here, I promise it works. How to Get Filthy Rich in Rising Asia mimics the structure of a self-help book, with an ancient tycoon of a narrator instructing us, the readers, how best to become filthy rich in… well, you know where. We follow our hero's rise from rural rags to urban riches in an unnamed country (If I had to take a guess, I would say Pakistan). The B story that weaves in and out of the A is our hero's romance-of-near-misses with a girl he meets when both are teens, a girl whose rags-to-riches story is a funhouse-mirror-reflection of our narrator's own tale. This novel is like the smarter, sadder version of Slumdog Millionaire.
Verdict: Buy, buy, and more buy.
Contagious: Why Things Catch On by Jonah Berger
I just needed a great non-fiction audiobook to listen to on drives and boy did I get what I came for with Contagious. Picking up where Malcolm Gladwell's Tipping Point left off, this book brings a ton of new research and ideas to the seeming impossible to answer question "What makes things popular?"  Seriously, you guys, how did Harlem Shake and Gangnam Style, become, like, things? This book feels like the best class you took in college (and indeed, the bulk of the material is based on a course Berger teaches.) You just want to talk about all these shenanigans at the next party you attend. After reading, you will never look at a viral YouTube video or popular baby name the same way again.
Verdict: Buy, especially on audiobook.
____________________________
 Sign up for our newsletter to have the best of Book Riot delivered straight to your inbox every two weeks. No spam. We promise.
By signing up you agree to our Terms of Service
Follow Book Riot on Instagram
for books. Obviously.