The Week's Most Popular Posts: March 16-22, 2013
The first is from my favorite poem, In the Desert by Stephen Crane. The other is from The Little Stranger by Sarah Waters. I just loved it so much. BECAUSE TRUE.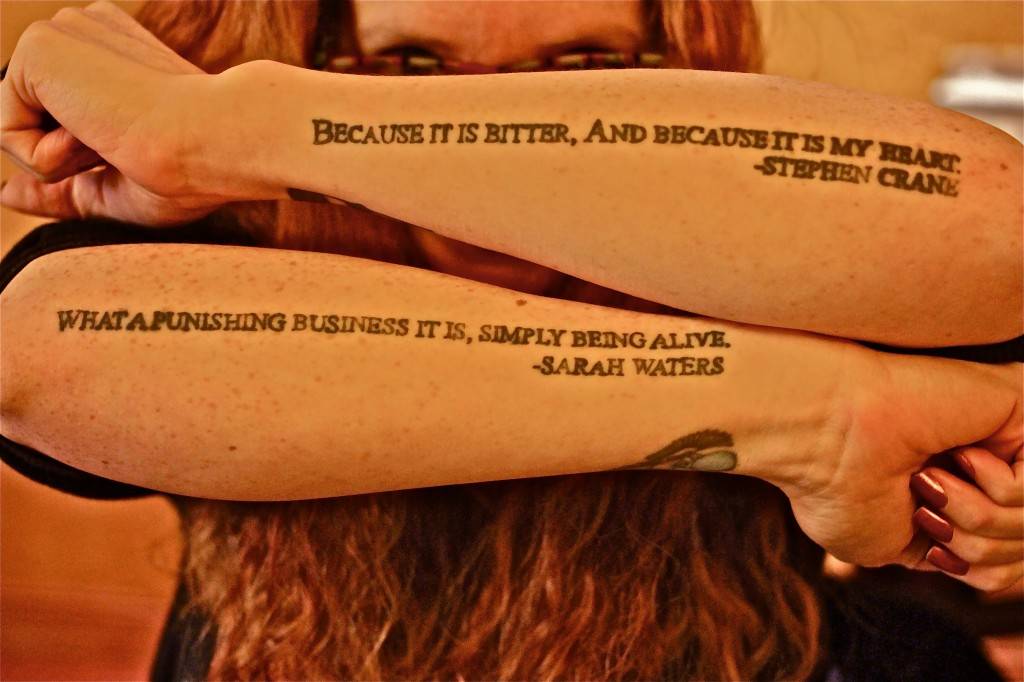 from The Literary Tattoos of Team Book Riot by Rebecca Joines-Schinsky
________________________
Of Book Riot Readers' Favorite 50 novels, 13% of the non-public domain novels are still print-only (5 of 38), including To Kill a Mockingbird, Catcher in the Rye, One Hundred Years of Solitude, The Time Traveler's Wife, andRebecca.
from 18 Great Books You Still Can't Get Digitally by Jeff O'Neal
________________________
The difference between perfectionism and striving for excellence has been an important lesson in the last few years of my life. I could spin my wheels writing pages about it, but why would I, when Williams has given me this?
"Who wants to be a goddess when we can be human? Perfection is a flaw disguised as control."
from When a Book Changes Your Life by Rebecca Joines-Schinsky
________________________
The problem, though, is that there are no "good" and "bad" books, and so all this energy that goes into judging books is misspent, and I think does more damage to reading culture than it does good.
from Some Books Are Better Than Others by Jeff O'Neal
By signing up you agree to our Terms of Service
Do you like podcasts like
This American Life, RadioLab, or Planet Money
?
Annotated
is kinda like those, but for books. Go
here to find out more
, or click the image below: