Inbox/Outbox: March 22, 2013
We're in the midst of Spring Break season, and my long weekend in New Orleans led to a bit of a book-buying binge. I won't bore you with a complete list of randomness, but I will share some of the highlights.
Inbox (Books Acquired)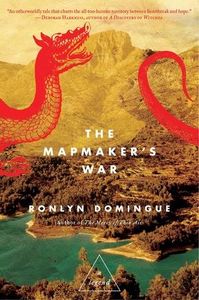 The Mapmaker's War by Ronlyn Domingue – I gave in to one of the best hand-sells that I've ever experienced when I purchased this book at Garden District Book Shop. The store manager took a few minutes to tell me about Domingue, a writer from Louisiana, and how her book has suffered from a lack of exposure because of the weird issues between Simon & Schuster and major retailers like Barnes & Noble and Amazon. The bookseller had fallen in love with the story, and wanted to see the book do well. She seemed to see every copy she sold as a minor victory. I have to admit, the story does sound pretty interesting. The book's description reads almost like a fairy tale. A long time ago, in a far away land, a young woman is granted a rare apprenticeship as a mapmaker.  Aoife is charged with charting the whole kingdom, and she finds her way beyond its borders. There, she meets a peaceful and very wealth people. When it is discovered that she crossed the border, she is viewed as a traitor and exiled. She finds refuge with the strangers that she met on her journey, and she starts a new life in their kingdom. This book is supposed to be her autobiography, and the bookseller says that there is already a sequel in the works.  I love most anything that has a fairy-tale feel to it, so I'm looking forward to getting started with this one.
Dinner with Tennessee Williams by Troy Gilbert and Greg Picolo – This is a book that caught my boyfriend's eye, and I have to admit that I was pretty curious. It seems to bring both of our worlds together nicely. Each chapter is based on a Williams play, and it includes an essay on the food references, recipes derived from or inspired by the play, and photos from Williams' life. It's described as part food memoir, part cookbook. I think it's a wonderful concept, and I wish that we had more such books with different authors at the focus. It just makes sense.
Outbox (Books Finished) 
The Name of the Star by Maureen Johnson – We featured the trailer for the sequel on BookRiot.Tv a few weeks ago, and something about it made me really interested in going back and taking a look at The Name of the Star. I had stayed away initially because I had heard about the Jack the Ripper vibe, and the last Ripper book kinda ruined the story for me a while. After watching the trailer for The Madness Underneath, I realized that there was a lot more to it than that.  Rory's from a small town in Louisiana. Her parents are both lawyers, and when they are invited to serve on the faculty of a British university, she jumps at the chance to attend a boarding school in London. Her school is located in the East End, not far from where Jack the Ripper killed his victims. Just as she arrives, it looks as though someone is following in Jack's footsteps. It's kind of cool to be so close to the action, but soon things go too far. I hate to be spoiler-y, so I won't describe how far it goes. Just know that there are ghosts, and Rory can see them, although she doesn't realize it right away. It's a very inventive story in a lot of ways, and a very typical story in others. I thought she hit a pretty good balance, actually. I enjoyed it enough to keep reading the second book, even though I really needed to get back to work. One chapter at lunch became the whole book by dinner – as it does. The Madness Underneath is good. The pacing is different, and the sense of urgency is different. That's okay. The climax kind of comes out of nowhere, and it seems to push what I thought was going to be the main focus of the story (the madness underneath that is mentioned in the title) out of the way. And the ending is very abrupt. I'm going to chalk this up to second-book syndrome, and wait (im)patiently for book three.
In the Queue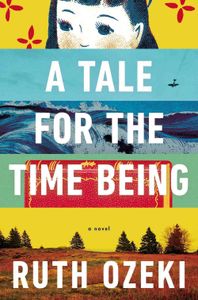 A Tale For the Time Being by Ruth Ozeki – This is another book where the trailer really got to me. When I heard she was going to make an appearance at my local indie, I cleared my schedule to make sure I was there.  She read a bit from the book, giving us a good look at the voices of her two main characters, a teenage girl in Japan that is the victim of bullying and an author living on a remote island off the coast of Canada.  The author finds the girl's message in a lunchbox, that she assumes was delivered to her by the tsunami. There's also a 100+ year old Buddhist nun, too.  I'm super-excited to see how their stories all converge. I'll be diving into this one over the weekend.
Follow Book Riot on Instagram
for books. Obviously.