Inbox/Outbox: March 15, 2013
Beware the ides of March, you guys, and beware this post because the books! They are so good! I've been on a hot streak lately, and I'm riding high.
Inbox (Books Acquired)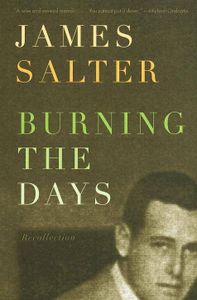 Burning the Days: Recollection by James Salter–Salter's novel A Sport and a Pastime has held a place on my list of all-time favorites for nearly a decade, and I'm gearing up for his new one All That Is, coming out next month. I called on a good friend who is a die-hard Salter fan for a recommendation from Salter's backlist, and he sold me on Burning the Days. And I'm so glad he did! Salter, who was born in 1925, covers his childhood in New York, his days at school (with Jack Kerouac!), his experiences in the Korean War, and his enviably steamy love life. Nobody–and I mean nobody–writes about sex like Salter does, and that's just one of the many things I love about him. His writing is gorgeous and candid, and it feels refreshingly not worked-on. Put this on your must-read list.
What My Mother Gave Me edited by Elizabeth Benedict–Your search for the perfectly thoughtful-and-not-too-mushy Mother's Day gift is over! In this collection of essays, 31 women write about the most meaningful things their mothers gave them. I've been dipping in and out of this one and enjoying what I've found so far.
Outbox (Books Finished)
One Good Earl Deserves a Lover by Sarah MacLean–You knew this was coming. I told you last week that I was swooning all over A Rogue by Any Other Name, the first in Sarah MacLean's Rule of Scoundrels series, and now I'm back to report that our affair is still going hot and heavy. About a not-so-proper young lady named Pippa who is scientifically-minded and bent on doing some "research" about, erm, marital relations, prior to her wedding, this one is even sexier than the first book. And the first sex scene doesn't even have any touching! If, like me, you're a romance novel skeptic, prepare to be converted.
The Engagements by J. Courtney Sullivan (Knopf, June)–Heads up, friends. THIS is how you follow up a blockbuster bestseller. In this novel spanning several decades and two continents, Sullivan examines marriage through the lens of five story lines that dance around each other and are woven together, but only slightly (and that's a good thing). She explores cultural messages about marriage and the role advertising has played in shaping them, allows her characters to sit with the discomfort and cognitive dissonance of promising one thing and desiring another, and presents one of the best damn revenge plans ever. This is skillfully crafted, carefully researched fiction, and if it appeals to a narrower audience than 2011's Maine, it is all the better for going deeper into its subject matter.
In the Queue
Practical Classics by Kevin Smokler–Kevin Smokler, whom I am lucky to count as one of my good friends, spent 10 months re-reading 50 books from high school and writing about them. I read many of these pieces when they were in-process, and I've been holding off on reading the whole book until Kevin's visit to Richmond. He'll be here next week, and I couldn't be happier that I'll have his book to keep me company until HE arrives to do the same.
By signing up you agree to our Terms of Service
In a book lover's life, there's nothing as magical as a perfect, surprising recommendation from someone who just
gets
you. But finding those people can be tough! That's where
TBR
comes in. Go here to find out more, or just click the image below: